Hopkins Votes Ambassador Registration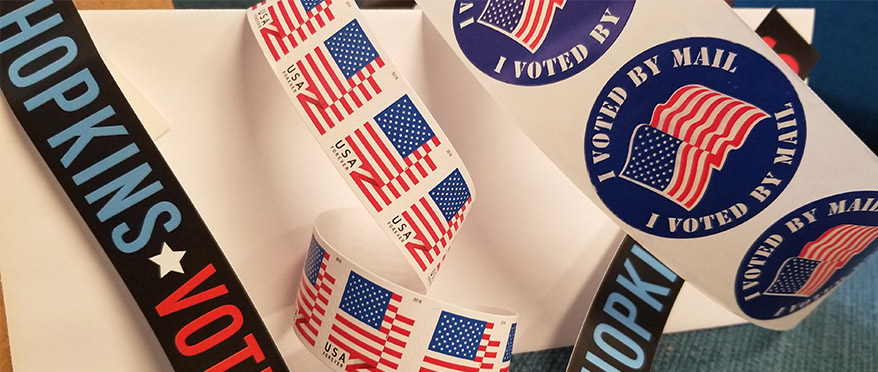 Thank you for your interest in becoming a Center for Social Concern Hopkins Votes Ambassador!
Hopkins Votes is a nonpartisan effort that engages students, staff members, faculty, and alumni in fostering a campus environment that promotes voter education and engagement for local, state, and national elections. Are you interested in becoming a Hopkins Votes Ambassador during the 2019-2020 academic year? Continue reading about the requirements and register below or learn more about getting involved with the Center for Social Concern.
Requirements and Registration
All JHU community members are welcome to serve as ambassadors, regardless of your voter eligibility.
Ambassadors must:
commit to the creation, implementation, and tracking of voter education and engagement initiatives from August 2019 – May 2020;
be willing to commit to maintaining the nonpartisan stance in all communication and representation of Hopkins Votes;
meet on the Homewood campus to identify opportunities for programming, marketing, and implementation;
be willing to dedicate up to 10 hours per month on related activities;
and complete one training session in September or October.
To serve as an ambassador, please complete the form below. We will be reviewing registration forms on a rolling basis during the fall.

Before you begin the registration form, please be aware that there are short answer questions (see below) that may require thought, preparation, and planning. Unfortunately, once you begin your registration form, you do not have the ability to "save" it. We strongly encourage you to write your answers in advance so you an easily "cut and paste" them into the form below.
Have questions? Contact Courtnee Connon, Assistant Director of Marketing and Communications.
Hopkins Votes Ambassador Registration