HopServe50 End of Year Celebration
Posted: May 2, 2017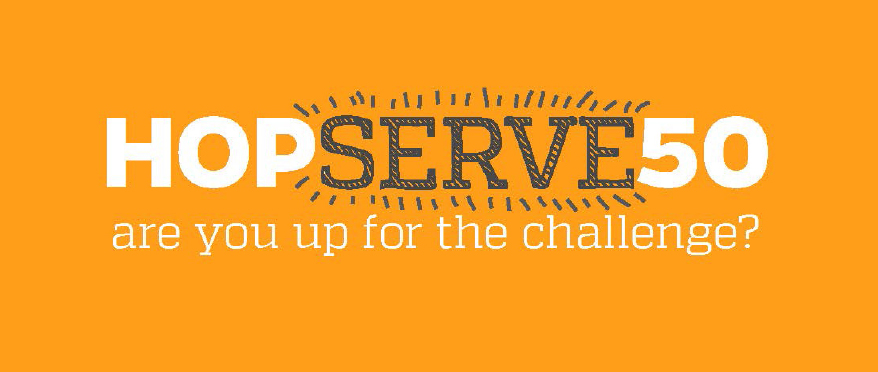 In its inaugural year, the HopServe50 program challenged students to complete 50 hours of service from September 1, 2016 to April 30, 2017. The response was overwhelming with over 500 students participating in HopServe50 and logging over 20,000 hours of service.
Over 190 students have met the challenge by completing at least 50 hours of service and over 50 of those students have achieved HopServe50 Plus (over 100 hours of service). As a result of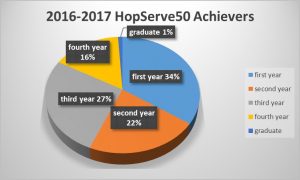 HopServe50, there were many students who got a chance to learn about our surrounding neighborhoods that they would have never otherwise known about if they hadn't participated in HopServe50.
HopServe50 was kicked off at President's Day of Service on September 24, 2016. Students continued their service throughout the year by cleaning up local neighborhoods, planting and cleaning community gardens, tutoring and mentoring kids in after school programs, volunteering at the Johns Hopkins Hospital and just about everything else in between.
The dedication of our Hopkins students to achieve such a milestone while juggling a rigorous academic schedule and other activities is beyond commendable. It not only shows their passion of service but their dedication to our Baltimore community, so thank you to all HopServe50 participants.
In celebration of those students who met the challenge, the Center for Social Concern held a HopServe50 End of Year Celebration at The Beach on Saturday, May 6 (4-6pm). The weather didn't quite cooperate as intended but we hope everyone who attended the event had a chance to unwind and enjoy each other's company before heading into reading period and finishing up the semester.
We look forward to students continuing HopServe50 and new students joining in the fall! Learn more about how to participate in HopServe50.