HopServe50 Service Challenge Update
Posted: March 17, 2017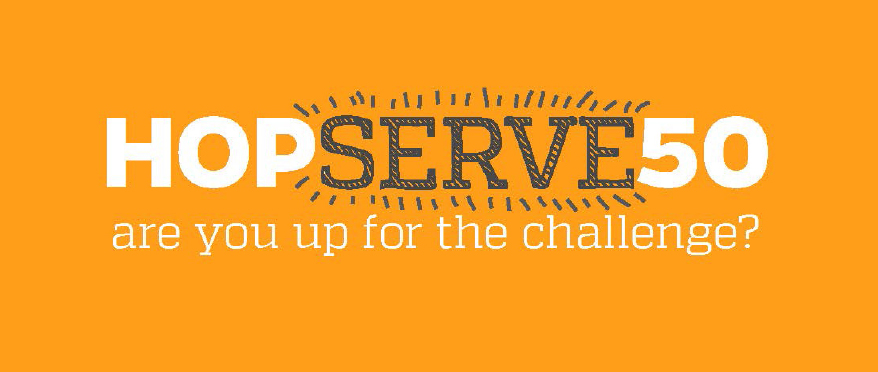 The HopServe50 Program has been going well in its inaugural year and we are looking forward to finishing off this year strong! We offered up the challenge to students to complete 50 hours of service from September 1, 2016 to April 30, 2017. So far, more than 500 students are participating in HopServe50, have created profiles and are logging service hours on our platform, Track It Forward.
This platform allows students to see the progress they are making and better account for the hours they have completed so far. We have received great feedback from students about the platform and they enjoy being able to see in a tangible way the progress they are making.
The combined efforts of all students signed up with a profile who have logged hours has amounted to a little under 18,000 hours. This is an incredible accumulation of the dedication and impact our students are making with our Baltimore community. It strengthens the Center for Social Concern, but more importantly the community we all call home.
The first student who hit the 50-hour mark was Liang Wang on September 20th! She also ended up far surpassing that goal and getting the HopServe50 Plus designation. Many of our students have far surpassed the goal of 50 hours and have joined in the ranks of HopServe50 Plus, which is an extended tier for those who have completed over 100 hours. Liang is among good company with 21 others also reaching this level and others not far behind.
The service activities our students have engaged in reach from student organizations like Health Leads, Tutorial, Community School Initiative, and Believe in Art to engaging in mentoring students to participate in science competitions. We are continuously astounded by how giving students are of their time outside the classroom.
To cap off the year, we are honoring students who have successfully completed the challenge in our HopServe50 End of Year Celebration which will be on May 6th from 4-6PM. The celebration will have food, prizes and music. We are hoping for a fun afternoon on The Beach. We look forward to the next month to see what else our students will accomplish in that time. Let's finish off strong!