HopServe50 Students
Posted: November 11, 2016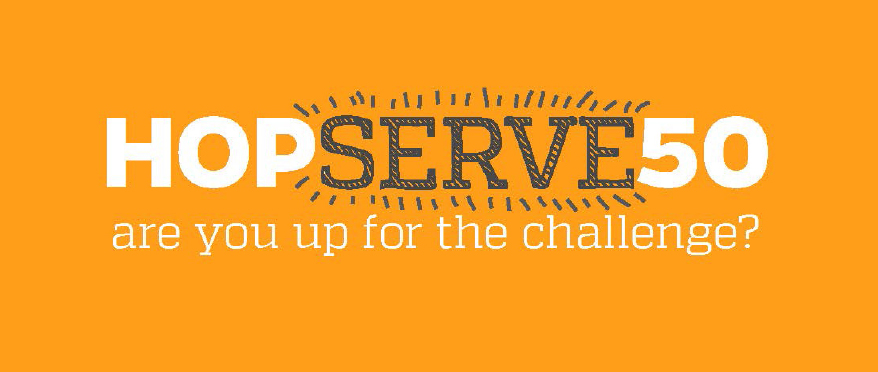 The Center for Social Concern kicked off this year by inviting all JHU Homewood undergraduate and graduate students from the Krieger School of Arts and Sciences, Whiting School of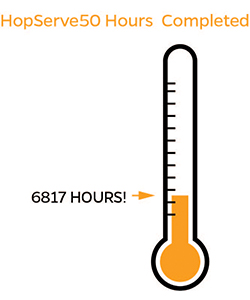 Engineering, Peabody Institute, School of Education, and the Carey Business School to participate in the HopServe50 service challenge! HopServe50 is an academic year service challenge to all undergraduate and graduate Homewood students to serve a minimum of 50 hours of non-paid civic engagement activities in Baltimore City between September 1, 2016 and April 30, 2017.
So, what are the stats on HopServe50? As of November 8, 2016, we have 751 students participating in HopServe50 who have already logged 6817 service hours! There have already been 13 students who have hit the 50 hour challenge! It's pretty awesome! Learn about a couple of the students who have already hit 50 hours of service!
HopServe50 Students
Liang Wang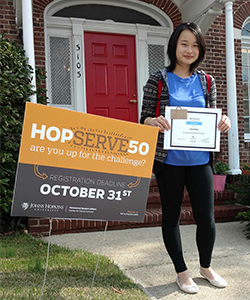 Liang was the first student to complete 50 hours of service!
Major: Molecular and Cellular Biology/Bioethics and Spanish minor
Year: 2019
Organizations/Service: Health Leads, Hopkins Oriental Music Ensemble, Musicare, The Visionaries
In addition to Liang's coursework, she is also doing research in a Multiple Sclerosis laboratory. In addition, she is volunteering at Health Leads as an Advocate where she works with doctors, social workers, and nurses which connects families to community-based resources within Baltimore.
She's also a board member of The Visionaries where she interviews low vision patients and helps coordinate volunteering events with the Maryland State Library for the Blind and Physically Handicapped; a Musicare librarian where she performs and selects music for performances in hospitals and nursing homes; and a member of the Hopkins Oriental Music Ensemble. Liang takes part in service to gain experience, play cool music, and indulge in that warm, fuzzy feeling.
I serve because Baltimore is a community that I call home, because medicine is a field I envision myself in, and the people that I serve become family who invest their wisdom in me just as I invest time in them. – Toni Rose San Miguel '18, HopServe50 Participant
Toni Rose San Miguel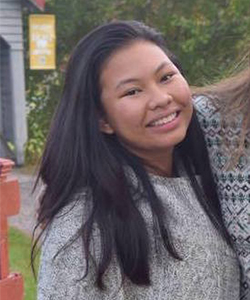 Major: Behavioral Biology Major & Classics/Psychology minor
Year: 2018
Organizations/Service: Health Leads, Adult Emergency Dept Volunteer Program, Hopkins Christian Fellowship
As much as there is to learn in a classroom or a research lab, I believe that some of the best lessons come from people. There's always more than one story, always more than one perspective. And serving allows me the opportunity to be a part of someone else's success story, and has given me many characters to my own story of development. I have been able to grow in appreciation from where I come from, have learned to love without judgment, and have been able to confront the harsh realities people face and learn how to approach them with both compassion and solutions.