Hurricane Harvey and Irma Resources
Posted: September 7, 2017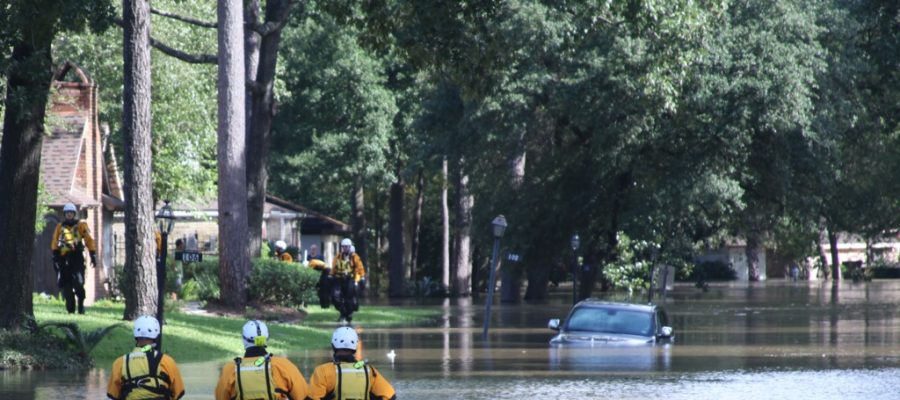 Hurricane Harvey and Hurricane Irma devastated communities in Texas, Louisiana, Florida, Alabama, and Tennessee, leaving paths of destruction in their wakes. The JHU Center for Social Concern has compiled a list of relief efforts as a resource for the Hopkins community.
Additionally, the Corporation for National and Community Service (CNCS) has set up a Hurricane Harvey page and a Hurricane Irma page as great springboards for how to help.
The five living former American Presidents have set up a site to collect donations called The One America Appeal, a joint appeal to encourage their fellow citizens to support recovery efforts from Hurricanes Harvey and Irma.
A few things to keep in mind:
Avoid self-deploying to volunteer, as unexpectedly showing up to communities impacted by Hurricane Harvey will create an additional burden for first responders. Rather, find an organization that needs volunteers.
A financial contribution to a recognized disaster relief organization is the most effective donation to make. Unsolicited donated goods such as used clothing, miscellaneous household items, and mixed or perishable foodstuffs require helping agencies to redirect valuable resources away from providing services to sort, package, transport, warehouse, and distribute items that may not meet the needs of disaster survivors.
Support will be needed over the next months and years. The FEMA director has noted that recovery will take a long time. Recovery efforts should continue even when coverage has moved off of the news cycle.
Hurricane Harvey
There are tons of ways to help aid the communities affected by Hurricane Harvey. Below are several organizations committed to providing disaster relief efforts.
Texas Voluntary Organizations Active in Disaster
The Texas Voluntary Organizations Active in Disaster provides a list of more than three dozen faith-based, community, nonprofit and non-governmental organizations that include volunteer engagement as a key component of their operations.
American Red Cross
The American Red Cross is requesting volunteers who are skilled in shelter operations to support Hurricane Harvey response efforts in Texas. To learn about opportunities, visit the American Red Cross blog.
ToolBank USA
The Houston Community ToolBank is one of nine city-based affiliates and will deploy their wealth of tools into local communities in crisis and recovery. ToolBank Disaster Services (TDS) will deploy to Texas within the week. The mobile unit will transport desperately needed tools to boost recovery efforts.
American Red Cross
You can donate to the American Red Cross online to help people affected by Hurricane Harvey or call 1-800-RED CROSS.
Salvation Army
Salvation Army disaster teams from across the country are mobilizing and, even after disaster response efforts are over, The Salvation Army will remain in communities impacted by this terrible storm, supporting long-term disaster recovery efforts and providing ongoing assistance to those in need.
Give to the Salvation Army here.
Central Texas Foodbank
The Central Texas Food Bank is at the front line of hunger relief with the help of roughly 250 Partner Agencies in 21 counties across Central Texas.
Americares
As survivors confront the historic scale of Hurricane Harvey's devastation, Americares emergency response team is expanding relief efforts wiith local partners. Americares has made more than a dozen shipments of medicine and supplies worth $1.5 million to 14 local organizations helping survivors in Texas. While meeting emergency health needs, the team continues to coordinate planning with partners for longer term recovery of health care services.
Donations to the Hurricane Harvey Relief Fund will support the Americares response to the hurricane. Should Americares raise funds in excess of what's needed to respond to this particular crisis, the funds will be redirected to where the need is greatest.
Second Harvest Food Bank
Second Harvest Food Bank is accepting donations to help the victims of Hurricane Harvey. They are responding to those in need in South Louisiana.
Give to the Second Harvest Food Bank here.
Greater Houston Community Foundation
Mayor Sylvester Turner and County Judge Ed Emmett have established the Hurricane Harvey Relief Fund that will accept tax deductible flood relief donations for victims that have been affected by the recent floods. The fund will be housed at the Greater Houston Community Foundation, a 501(c)(3) public charity.
PDF Document: Instructions on how to give here.
Coalition for the Homeless Houston
This organization coordinates community strategies to prevent and end homelessness in the greater Houston area.
Give to the Coalition for the Homeless Houston here.
Houston Society for the Prevention of Cruelty to Animals (SPCA)
The Houston SPCA is the lead nonprofit animal-related agency responsible for disaster rescue, recovery and relief efforts.
The Montrose Center
The Montrose Center empowers the LGBTQ community to enjoy healthier and more fulfilling lives. They've set up a hurricane relief fund, connecting community members to resources and filling the gap between what other organizations and services are providing and the needs of the LGBTQ community and HIV positive communities.

Read about JHU emergency medicine experts' contributions to Hurricane Harvey relief efforts.
Additionally, read about how to begin to talk about this natural disaster with students.
Hurricane Irma
As Hurricane Irma steadily makes its way through Florida, Alabama, and Tennessee, several organizations are preparing to help with shelter operations and volunteer mobilization and recovery when the time is right.
Volunteer Florida
Volunteer Florida is the state's lead agency for volunteers and donations before, during, and after disasters. Volunteer Florida mobilizes and deploys resources to assist those responding to and recovering from disasters. In response to Hurricane Irma, Volunteer Florida is mobilizing volunteers to staff our state's shelters and other disaster relief organizations.
American Red Cross
Floridians who are interested in volunteering at shelters should complete shelter operations training through the American Red Cross. The training qualifies volunteers to serve as shelter volunteers and/or manage shelters.
Volunteer Florida
The Florida Disaster Fund is the State of Florida's official private fund established to assist Florida's communities as they respond to and recover during times of emergency or disaster. It distributes funds to service organizations that will serve individuals within their communities with disaster response and recovery.
National Volunteer Organizations Active in Disaster (VOAD)
Donate to a list of trusted organizations put together by the NVOAD.
We will keep this page updated as new developments unfold. We can all do our part in supporting these communities in their time of need. Together, we can and will have a positive impact on those affected.