IMPACT Conference Recap
Posted: March 16, 2017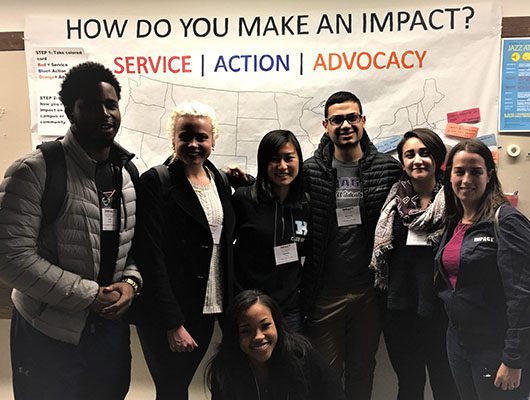 Six undergraduate students and Assistant Director Caroline Ouwerkerk traveled in February 2017 to the 33rd annual IMPACT Conference on Service, Action, and Advocacy, which was held this year at Washington University in St. Louis. The IMPACT Conference is an annual gathering for nearly 500 college students, university administrators, and nonprofit professionals from across the country to learn about best practices in civic engagement in higher education. It's committed to engaging college students in service, activism, politics, advocacy, and other socially responsible work. This annual conference builds on the legacy of the student service and civic engagement movement. The movement is built by the passion, action, and connectivity of students young and old, who are passionate about the role students can play in service, action, and advocacy.
The six students who formed the Hopkins delegation took part in a variety of workshops, keynote lectures, and service and made connections with student leaders from over one hundred universities across the nation. This is the second year Hopkins has brought students to the conference. Caroline Ouwerkerk, Assistant Director of the Center for Social Concern, has served on the board of IMPACT since 2012.
Learn more about how to apply and attend the IMPACT Conference.