Get Involved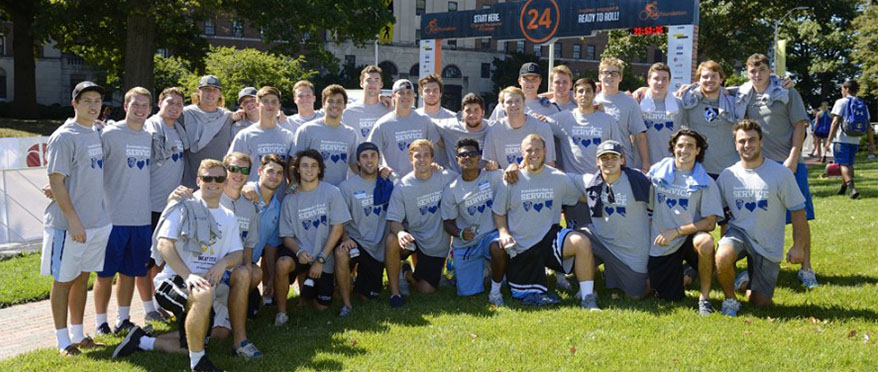 SAVE THE DATE
President's Day of Service: September 21, 2019
There are many different ways to get involved on President's Day of Service. JHU students, staff, faculty, and alumni can volunteer or become a team leader. You'll have the opportunity to meet new friends and work with great, local non-profit organizations that make a tremendous difference in our community. Or, maybe you are one of many organizations who just need a few extra hands to help complete a project that you haven't had the chance to finish up! Either way, we hope you will consider joining the Hopkins and Baltimore Communities on Saturday, September 21, 2019!
Have questions? Review the frequently asked questions, contact (410) 516-4777 or email volunteer@jhu.edu.
How to Get Involved
Become a PDOS Volunteer
Are you a JHU student, staff, faculty or alumni and interested in working with our community for a day? Volunteers make this event a success! In order to make President's Day of Service run smoothly, the Center for Social Concern is looking for your participation.
Become a Service Site
Over 40 different service sites across Baltimore City participate in President's Day of Service. We have several hundred students, staff, faculty, and alumni who look forward to this event every year and are excited to work with you and learn about your organization. If this is your first time considering to participate as a service site or if you have worked with us in the past, we hope you read more below and consider applying. Service site applications are now closed.
Volunteer Projects
Projects should be:
Safe
Engaging
Accommodate >10 volunteers
Last approximately 2-3 hours
A dedicated staff member can help you define your volunteer project if you need assistance.
Supplies
A limited number of tools can be reserved from the Baltimore Community ToolBank and transported to your site if needed. Volunteers may not use power tools.
Please visit the Baltimore Toolbank Inventory and note the number of each item that will be required. If additional supplies are needed in order to complete your project, we may be able to place orders from Amazon Wishlist or Lowe's, which will be shipped to your site. List all supplies and quantities.
Note: due to budget constraints, not all supply needs will be met, so please be selective in your request.
Apply
Unfortunately, service site applications for 2019 are closed. We look forward to your participation next year.