Get Involved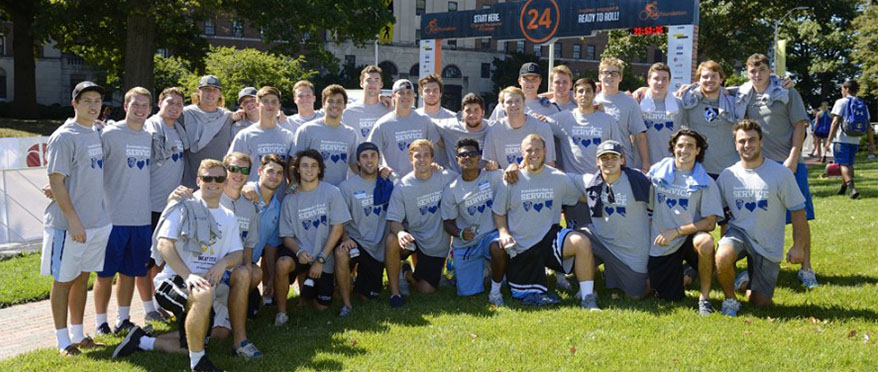 SAVE THE DATE
President's Day of Service: September 21, 2019
There are many different ways to get involved on President's Day of Service. JHU students, staff, faculty, and alumni can volunteer or become a team leader. You'll have the opportunity to meet new friends and work with great, local non-profit organizations that make a tremendous difference in our community. Or, maybe you are one of many organizations who just need a few extra hands to help complete a project that you haven't had the chance to finish up! Either way, we hope you will consider joining the Hopkins and Baltimore Communities on Saturday, September 21, 2019!
Have questions? Review the frequently asked questions, contact (410) 516-4777 or email presidentsdayofsvc@jhu.edu.
How to Get Involved
Become a PDOS Volunteer
Are you a JHU student, staff, faculty or alumni and interested in working with our community for a day? Volunteers make this event a success! In order to make President's Day of Service run smoothly, the Center for Social Concern is looking for your participation. Registration for 2019 PDOS is closed and will be opening in August.
Become a Service Site
Over 40 different service sites across Baltimore City participate in President's Day of Service. We have several hundred students, staff, faculty, and alumni who look forward to this event every year and are excited to work with you and learn about your organization. If this is your first time considering to participate as a service site or if you have worked with us in the past, we hope you read more below and consider applying. Service site applications are now closed.
Ideal Volunteer Projects
In order to help us assign our volunteers, we categorize all service projects into three categories:
1. Beautification
2. Hunger and Food Justice
3. Working with Animals & People
Projects should be:
Safe
Engaging
Accommodate >10 volunteers
Last approximately 2-3 hours
A dedicated staff member can help you define your volunteer project if you need assistance.
Apply
Any local community organization or agency who would like to participate as a service site for PDOS must submit an online application and be approved as a site. A supervisor must be available and present for the duration of the service project.
The 2019 PDOS service site application is closed and will be opening during summer 2019.
Supplies
We will provide transportation and can help by purchasing supplies that are necessary to complete your project. Additional supplies that we have bought before include tools, arts and craft supplies, tarps, cleaning supplies (multi-purpose cleaner, paper towels, etc.), food, and much more.
We rent all of our tools from the Baltimore Community ToolBank so supplies may be limited based on availability. Home Depot is the Center for Social Concern's vendor of choice. Any improvement or construction supplies that are needed to complete your service project, must be available at Home Depot (this includes paint and stain).
Volunteers may not use power tools. As part of the application, you can specify the quantity and types of supplies that you will need. Reimbursements will only be made for large exceptions (such as large deliveries of mulch or wood chips) and must be approved by PDOS staff. A common list of supplies and tools that many service sites use are:
Carpentry
Buck Saw (a standard carpentry hand saw, designed for accurate cuts of lumber and plywood)
Hack Saw (hand saw with hardened blade for cutting steel, aluminum, PVC pipe, and other plastics)
Hammer (standard)
Custodial/Clean-Up
Push Brooms (excellent for cleaning up dirt and dust on smooth surfaces indoor/outdoor)
Trash Bags
Trash Grabbers (hand operated jaws put 24 inches between you and yucky litter. Volunteers love them!)
Digging
Pick Axe (multipurpose tool for digging, chopping, trenching and bed preparation. The head of the pick mattock has a pick on one side and a blade on the other. The pick point is great for breaking up rocks and tough surfaces)
Shovel (round head – standard long handled shovel. Perfect for digging holes. Not a cleanup tool – use square head instead)
Shovel (square head – like a long-handled dust pan, this shovel is a great cleanup tool and to pitch gravel. Not designed for digging)
Spade (round head – short D-handled shovel, ideal for digging holes in tight spaces)
Spade (square head – short D-handled shovel, ideal as street scraper and cutting a clean straight line into grass)
Landscaping
Hand Cultivator (3-tine fork for breaking up soil in the garden before planting)
Hand Trowels (small hand shovel, useful for planting small plants and flowers)
Hand Weeders (often called a weed popper, this tool is designed to remove the weed and its tap root)
Hedge Shears (big scissors! Great for clearing away vines, and shaping up shrubs/bushes. Not ideal for bark-covered limbs)
Hoe (garden – standard garden hoe, for breaking up earth before planting)
Loppers (landscaping cutters, cuts branches from 1/2 inch up to 1 inch in diameter. Great limbing and shaping tool)
Pruner (hand held – Great for shaping bushes and thinning branches. Cuts branches up to 1/2 inch thick)
Rake (bow/iron – rigid, short tines make this tool ideal for spreading mulch and gravel. Also good for grading soil after tilling)
Rake (leaf- many flexible tines make this the perfect tool for cleaning up leaves and clippings)
Wheelbarrows (great for any type of cleaning up, mulch, sand, dirt, and gravel)
Painting
Paint
Paint Brushes (1 inch)
Paint Brushes (2 inch)
Paint Brushes (3 inch)
Paint Brushes (4 inch)
Paint Trays/Liners
Rollers (4 inch – a bit narrower than the standard 9 inch roller cage, great for tight spaces and painting trimwork BEFORE it is nailed into place. Perfect for striping)
Rollers (9 inch – standard rolling paint applicator. Designed for use with a paint tray)
Safety
Work Gloves (cloth -a single pair of light duty jersey gloves which can also be used for gardening)
Work Gloves (leather/suede – higher-quality gloves for added protection. Palm is typically made of suede or leather for a better grip and friction protection)
Work Gloves (rubber – neoprene or vinyl impermeable gloves for icky messes)