Become a Trip Leader
Alternative Breaks trip leaders are crucial to the success of the Alternative Breaks program. Since there is a great level of responsibility in leading an Alternative Break, two leaders will be assigned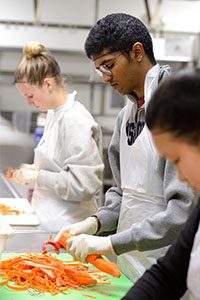 to each trip and work together to ensure its success. If you are interested in social justice issues and have great leadership capabilities, this is the opportunity for you!
Since two trip leaders are assigned to each of our Intersession Alternative Breaks trip: (HIV and AIDS, Immigrant and Refugee Right, or Urban Education), we are seeking to hire and train six total trip leaders. Read more about each Alternative Breaks trip or continue reading below for how to apply and become a trip leader.
Have questions? View the frequently asked questions below or contact Caroline Ouwerkerk, Assistant Director.
How to Apply
We are excited about your interest in leading an Alternative Breaks program. Unfortunately, we are no longer accepting trip leader applications. However, consider becoming a participant. Don't miss out! For reference, more information about the student leader position, job qualifications, and important dates are below.
About the Position
The primary duties and responsibilities of an Alternative Breaks trip leader include, but are not limited to:
supporting the health and safety of program participants
executing many of the logistics for the program
serving as a peer course assistant throughout the program
enforcing program rules and expectations
driving students to service projects, site visits
other scheduled programming
supporting evening all-program social activities
helping with catering arrangements
completing post-program paperwork
Trip leaders may also facilitate reflection sessions and other experiential assignments. Leaders and program participants are held to the same expectations for completing assignments, readings, and participating in course activities.
Trip leaders will be trained in risk management, program logistics, group processes, and reflection. They must also:
be van-certified or willing to become van-certified
be willing to drive a minivan throughout the program
attend two pre-program training sessions (one in December and one the second week of Intersession)
attend the Intersession Program kick-off
Compensation: Trip leaders will be paid $150 upon completion of all program activities and expectations.
Job Qualifications
All undergraduate students are eligible to serve as trip leaders. Leaders must possess a valid drivers license, be Hopkins van-certified or willing to become van-certified and be willing to drive a minivan throughout the program.
We are looking for mature, responsible student leaders who are committed to supporting the mission of the program and ensuring a positive experience for all participants.
Trip leaders will be responsible for:
enforcing program rules and expectations
checking in with participants
transporting participants to/from program locations
administering portions of the program budget and managing incidental expenses incurred in the delivery of the program
Preference will be given to students with previous experience with Center for Social Concern programs.
Become a Trip Leader
Trip leaders are not required to pay a program fee. All activities, lodging, and food for the week are covered.
Application Process and Procedures
The application to become an Intersession Alternative Breaks trip leader is closed.
Important Dates
| | |
| --- | --- |
| Date | Event |
| mid-October | Intersession trip leader and program participant applications open |
| Monday, November 13, 2017 | Trip leader application due |
| Wednesday, November 15, 2017 | Trip leaders notified |
| Monday, November 20, 2017 | Trip leaders accept/decline position and submit paperwork |
| Week of December 4th | Intersession program kick-off |
| Wednesday, December 6, 2017 | Online course registration for students |
| Saturday, January 20, 2018 | Program begins |
| Friday, January 26, 2018 | Program ends |
| Monday, February 5, 2018 | Instructors and trip leaders: post-program paperwork due to CSC staff |
Frequently Asked Questions