Become a Participant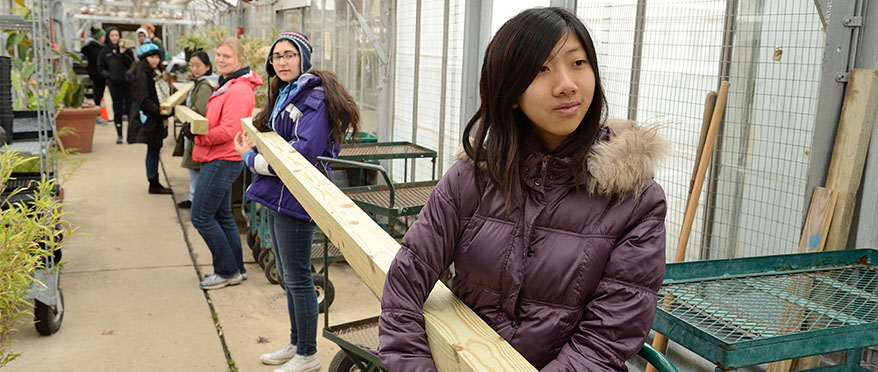 Interested in learning about the social issues we face as a society and as a Baltimore resident? If so, you've come to the right place. Our Intersession Alternative Breaks program is a great way for Hopkins students to learn about a social issue (HIV and AIDS, Immigrant and Refugee Right, or Urban Education) and participate in direct service in our community. It's a great educational opportunity that can make a life changing impact. Read more about each Alternative Breaks trip or how to become a participant below.
Have questions? Read the frequently asked questions below or contact Caroline Ouwerkerk, Assistant Director.
This program is a wonderful, must have experience! It will challenge your view on social justice, introduce you to really wonderful friends, and ignite a desire to fight for social justice in the community. -Intersession, Urban Education Participant
How to Apply
We are excited about your interest in Alternative Breaks! Please understand that our Alternative Breaks program is highly competitive, and interested students must submit the appropriate application prior to the trip deadline. We typically receive about twice as many applications than we have open spots, so don't wait any longer and apply today!
Become a Participant
The fee for each Alternative Break trip covers all activities, lodging, and food for the week. A significant amount of need-based financial aid is available, and applying for financial aid will have no bearing on your application to the program. Students interested in financial aid should indicate it on their applications.
Application Process and Procedures
Applications will be evaluated based on the student's willingness to participate fully in the program and interest in the content of the course. The application for the Intersession Alternative Breaks trips is closed and will open again in fall 2018.
Important Dates
| | |
| --- | --- |
| Date | Event |
| mid-October | Intersession trip leader and program participant applications open |
| November | Accepting Intersession program participant applications on a rolling basis as space is available |
| November | Students notified: accept/decline/waitlist |
| Tuesday, November 28, 2017 | Payment and paperwork due to the Center for Social Concern |
| Week of Dec. 4 | Intersession program kick-off |
| Wednesday, December 6, 2017 | Online course registration for students |
| Saturday, January 20, 2018 | Program begins |
| Friday, January 26, 2018 | Program ends |
Frequently Asked Questions