Become a Site Coordinator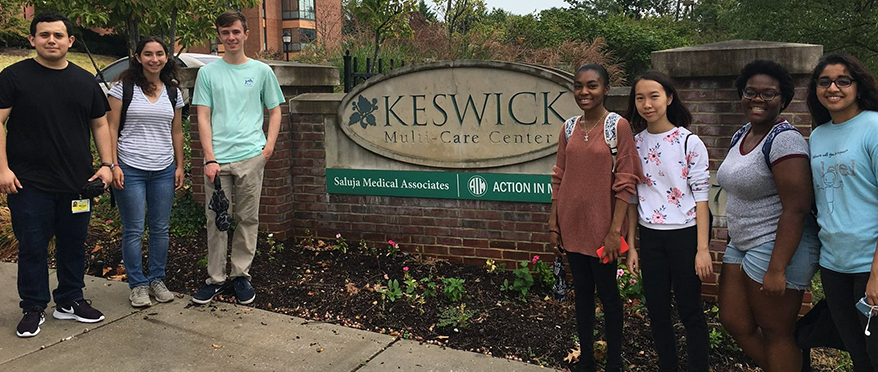 Site Coordinator applications for Spring 2022 will be available starting on Friday, January 7th through Monday, January 24th.
As a student-led program of the Center, PDF Document: Baltimore First is an opportunity for students at all stages of the active citizenship continuum (Break Away 2014) to engage with our Baltimore community. Baltimore First offers two volunteer opportunities for student engagement: as a General Volunteer or a Site Coordinator. Learn more about becoming a site coordinator below or consider becoming a General Volunteer.
Still have questions? Contact the Baltimore First Student Executive Board at baltimorefirst17@gmail.com.
Site Coordinator Overview
Becoming a Site Coordinator
Why Should I Apply?
Baltimore First Site Coordinators will:
communicate expectations and build a strong cohort of peers committed to service;
facilitate reflection in a group of their peers; and
demonstrate critical understanding of at least one social issue that affects at least one community organization in Baltimore City.
Application Process and Procedures
Site Coordinator applications for Spring 2022 will be available starting on Friday, January 7th through Monday, January 24th.
View Site Coordinator Description
The Site Coordinator position is a semester-long commitment. There is one mandatory training that can be viewed in the "Important Dates" tab.
General Summary:
Founded in 2017, Baltimore First is a student-led individualized direct service program of the Center for Social Concern. Committed building a mutually-beneficial, consistent relationships with community organizations across the city of Baltimore, Baltimore First provides local nonprofit and community organizations with weekly, bi-weekly, and monthly student volunteers.
This position is responsible for supporting the overall mission and vision of the organization by: 1) building community among and managing the general volunteers that attend your assigned service site, 2) facilitating reflection during each educational workshop, 3) serving as a brand ambassador of the program to community & campus partners and the general student body.
Essential Job Functions:
Volunteer Management (30% of time)
Familiarize self with program expectations and requirements including vision, values, & mission and attendance policy.
Supervise all service-related site logistics (member attendance, schedule changes, inclement weather policies, etc.).
Coordinate with Director of Education and Director of Community Partnerships in maintaining an accountability structure for the program.
Facilitation of Reflection (50% of time)
Support the Director of Education in building a culture of reflection among all program members.
Review workshop material prior to the day of the workshop in order to build reflection sessions that support members on their journey towards

PDF Document:

active citizenship.
Facilitate a site specific reflection session.
Attend a Reflection Check-In prior to your site-specific reflection session.
Brand Ambassador (10% of time)
Build authentic, reciprocal relationships with community partners.
Model engaged and intentional volunteerism for general student volunteers.
Support program marketing and recruitment efforts as requested.
Other Duties as Assigned (10% of time)
Attend one Site Coordinator training co-facilitated by the Director of Education and CSC Staff Advisor/Executive Director:

Saturday, February 1st (9am-5pm)

Attend a series of education workshops co-facilitated by the Director of Education and CSC Staff Advisor/Executive Director.
Attend a Site Coordinator team building event led by the Director of Education and Director of Volunteer Management.
Qualifications
At least one semester of service with Baltimore First required, including a clear understanding of program values, expectations, and requirements. Experience facilitating reflection is preferred.
Important Dates
Important Spring 2022 Dates
| | |
| --- | --- |
| Event | Date |
| Site Coordinator Application Opens | Friday, January 7 |
| Site Coordinator Application Closes | Monday, January 24 |
| General Volunteer Registration Opens | Monday, January 24 |
| First Day of Volunteering | Monday, February 7 |
| Educational Workshop 1 | Week of March 14 |
| Spring Break (No Programming) | Saturday, March 19th - Sunday, March 27 |
| Executive Board Application Opens | Monday, March 25 |
| Educational Workshop 2 | Week of April 18 |
| Executive Board Application Closes | Monday, April 8 |
| Last Day of Volunteering | Friday, April 22 |
| End of Semester Celebration | Friday, April 29 |
Community Partners & Volunteer Times
Volunteering Opportunities for Spring 2022
During Spring 2022, Baltimore First will be partnering with 8 local nonprofits and community organizations virtually. Learn more about each organization and commitment times below.
Note: In-person volunteer times INCLUDE TRAVEL TIME and represent the total time frame volunteers will need to allot for volunteering.
Description
Reading Partners is a national nonprofit that mobilizes communities to provide students with the proven, individualized reading support they need to read at grade level by fourth grade. They support under-resourced schools and engage volunteer reading partners to work one-on-one with students who struggle with reading. Volunteers will provide hour-long tutoring sessions to students — following a structured, evidence-based curriculum developed with an expert team of curriculum advisors.
Volunteers will tutor students either once or twice a week, depending on availability. Volunteering will take place virtually, but may transition to in-person depending on the progression of the COVID-19 pandemic.
Description
The League for People with Disabilities hosts Club 1111, Maryland's first and only adult nightclub for people with disabilities that includes DJs, dancing, spa, games, and more. The Club provides a safe place for people within the Baltimore disability community that otherwise might not have this opportunity to socialize. Volunteers will be hosting monthly sessions via Zoom and have the opportunity to join social events at Club 1111 virtually.
Description
St. Francis Neighborhood Center, in the Spring of 2009, established an after school youth development and family stability program called The Power Project. The Power Project consists of three major components: education, mentoring, the arts, and human services. A group of volunteers with a variety of experiences, perspectives, and potential career paths will partner with high school interns to encourage civic engagement and help with schoolwork and trajectory development.
Volunteers would meet 1-2 times a week for about an hour each time, and mentor-mentee partnerships may switch.
Description
Corner Team, Inc. is organized around the longstanding and successful tradition of community sports programs that address holistic well being at the neighborhood level to shape Champions for Life! Volunteers will partner with students grades 6-12 in the Youth Champions after-school program to help students set and achieve goals. Volunteers meet with students once a week for 1-2 hours to engage students and provide academic support that will supplement the boxing training and other programming provided at Corner Team.
Description
Baltimore Green Space is Baltimore's environmental land trust. They promote vibrant neighborhoods and a healthy environment through land preservation, research, and community advocacy. Green spaces provide unmatched opportunities for recreation, civic engagement, and community revitalization, and it is essential to retain existing natural spaces that have ecological value and biodiversity. Our impact includes the scientifically documented social, health, environmental, and economic benefits that create strong neighborhoods and a vibrant city. Volunteers will work to revitalize a neighborhood forest near Chinquapin Park, and possibly another forest in the area.
Description
Paul's Place aims to be a catalyst and leader for change, improving the quality of life in the Southwest Baltimore communities. They provide programs, services, and support that strengthen individuals and families, fostering hope, personal dignity and growth. Volunteers will help serve hot lunch, help staff the clothing bank, and possibly work with patrons in the computer lab.
Description
Cornerstone Community Housing has a twofold mission to help men experiencing homelessness rebuild their lives, and to change attitudes toward homelessness through outreach and education. Earl's Place is located in Baltimore City and provides transitional housing and supportive services to 17 men at a time. Annually, 30-35 men are provided housing and support to work on their goals. Volunteers will work with residents of Earl's Place to help them improve their digital literacy skills by supporting them as they learn to navigate computers, mobile phones, email, and other technology.
Description
St. Mary's Outreach Center helps older adults meet the challenge of living self-sufficiently with dignity and respect. St. Mary's views older adults as valuable and contributing members of society, and envision a caring community in which they enjoy a healthy, productive, and personally satisfying life. Volunteers will host a social hour at one of the community centers, helping with setup, engaging residents, and cleaning up afterwards.