Become a Site Coordinator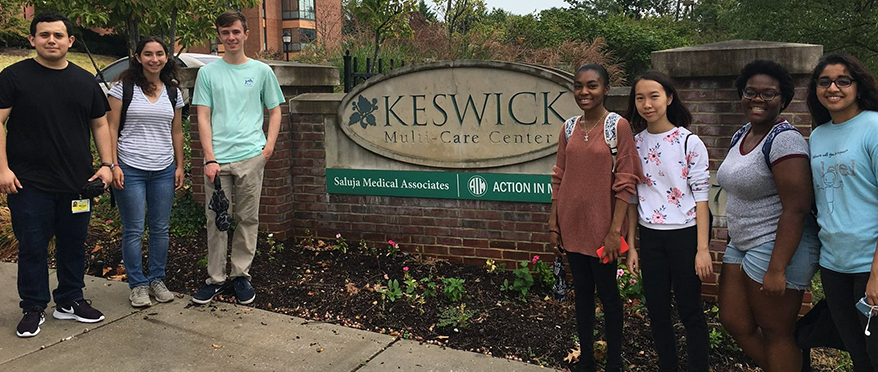 Site Coordinator applications are being accepted now on Hopkins Engage, and the application window will close on January 31st.
As a student-led program of the Center, PDF Document: Baltimore First is an opportunity for students at all stages of the active citizenship continuum (Break Away 2014) to engage with our Baltimore community. Baltimore First offers two volunteer opportunities for student engagement: as a General Volunteer or a Site Coordinator. Learn more about becoming a site coordinator below or consider becoming a General Volunteer.
Still have questions? Contact the Baltimore First Student Executive Board at baltimorefirst17@gmail.com.
Site Coordinator Overview
Becoming a Site Coordinator
Why Should I Apply?
Baltimore First Site Coordinators will:
communicate expectations and build a strong cohort of peers committed to service;
facilitate reflection in a group of their peers; and
demonstrate critical understanding of at least one social issue that affects at least one community organization in Baltimore City.
Application Process and Procedures
Site Coordinator applications are being accepted now on Hopkins Engage, and the application window will close on January 31st.
View Site Coordinator Description
The Site Coordinator position is a semester-long commitment. There is one mandatory training that can be viewed in the "Important Dates" tab.
General Summary:
Founded in 2017, Baltimore First is a student-led individualized direct service program of the Center for Social Concern. Committed building a mutually-beneficial, consistent relationships with community organizations across the city of Baltimore, Baltimore First provides local nonprofit and community organizations with weekly, bi-weekly, and monthly student volunteers.
This position is responsible for supporting the overall mission and vision of the organization by: 1) building community among and managing the general volunteers that attend your assigned service site, 2) facilitating reflection during each educational workshop, 3) serving as a brand ambassador of the program to community & campus partners and the general student body.
Essential Job Functions:
Volunteer Management (30% of time)
Familiarize self with program expectations and requirements including vision, values, & mission and attendance policy.
Supervise all service-related site logistics (member attendance, schedule changes, inclement weather policies, etc.).
Coordinate with Director of Education and Director of Community Partnerships in maintaining an accountability structure for the program.
Facilitation of Reflection (50% of time)
Support the Director of Education in building a culture of reflection among all program members.
Review workshop material prior to the day of the workshop in order to build reflection sessions that support members on their journey towards

PDF Document:

active citizenship.
Facilitate a site specific reflection session.
Attend a Reflection Check-In prior to your site-specific reflection session.
Brand Ambassador (10% of time)
Build authentic, reciprocal relationships with community partners.
Model engaged and intentional volunteerism for general student volunteers.
Support program marketing and recruitment efforts as requested.
Other Duties as Assigned (10% of time)
Attend one Site Coordinator training co-facilitated by the Director of Education and CSC Staff Advisor/Executive Director:

Saturday, February 1st (9am-5pm)

Attend a series of education workshops co-facilitated by the Director of Education and CSC Staff Advisor/Executive Director.
Attend a Site Coordinator team building event led by the Director of Education and Director of Volunteer Management.
Qualifications
At least one semester of service with Baltimore First required, including a clear understanding of program values, expectations, and requirements. Experience facilitating reflection is preferred.
Important Dates
Important Spring 2021 Dates
| | |
| --- | --- |
| Event | Date |
| General Volunteer Registration Opens | January 31 |
| Commitment Form opens | February 7 |
| Baltimore First Community Partner Site Expo | February 9 |
| General Volunteer Registration and Commitment Forms Close | February 14 |
| First Day of Volunteering | February 15 |
| Educational Workshop 1 | TBD |
| Educational Workshop 2 | TBD |
| Educational Workshop 3 | TBD |
| End of Semester Celebration | TBD |
Community Partners & Volunteer Times
During Spring 2021, Baltimore First will be partnering with 4 local nonprofits and community organizations virtually. Learn more about each organization and commitment times below.
Times are flexible, and most sites will not have set meeting times (more information coming soon).
Virtual Volunteering Opportunities for Spring 2021
Description
Corner Team, Inc. is organized around the longstanding and successful tradition of community sports programs that address holistic well being at the neighborhood level to shape Champions for Life! Volunteers have 3 potential projects they can get involved with:
Youth champions, an after school program for students grades 6-12, which consists of two groups of 20 students each based on grade. Volunteers partner up with students as mentors/accountability buddies. 4 days a week. 30-45 min call on Monday to set up goals for the week, see what they need, and then check in every day for about 10-20 minutes to check how they're doing. If they need help in any class/subject they can help the student with it as well.

Pollinator garden, CTI recently got a grant for a pollinator garden and they will need help planning it, preferably with input from their students. Volunteers will help coordinate. 2-3 volunteers would help and meet with each group of students (two groups of 20 students) once a week for one hour and incorporate/integrate their ideas into the design if possible.

STEM projects , volunteers would ideally be environmentally/ecologically oriented, and they have the opportunity to host a STEM project for students to learn more about the pollinator garden that they will be designing and building. Any other projects exploring STEM topics are welcome as well.