Become a Peer Mentor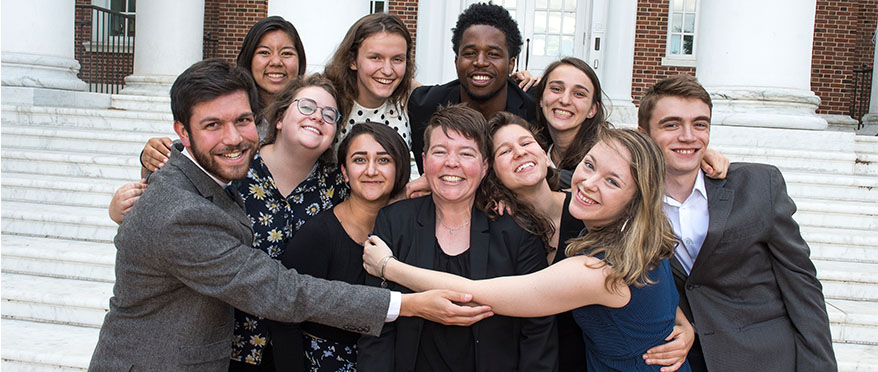 Community Impact Internship Program Peer Mentors are upperclassmen who have already participated in the Community Impact Internships Program. It's their responsibility to lead and mentor the CIIP cohort.
Peer Mentors are assigned to a placement area and CIIP intern group throughout CIIP and serve as another layer of support to the interns. The Community Impact Internships Program is successful due to the leadership and work of the Peer Mentors! Interested in becoming a Peer Mentor? Read more below.
Why Should I Apply?
CIIP provides students the opportunity to gain hands on real life experience in a variety of fields. As a Peer Mentor, you will:
have the ability to live in Baltimore for the summer to learn and explore what the city has to offer.
expand on your CIIP experience and lead and mentor new interns.
meet influential community leaders and listen to local renowned guest speakers who help address local issues.
build your professional skills and experiences that can be added to your resume while expanding your professional network.
make a positive impact on our Baltimore City community.
To learn more about the responsibilities, expectations, and qualifications of a CIIP Peer Mentor, view the full description on our Leadership Opportunities page.
Have questions? Contact Eli Lopatin, Assistant Director and CIIP Coordinator at the Center for Social Concern.
Become a Peer Mentor
Decided you want to be a part of this phenomenal internship opportunity and make a difference in our Baltimore community? View the application process and apply below.
Application Process and Procedures
Applications have been distributed to qualifying past interns, and are due September 30th.
View our 2017 Community Partners
As the Community Impact Internships Program evolves, our community partner list continues to grow. Below is the list of our partners that we worked with last year.
Arts (Visual or Performing)
901 Arts
Eubie Blake National Jazz Institute and Cultural Center
Jubilee Arts
Station North Arts and Entertainment
Wide Angle Youth Media
Food Access/Environment
Baltimore Green Space
Black Church Food Security Network
Boone Street Farm
Joy Wellness Center
TreeBaltimore
Urban Resources Initiative – Baltimore City Recreation and Parks
Criminal Justice, Law, and Government
Baltimore City Hall District 1 – Councilman Zeke Cohen
FreeState Justice
Made in Baltimore Program – Baltimore City Office of Sustainability
Maryland Office of the Public Defender – Juvenile Division
Out for Justice
YouthWorks – Mayor's Office of Employment Development
Education/Youth Programming
By Peaceful Means
Center for Educational Outreach – Barclay Elementary School
Code in the Schools
HEBCAC Youth Opportunity Center
The Intersection
Liberty Elementary School
MERIT
Thread
Healthcare/Health Policy
Baltimore Harm Reduction Coalition
Charm City Care Connection
Chase Brexton Health Services
Esperanza Center
Shepherd's Clinic
STAR TRACK
Homelessness/Poverty
Franciscan Center
United Way of Central Maryland – Project Homeless Connect
YES – Youth Empowered Society
Neighborhood Improvement
29th Street Community Center
Nate Tatum Community Center
Ruth M. Kirk Recreation Center
Strong City Baltimore – Healthy Neighborhoods
United Workers
Nonprofit Management/Development
Baltimore Corps
Central Baltimore Partnership
Fusion Partnerships
GLCCB (Gay, Lesbian, Bisexual, and Transgender Community Center of Baltimore)
Impact Hub
Invested Impact
Women and Family Wellness
Baltimore SquashWise
ERICA (Episcopal Refugee and Immigrant Center Alliance)
FORCE/Monument Quilt
Living Classrooms Foundation
Martha's Place
Important Dates
| | |
| --- | --- |
| CIIP Peer Mentor Applications Due | September 30 |
| CSC Staff will contact CIIP Peer Mentor Candidates to come in for interviews | Beginning October 2 |
| CSC Staff will select and notify Peer Mentor Cohort | October 20 |
| CSC Staff and Peer Mentor Prep. Meetings | October–May |
| CIIP Intern Application Review Period | January 2–26 |
| CSC Staff and Peer Mentor Prep. Meetings | February–May |
| Community Partners Meet and Interview Potential Intern(s) | April–May |
| Peer Mentor Orientation | May 29–June 3 |
| CIIP Student Orientation | June 4–June 8 |
| Community Partner Meet and Greet | June 8 |
| CIIP Internship Period | June 11–August 3 |
| CIIP Closing Reception for Interns and Supervisors | Saturday, August 4 (tentative) |
Peer Mentor Cohorts
Take a look below at some of our Peer Mentors. As you can tell, they are pretty awesome! We look forward to adding your picture to this page one day too!