Become an Intern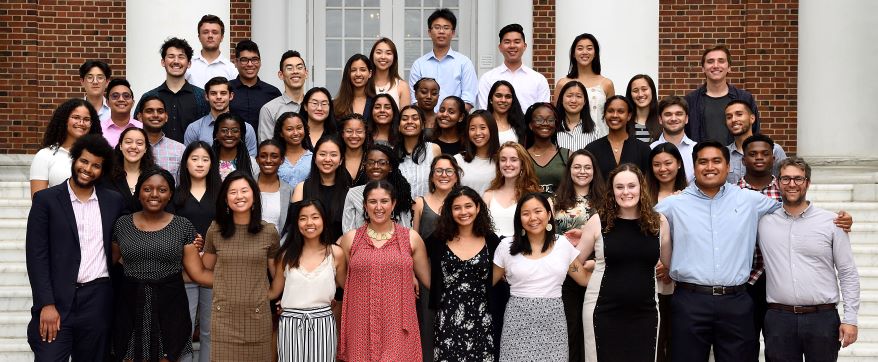 Each year, 50 students are selected to be a part of the Community Impact Internships Program. They work with approximately 40-50 different community organizations in Baltimore, totaling approximately 14,000 hours of community work. CIIP is an extremely competitive, paid internship, where students receive a salary of $4000. Freshmen, Sophomores, and Juniors of all majors are encouraged to apply. If you plan on taking a summer class, your CIIP experience is expected to be your main priority and permission to take a class must be given by CSC Staff prior to enrollment.
We hope you will consider becoming a part of this program. To learn more about our interns and our community partners, please view the 2019 CIIP program book (view digital version). Check out a snapshot below of CIIP Program Assistant Awoe Mauna-Woanya's summer working with the Maryland Transit Administration.
Why Should I Apply?
Take for example Awoenam Mauna-Woanya, the 2020 CIIP Program Assistant, and a past CIIP intern and peer mentor who spent the summer of 2018 working alongside the Maryland Transit Administration. While working with the MTA's Office of Planning, Awoenam supported community outreach for the North Avenue Rising Project. Like many others, he found a cause he wanted to support directly, and got practical learning experience doing so. The Community Impact Internships Program strives to give each of its students that same inspiration and opportunities for growth as they connect them to an organization.
Our community partners are selected for this program based on their need for an intern, interactions with members of the community, and a focus on a specific program for you to work on throughout your internship. They are asked that no more than 15 percent of your work be on clerical duties, so you will gain a true immersive and intensive Baltimore based experience. During your weekly reflections, we hope you will utilize your classroom learning and reflect and process the impactful work that is done with your fellow interns. The Coordinator of the program works with our community partners and interns to create placements that will be mutually beneficial relationships. We have no doubt that this internship will provide you with a meaningful experience and hope that it will positively impact your journey at Hopkins and beyond!
Opportunities
Above and beyond having the opportunity to gain hands on real life experience in a variety of fields, you will also:
have the ability to live in Baltimore for the summer to learn and explore what the city has to offer.
work with members of the community to work on the ground-level for real life problems.
meet influential community leaders and listen to local renowned guest speakers who help address local issues.
build your professional skills and experiences that can be added to your resume while expanding your professional network.
have the opportunity to work on an internship project that is hand-selected to match your skills and interests.
be a part of an intensive, cohort-based learning environment with weekly reflection sessions and presentations on Baltimore's past and present.
make a positive impact on our Baltimore City community.
Have questions? Contact Eli Lopatin, Assistant Director of Civic Leadership at the Center for Social Concern.
CIIP has given me the most transformative experience I've ever had. The people I've met and the lessons I've learned have left an indelible mark on me. I didn't think it was possible to love Baltimore and all its beauties and flaws as much as I do after the summer. – Claire Zou '21, International Studies Major,Computer Science Minor (Peer Mentor '19)
Becoming an Intern
Decided you want to be a part of this phenomenal internship opportunity and make a difference in our Baltimore community? View the application process and apply below.
Application Process and Procedures
The application for the 2020 Community Impact Internships Program is closed and will open in winter 2020.
Applications will be reviewed and first-round candidates will be invited for an interview by the Center for Social Concern staff in February. Interns selected for community partner placement will be notified by late February. Students are asked their preferred interest areas for placement on the application. Interns will be placed based on skills and interests of the individual and of the community partner.
View our 2019 Community Partners
As the Community Impact Internships Program evolves, our community partner list continues to grow. Below is the list of our partners that we worked with last year.
Community Arts Programs
901 Arts
Baltimore Youth Arts
Jubilee Arts
Open Works
Station North Arts and Entertainment, Inc.
Wide Angle Youth Media
Environment and Sustainability/Food Access
Baltimore City Office of Sustainability
Baltimore Green Space
Black Church Food Security Network
No Boundaries Coalition
Strength to Love 2 Farm
Whitelock Community Farm
Policy/Law/Government
Baltimore City Office of the State's Attorney
FreeState Justice
Made in Baltimore Program
Maryland Transit Administration
YouthWorks – Mayor's Office of Employment Development
Education/Youth Programming and Advocacy
Baltimore City Public Schools – Parent and Community Advisory Board
By Peaceful Means
Child First Authority – City Springs Elementary/Middle School
Child First Authority – Robert W. Coleman Elementary School
Code in the Schools
Corner Team Boxing
Dent Education
The Intersection
Liberty Elementary School
MERIT
Healthcare/Health Policy
Baltimore Harm Reduction Coalition
Chase Brexton LGBT Health Resource Center
Keswick Multi-Care Center
Shepherd's Clinic
STAR TRACK
Homelessness/Poverty
Franciscan Center
St. Ambrose Housing Aid Center
Immigration/Refugee Services
Centro SOL
ERICA (Episcopal Refugee and Immigrant Center Alliance)
Esperanza Center
Neighborhood Improvement/Community Organizing
29th Street Community Center
Greater Baybrook Alliance
Nate Tatum Community Center
United Workers
Waverly Main Street
Nonprofit Management and Development
Baltimore Corps
Central Baltimore Partnership
Fusion Partnerships
Impact Hub
Women and Family Wellness
Joy Wellness Center
Martha's Place
MOMCares
Important Dates
2019-2020 Important Dates
| | |
| --- | --- |
| Event | Date |
| CIIP Student Application Opens | October 21 |
| CIIP Student Application Deadline | December 29 |
| First Round Decisions Announced | January 21 |
| CIIP Interview Day | February 8 |
| Finalists Notified | Late February |
| Community Partner and Intern Matching | March |
| Community Partners Meet and Interview Potential Intern(s) | March-April |
| CIIP Student Orientation | June 1–June 5 |
| Community Partner Meet and Greet | June 5 |
| CIIP Internship Period | June 8–July 31 |
| CIIP Closing Reception for Interns and Supervisors | July 31 |