Community-Based Learning Workshops and Lectures
The CSC offers annual lectures and workshops on Community-Based Learning topics that are open to the Johns Hopkins community and area institutions. These sessions are free of charge and are usually held in the spring. We will be updating this page as new events are planned. Below are upcoming as well as previous events.
2018 Events
Community-Based Learning 101 Workshop
March 2, 2018, 12:30 p.m. – 1:30 p.m.
This workshop is for any faculty that has concerned teaching a community-based learning course. It will help you consider the "how to" aspects of creating and implanting a course. If you have any questions, please email Shawntay Stocks at sstocks3@jhu.edu.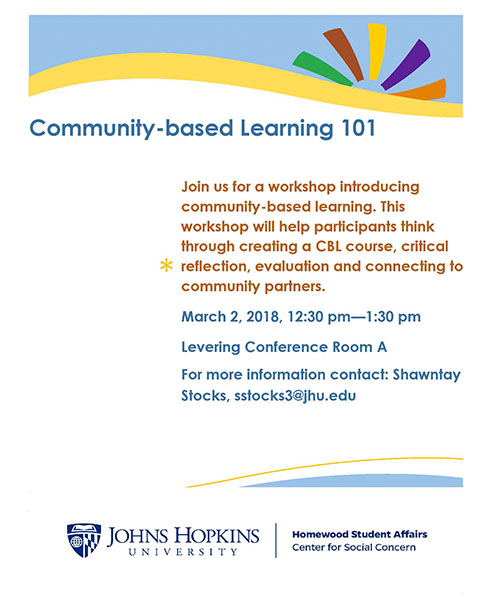 Citizen Science: Workshop for Community-Based Learning (CBL)
Dr. Gwen Ottinger, Drexel University
March 12, 2018, 10 a.m. – 1 p.m.
Register now at bit.ly/csc_cbl
About Dr. Ottinger
Dr. Gwen Ottinger's research asks how science and technology can better promote environmental justice. Her current project examines community-led air monitoring next to oil refineries, and helps build tools to make monitoring data useful to community advocacy.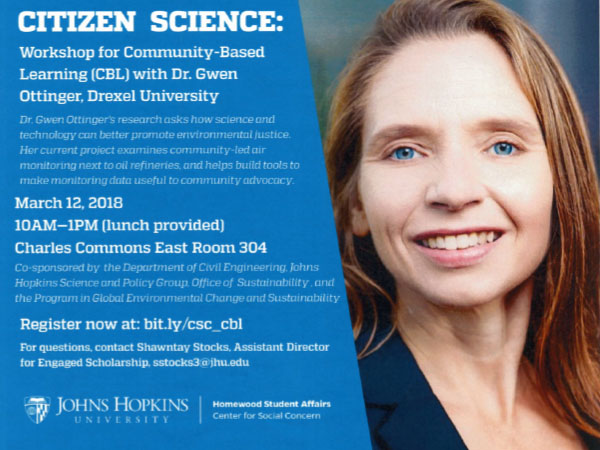 Previous 2017 Events