Community-Based Learning Workshops and Lectures
The CSC offers annual lectures and workshops on Community-Based Learning topics that are open to the Johns Hopkins community and area institutions. These sessions are free of charge and are usually held in the spring. We will be updating this page as new events are planned. Below are upcoming as well as previous events.
2019 Events
2018 Events
Thursday, August 23, 2018 (9 a.m. – 4:30 p.m.)
Great Hall in Levering
Wall's, Gates and Bridges: Exploring the Challenges and Opportunities of CBL Through Creative Practice
About Dr. Eatman
Dr. Timothy Eatman, a Social Scientist, Educator and Publicly Engaged Scholar will facilitate this year's Community-based Learning Summer Training. Dr. Eatman serves as the inaugural Dean of the Honors Living Learning Community (HLLC) and Associate Professor in the department of Urban Education at Rutgers University – Newark. Prior to this, his primary network of operation and leadership for over a decade was with Imagining America: Artists and Scholars in Public Life (IA) serving as Director of Research (2004 – 2012) and Faculty Co-Director (2012 to 2017). He is pleased to be part of the team that transitioned the central office of IA, a national consortium of over 100 higher education institutions and community-based partners working at the nexus of the cultural disciplines (humanities, arts and design) and publicly engaged scholarship, from Syracuse University to the University of California – Davis. This training will be a creative and reflective process that will help introduce the concept of CBL to faculty, community partners, and staff new to it, and it will help those already engaged to reflect on their current practices. Please RSVP at bit.ly/csc_eatman or register now.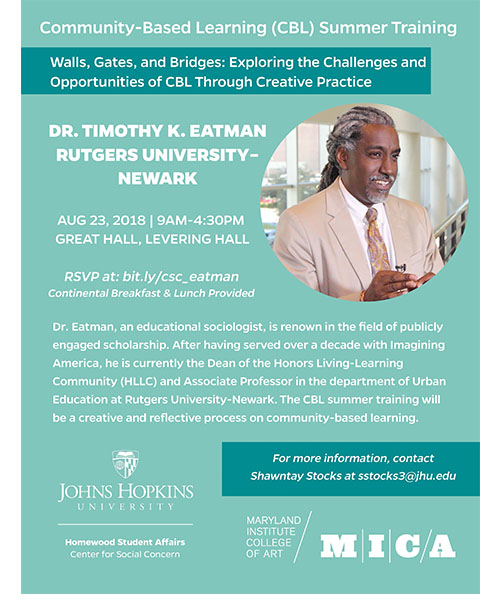 Community-Based Learning 101 Workshop
March 2, 2018, 12:30 p.m. – 1:30 p.m.
This workshop is for any faculty that has concerned teaching a community-based learning course. It will help you consider the "how to" aspects of creating and implanting a course. If you have any questions, please email Shawntay Stocks at sstocks3@jhu.edu.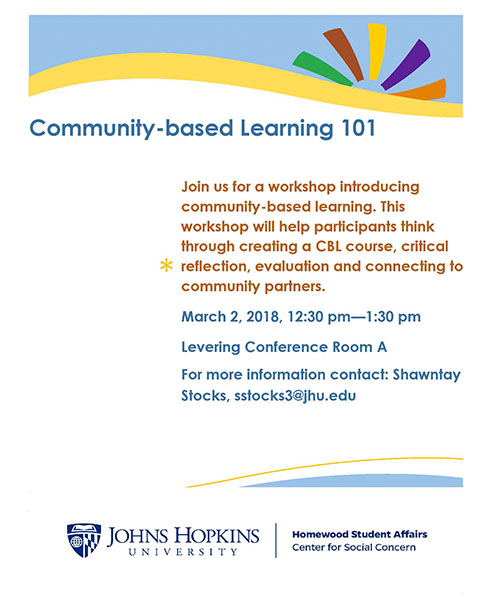 Citizen Science: Workshop for Community-Based Learning (CBL)
Dr. Gwen Ottinger, Drexel University
March 12, 2018, 10 a.m. – 1 p.m.
Register now at bit.ly/csc_cbl
About Dr. Ottinger
Dr. Gwen Ottinger's research asks how science and technology can better promote environmental justice. Her current project examines community-led air monitoring next to oil refineries, and helps build tools to make monitoring data useful to community advocacy.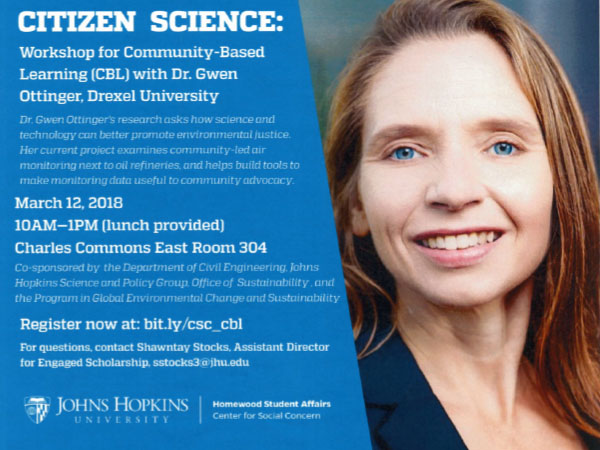 2017 Events
CBL STEM Workshop
Dr. William Oakes, Purdue University
March 28, 2017, 10 a.m. – 1 p.m.
Community-based learning offers many benefits for students and faculty including enhanced learning within the core academic content area, opportunities to develop the broader professional skills needed in today's global economy and deeper learning about ourselves and the communities we live in. Data suggests that making connections between Science, Technology, Engineering and Mathematics (STEM) disciplines and human and environmental needs within our communities can increase interest in the STEM topics and careers, especially with populations traditionally underrepresented in our fields. Community-based learning has been widely adopted in higher education but less so in the STEM disciplines. This workshop will explore ways to integrate community-based learning into STEM and other fields using successful examples as a framework and active discussions with participants to explore issues and constraints within their own classrooms. The workshop will actively engage participants in developing plans and ideas for their own students and local community.
About Dr. Oakes
Dr. William (Bill) Oakes is the Director of the EPICS Program and a Professor and a founding faculty member of the School of Engineering Education at Purdue University. He has been active in dissemination of service-learning and community engagement for university and K12 engineering programs. He has published more than 100 conference and journal articles and contributing to 13 books including co-authoring the first text for engineering community-based learning. He has received numerous awards for his efforts at Purdue including elected as a fellow of the Teaching Academy and listed in the Book of Great Teachers. He was the first engineer to receive the U.S. Campus Compact Thomas Ehrlich Civically Engaged Faculty Award. He was a co-recipient of the U.S. National Academy of Engineering's Bernard Gordon Prize for Innovation in Engineering and Technology Education, recipient of the U.S. National Society of Professional Engineers' (NSPE) Educational Excellence Award and the American Society for Engineering Education's (ASEE) Chester Carlson Award for Innovation in Engineering Education. He is a fellow of the American Society for Engineering Education and the National Society of Professional Engineers.
2013-2016 Events
Connecting Classroom and Community | Speaker – Dr. Joe Bandy
Dr. Joe Bandy is the Assistant Director of the Center for Teaching and affiliated faculty in the Department of Sociology at Vanderbilt University. He provided information on topics including:
The Benefits of Community-Engaged Teaching
An Overview of Teaching Models
Community Partnership Development and Ethics
Navigating Issues of Privilege and Cultural Competency
The workshop also included small group discussions facilitated by JHU faculty and staff with experience in academic-community partnerships. The Center for Social Concern and Center for Educational Resources co-sponsored this faculty workshop that provided an overview of community-based classroom pedagogies and best practices. [/accordion_item]
Build It and they Will Come? | Speaker – Dr. Steve Viscelli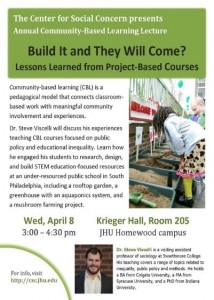 Dr. Steve Viscelli (PhD, Indiana; MA, Syracuse; BA, Colgate) is a Visiting Assistant Professor of Sociology at Swarthmore College. He provided a case study on courses that led to the development of a rooftop greenhouse project and other STEM efforts at a South Philadelphia public school. Dr. Viscelli's research focuses on the economics of labor markets, particularly in the trucking industry. Dr. Viscelli's teaching covers a range of topics related to inequality, public policy and methods. Recently he has taught two different CBL courses: 1) research methods and one on public policy and educational inequality. In these classes students researched, designed and built a number of STEM education-focused resources at an under-resourced public school in South Philadelphia, including a rooftop garden, a greenhouse with an aquaponics system, and a mushroom farming project.
This event was co-sponsored by the Center for Social Concern and the Earth, Environment, and Sustainability Initiative.
Learning Through Engagement:
Linking Together the University and the Community
Speaker – Dr. Susan Clampet-Lundquist
The guest speaker was Susan Clampet-Lundquist, Associate Professor of Sociology at Saint Joseph's University in Philadelphia. Through her courses and research on the effects of social policy and urban development on families and youth in both Philadelphia and Baltimore, Professor Clampet-Lundquist has demonstrated a longstanding commitment to social justice and fostering meaningful community partnerships. In her lecture, "Learning Through Engagement: Linking Together the University and the Community," Professor Clampet-Lundquist will discuss two of her CBL courses. The first course discussed was about students working alongside a prison population. The second course included pedagogical methods for preparing students for community work as they encounter issues of privilege, race and class differences. The Center for Social Concern, the Community-Based Learning Advisory Board, and the Department of Sociology at Johns Hopkins University presented the 2nd Annual CBL Public Lecture.
Food and Health:
Connecting Communities and Classrooms in Philadelphia with the University of Pennsylvania's Urban Nutrition Initiative
Speakers – Mary Summers and Jarrett Stein
The University of Pennsylvania's Urban Nutrition Initiative (UNI) connects University of Pennsylvania students and youth in West and North Philadelphia Public Schools through outreach projects around food, gardening, and nutrition education. Mary Summers, a Senior Fellow in University of Pennsylvania's Fox Leadership Program and a Lecturer in Political Science, offers coursework that supports UNI. Jarrett Stein is the Director of Student and Academic Engagement for UNI and is a graduate of the University of Pennsylvania. This lecture and discussion was a great way to showcase Community-Based Learning while discussing issues surrounding food, urban health, and urban education. This event was co-sponsored by The Center for Social Concern, Community-Based Learning Advisory Board and the JHU Center for Livable Future.