Community-Based Learning Workshops and Lectures
The CSC offers annual lectures and workshops on Community-Based Learning topics that are open to the Johns Hopkins community and area institutions. These sessions are free of charge and are usually held in the spring. We will be updating this page as new events are planned. Below are upcoming as well as previous events.
2018 Events
Thursday, August 23, 2018 (9 a.m. – 4:30 p.m.)
Great Hall in Levering
Wall's, Gates and Bridges: Exploring the Challenges and Opportunities of CBL Through Creative Practice
About Dr. Eatman
Dr. Timothy Eatman, a Social Scientist, Educator and Publicly Engaged Scholar will facilitate this year's Community-based Learning Summer Training. Dr. Eatman serves as the inaugural Dean of the Honors Living Learning Community (HLLC) and Associate Professor in the department of Urban Education at Rutgers University – Newark. Prior to this, his primary network of operation and leadership for over a decade was with Imagining America: Artists and Scholars in Public Life (IA) serving as Director of Research (2004 – 2012) and Faculty Co-Director (2012 to 2017). He is pleased to be part of the team that transitioned the central office of IA, a national consortium of over 100 higher education institutions and community-based partners working at the nexus of the cultural disciplines (humanities, arts and design) and publicly engaged scholarship, from Syracuse University to the University of California – Davis. This training will be a creative and reflective process that will help introduce the concept of CBL to faculty, community partners, and staff new to it, and it will help those already engaged to reflect on their current practices. Please RSVP at bit.ly/csc_eatman or register now.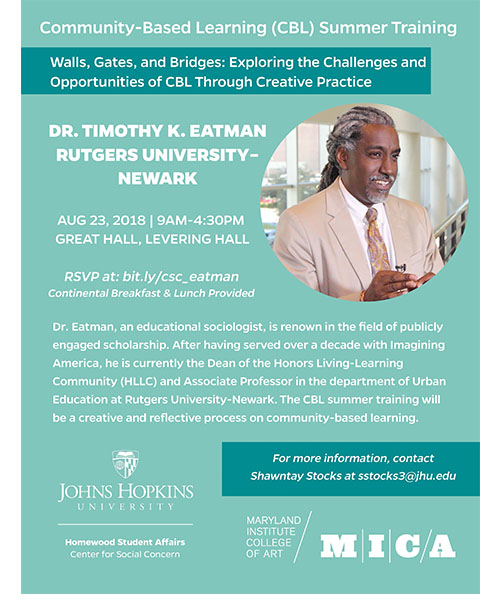 Community-Based Learning 101 Workshop
March 2, 2018, 12:30 p.m. – 1:30 p.m.
This workshop is for any faculty that has concerned teaching a community-based learning course. It will help you consider the "how to" aspects of creating and implanting a course. If you have any questions, please email Shawntay Stocks at sstocks3@jhu.edu.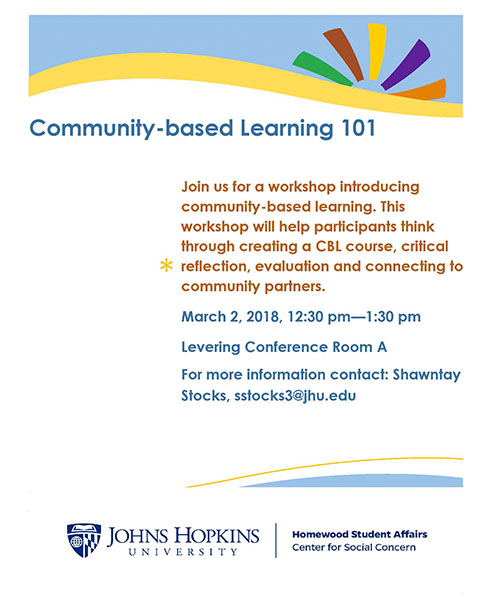 Citizen Science: Workshop for Community-Based Learning (CBL)
Dr. Gwen Ottinger, Drexel University
March 12, 2018, 10 a.m. – 1 p.m.
Register now at bit.ly/csc_cbl
About Dr. Ottinger
Dr. Gwen Ottinger's research asks how science and technology can better promote environmental justice. Her current project examines community-led air monitoring next to oil refineries, and helps build tools to make monitoring data useful to community advocacy.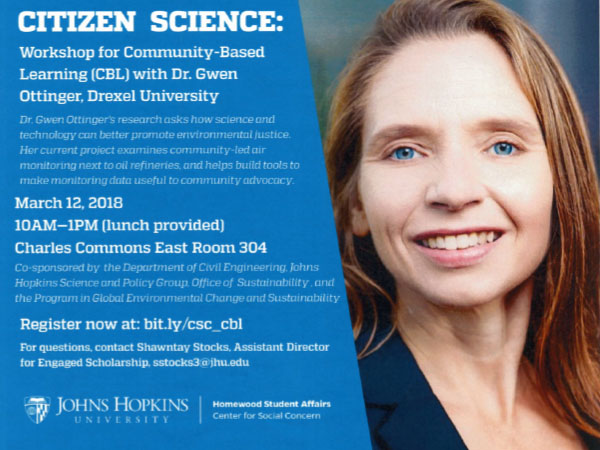 Previous 2017 Events