For Faculty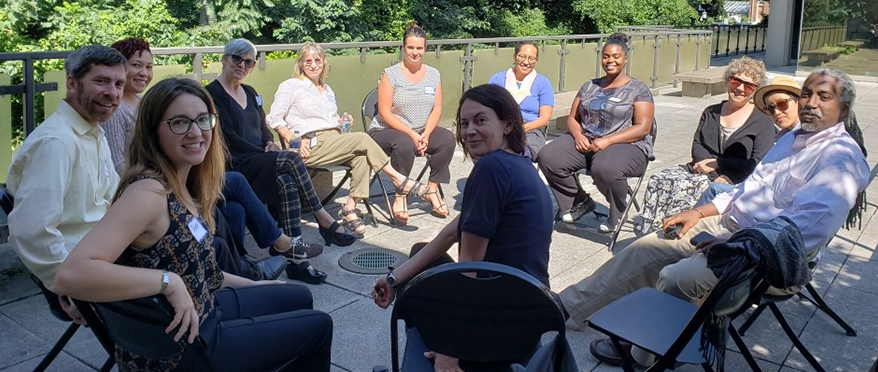 Summer 2018 Faculty and Staff Training
The Center for Social Concern's goal of Community-Based Learning is to increase Johns Hopkins' faculty and student engagement in our surrounding Baltimore community. Did you know that we already have JHU faculty who are very active in Community-Based Learning and Participatory Research? Some faculty have even been awarded the Crenson-Hertz Award. We hope you will consider joining our CBL Community of Practice!
What Does Community-Based Learning Mean for Faculty?
Do you teach a course that involves students engaging with nonprofits, community organizations, or schools? Would you like to use service experiences (such as conducting an ecological survey, teaching school-age children financial literacy, or creating a nonprofit business plan) to enhance student learning in your course? Read on!
The Benefits of CBL Include:
extending student learning in your course using service experiences
receiving support from the Center for Social Concern to find a community partner
promoting student engagement in your course and in the community
strengthening Johns Hopkins' collaborative relationship with the Baltimore community
being a part of a growing movement among Johns Hopkins faculty and students
being a part of a growing movement in higher education nationwide
Criteria of an Undergraduate JHU Community-Based Learning Course
Undergraduate courses must meet certain criteria to be formally designated as a CBL course on the online course schedule ad in University publications. Specifically, the syllabus or other written course materials must clearly indicate the following:
community-based experience is integral in the course design
course design includes critical reflection on the relationship between academic course content and the community engagement experience
academic credit is given for classroom and community learning, as demonstrated in students' preparation, research, evaluation, and reflection
student and community interaction must be sufficient to meet the desired community and academic outcomes
We have compiled other faculty resources that could help you when creating your course. View the resource list.
How do I find a Community Partner?
Because of the Center for Social Concern's history of outreach to Baltimore through student volunteer efforts, the Center for Social Concern is uniquely positioned to bridge the gap between campus and community. In order for a Community-Based Learning course to be successful, a strong community partner is needed. It is this organization that will guide students' work in the community when the course instructor is not present. Community partners are often schools, government agencies, or registered nonprofit organizations such as a museum, neighborhood center, advocacy group, or service provider.
I am Interested. Now What?
The Center for Social Concern staff can help you complete the following:
identify a community partner
design a project that will meet your academic goals
ensure that your project addresses a community-identified need
determine the logistics of how to engage your students in the Baltimore community
Questions? Contact the Center for Social Concern at volunteer@jhu.edu to get started.