France-Merrick Civic Fellowship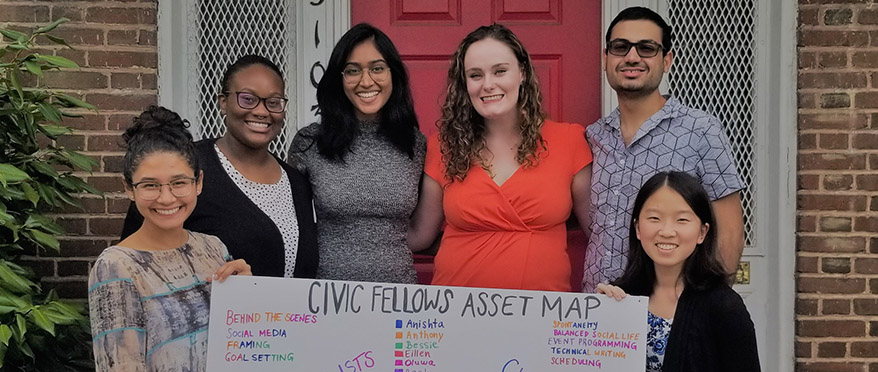 France-Merrick Civic Fellows
Anthony Boutros '20
Major: Sociology
Hometown: Houston, TX
Focus Area: Intersectionality
Eillen Daniela Martinez '20
Major: Medicine, Science, and the Humanities
Hometown: Orlando, FL
Focus Area: Immigration
Anishta Khan '21
Major: Public Health Studies & Writing Seminars
Hometown: Dhaka, Bangladesh
Focus Area: Arts Empowerment
Oluwadamilola Oshewa '20
Major: Neuroscience
Hometown: Newark, NJ
Focus Area: Reproductive Health Justice
Bessie Liu '20
Major: Molecular and Cellular Biology
Hometown: Irvine, CA
Focus Area: Employment Access
Reah Vasilakopoulos '20
Major: Public Health Studies
Hometown: Hauppauge, NY
Focus Area: Harm Reduction &
Reproductive Justice
The France-Merrick Civic Fellows program is a year-long opportunity for upperclassmen on the Homewood Campus to explore community service and civic engagement through various direct and indirect service opportunities. Fellows will be selected through a competitive application process for their leadership potential, their demonstrated interest in service and civic engagement, and their commitment to Baltimore City. Through the program, Fellows participate in a set of coordinated activities, including direct service projects related to an issue area or neighborhood of interest, training and reflection sessions, and professional development opportunities designed to catalyze their future service and engagement efforts. Students will be required to have a regular service commitment with an organization within the issue area or neighborhood of focus and also identify additional ways to understand the complexity of their focus area. Additional direct service opportunities (episodic or one-time projects) will build understanding of how the focus area is being addressed locally, in Baltimore.
The opportunity to reflect on service, learn related content, and identify other areas of growth in their personal understanding of the issue or neighborhood of focus will enhance student learning and leadership aptitude.
About the Fellowship
The France-Merrick Civic Fellowship is seeking talented applicants for the France-Merrick Civic Fellows program. This fellowship will engage a diverse cohort of six full-time, Homewood undergraduate students (juniors and seniors) to lead efforts in creating a culture of Baltimore-based service and engagement for Hopkins undergraduates. This experiential program will allow Fellows to gain an understanding of civic and community based systemic issues and opportunities.
During the year-long fellowship, students will:
commit to full participation in community service and cohort activities throughout the academic year.
receive a $3,500 stipend for living expenses and transportation or project needs during the fellowship.
engage with campus and community mentors for personal and professional development.
foster an understanding and commitment to social issues, root causes, and systemic challenges.
create and implement a community and civic engagement plan for the fellowship year, and their future commitment to the communities they call home.
commit to at least 10 hours of engagement weekly, including service, reflection, and professional development.
During this program, students will:
be guided through the process of planning and implementing their plan for success around an issue area or community of focus.
explore the issues of intersectionality within their issue area or community of focus and will craft a plan for a culminating project to take place during the spring semester.
will be encouraged to think critically about their experiences during their community service and create a project to engage their fellow JHU students in a direct service opportunity.
enhance their understanding of community-engaged projects and collaboration with nonprofit and community leaders.
be provided support systems including coaching support from their staff coach, mentoring, content expert training, along with peer cohort support.
Become a Fellow
Application Process and Procedures
Applications are now closed for the 2020-2021 cohort. Homewood students who will be junior or seniors in academic year 21-22 will be eligible to apply for the next cohort in spring of 2021.
Qualifications
December graduates and those students studying abroad during the fellowship year are not eligible to participate. This fellowship is open to Homewood juniors and seniors in good academic and professional standing, for the current academic year.
Important Dates
2020-2021 Important Dates and Program Timeline
| | |
| --- | --- |
| Event | Date |
| France-Merrick Civic Fellowship Application Opens | January 27, 2020 |
| France-Merrick Civic Fellowship Applications Deadline | March 1, 2020 (11:59 PM) |
| Fellowship Interviews | TBD |
| Finalists Contacted | TBD |
| Announcement of France-Merrick Civic Fellows | TBD |
| France-Merrick Civic Fellows Welcome Reception | Canceled |
| First cohort gathering | TBD |
| Civic Fellows Retreat *pending scheduling | TBD |
| Service, reflection, training, and mentoring sessions | September-May |
| Culmination Projects | April-May |