France-Merrick Civic Fellowship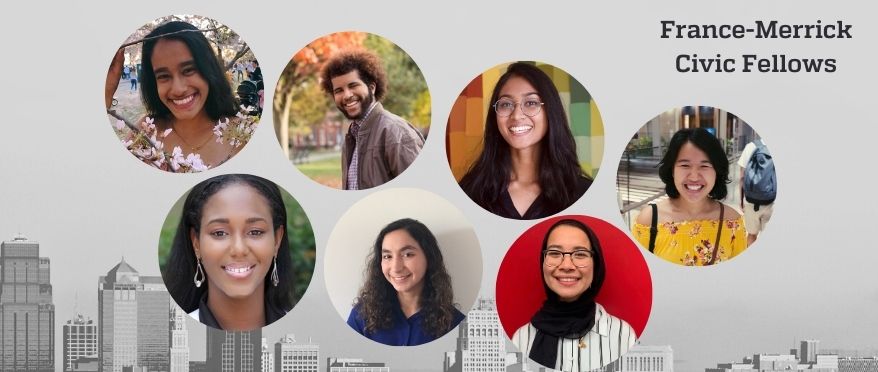 France-Merrick Civic Fellows
Anishta Khan '21 – Second Year Fellow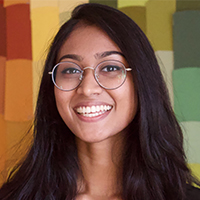 Anishta is currently a rising senior at Johns Hopkins University, majoring in Public Health Studies and Writing Seminars. She was born in Dallas, Texas, raised in Dhaka, Bangladesh, finished up high school in New Hampshire before coming to Baltimore. As a member of the inaugural cohort, Anishta worked with Writers in Baltimore Schools to support her ongoing engagement in arts empowerment. In the spaces she has found herself in, writing, and more broadly the arts, have helped Anishta find community and a fluency in understanding people. Inspired by such vibrancy, and in pursuit of more, she will be continuing her focus on youth arts engagement in her second year of the Fellowship. She hopes to work with organizations that are already doing the good work of giving platform, identity, and all sorts of communities to the young people of this resilient city.
Bentley Addison '21

Bentley Addison is a rising senior at Johns Hopkins University, majoring in Political Science and Sociology. He is from Somerset, New Jersey, and has lived there before moving to Baltimore in 2017. In the years he has spent in Baltimore, he has grown to love the city and plans to stay here long past graduation. Throughout his life, Bentley has seen the power of education in children's lives, both throughout his own education, and in engaging with educational institutions and youth in Baltimore through programs from the Center for Social Concern. Because of this, Bentley will be focusing on youth educational and extracurricular engagement throughout this Fellowship, and hopes to support and learn from organizations bringing resources and support to youth all over Baltimore City.
Serena Chan '22

Serena Chan is currently a rising junior at Johns Hopkins University, majoring in Molecular and Cellular Biology and minoring in Computer Science. She was born and raised in Hong Kong before attending school here in Baltimore. Through discussing her personal and peer's experience with reproductive healthcare and education, she believes that there are still vast inadequacies with this public health and socioeconomic issue. Thus, she will be focusing on reproductive health and justice throughout the Fellowship. She hopes that she will deepen her understanding of this issue and its complex intersections through being involved with local organizations that are already making an impact in the community.
Shanice Guthrie '21

Shanice Guthrie is a rising senior at Johns Hopkins University pursuing a B.A/M.A. in Philosophy and Medicine, Science & the Humanities with a minor in Bioethics. She was born in St. Andrew, Jamaica, and raised in West Palm Beach, Florida, where she completed her Associates in Arts degree before coming to Baltimore. Through her time served on the Board of Trustees at her community college and her involvement with her visually impaired brother's education, she finds passion in encouraging awareness for people with disabilities. Inspired by her brother's courage and drive for success, she will be focusing on Disability Inclusivity & Accessibility throughout the Fellowship. She hopes to work alongside organizations and individuals who are actively contributing to increased awareness, accessibility, and rights for people with disabilities within the diverse and ever-evolving Baltimore City area.
Smitha Mahesh '21

Smitha Mahesh is rising senior at Johns Hopkins University, majoring in Philosophy and minoring in Bioethics. She was born and raised in Perry Hall, MD. With a sincere interest for exploring and understanding unique spaces – from religions to cultures – Smitha finds philosophy and bioethics to be a guiding light in the darkness. Inspired by her committed service to Baltimore City and her passion for ethics and justice, she will be focusing on the intersection of healthcare and immigration through the Fellowship. She hopes to work with organizations that actively give a voice and identity the people and communities that empower the diverse immigration population of this city.
Noor Nassar '21

Noor Nassar is a rising senior at Johns Hopkins University, majoring in Molecular and Cellular Biology and minoring in Psychology and Entrepreneurship and Management. She was born and raised in New York, with a childhood filled with vibrancy and companionship of many younger siblings and cats. Growing up at a crossroads of multiple cultures and identities, she is familiar with the difficulties that immigrant families often face with navigating the web of cultural practice, stigma, and lack of resources. Now residing in Baltimore and supported by a community that inspires a locality of service, she aims to focus on the mental health needs of immigrant children in Baltimore. She looks forward to fostering relationships with organizations, families, and children in the collective effort to nurture and empower children.
Kayla Ostrow '21

Kayla Ostrow is a rising senior majoring in Civil Engineering and Earth & Planetary Sciences. Born and raised in New York City, Hurricane Sandy was the first time she understood the risk that a changing climate poses to urban communities. Through her experiences volunteering, she realized that while technical solutions are a major aspect of adapting to climate change, community-oriented solutions are equally imperative. She is excited to focus on climate justice in the Fellowship, and to work with and learn from organizations working to realize resilience in Baltimore.
Anthony Boutros '20
Major: Sociology
Hometown: Houston, TX
Focus Area: Intersectionality
Eillen Daniela Martinez '20
Major: Medicine, Science, and the Humanities
Hometown: Orlando, FL
Focus Area: Immigration
Anishta Khan '21
Major: Public Health Studies & Writing Seminars
Hometown: Dhaka, Bangladesh
Focus Area: Arts Empowerment
Oluwadamilola Oshewa '20
Major: Neuroscience
Hometown: Newark, NJ
Focus Area: Reproductive Health Justice
Bessie Liu '20
Major: Molecular and Cellular Biology
Hometown: Irvine, CA
Focus Area: Employment Access
Reah Vasilakopoulos '20
Major: Public Health Studies
Hometown: Hauppauge, NY
Focus Area: Harm Reduction &
Reproductive Justice
Overview
The France-Merrick Civic Fellows program is a year-long opportunity for upperclassmen on the Homewood Campus to explore community service and civic engagement through various direct and indirect service opportunities. Fellows are selected through a competitive application process for their leadership potential, their demonstrated interest in service and civic engagement, and their commitment to Baltimore City. Through the program, Fellows participate in a set of coordinated activities, including direct service projects related to an issue area or neighborhood of interest, training and reflection sessions, and professional development opportunities designed to catalyze their future service and engagement efforts.
Students will be required to have a regular service commitment with an organization within the issue area or neighborhood of focus and also identify additional ways to understand the complexity of their focus area. Additional direct service opportunities (episodic or one-time projects) will build understanding of how the focus area is being addressed locally, in Baltimore.
The opportunity to reflect on service, learn related content, and identify other areas of growth in their personal understanding of the issue or neighborhood of focus will enhance student learning and leadership aptitude.
About the Fellowship
The France-Merrick Civic Fellowship engages talented students in a year-long professional and personal development program. This fellowship engages a diverse cohort of six full-time, Homewood undergraduate students (juniors and seniors) to lead efforts in creating a culture of Baltimore-based service and engagement for Hopkins undergraduates. This experiential program allows Fellows to gain an understanding of civic and community based systemic issues and opportunities.
During the year-long fellowship, students:
commit to full participation in community service and cohort activities throughout the academic year.
receive a $3,500 stipend for living expenses and transportation or project needs during the fellowship.
engage with campus and community mentors for personal and professional development.
foster an understanding and commitment to social issues, root causes, and systemic challenges.
create and implement a community and civic engagement plan for the fellowship year, and their future commitment to the communities they call home.
commit to at least 10 hours of engagement weekly, including service, reflection, and professional development.
During this program, students:
are guided through the process of planning and implementing their plan for success around an issue area or community of focus.
explore the issues of intersectionality within their issue area or community of focus and will craft a plan for a culminating project to take place during the spring semester.
are encouraged to think critically about their experiences during their community service and create a project to engage their fellow JHU students in a direct service opportunity.
enhance their understanding of community-engaged projects and collaboration with nonprofit and community leaders.
are provided support systems including coaching support from their staff coach, mentoring, content expert training, along with peer cohort support.
Become a Fellow
Information Sessions
Homewood students who will be junior or seniors in academic year 2021-2022 will be eligible to apply for the next cohort in spring of 2021. To learn more about the Fellowship and application requirements, join the Center for Social Concern for an information session. Meetings with current Fellows and staff members will be offered throughout the application period. Register at bit.ly/FMCFinfo
Information sessions will be held:
December 7, 12:00 PM EST
January 20, 5:00 PM EST
January 27, 12:00 PM EST
February 4, 5:00 PM EST
Qualifications
December graduates and those students studying abroad during the fellowship year are not eligible to participate. This fellowship is open to Homewood juniors and seniors in good academic and professional standing, for the current academic year.
Application Process and Procedures
The France-Merrick Civic Fellowship will be accepting applications between December 1, 2020 – February 15, 2021.
There are essay questions that require thought, preparation, and planning. Unfortunately, once you begin your application, you do not have the ability to "save" it. We strongly encourage you to write your answers in advance so you an easily "cut and paste" them into the application below.
You are required to submit a resume. We encourage applicants to polish their draft resumes with a member of the Life Design Lab team before applying to the program.

Students can also schedule a drop in virtual appointment to gain insight that will help finalize your professional resumes. Contact the CSC's Executive Director at misti@jhu.edu.

Submit your online application on Hopkins Engage (application will be available December 1, 2020 – February 15, 2021).

Please be aware that you cannot save your responses once you begin the application.

Selected candidates will be invited to a Welcome Reception and Civic Fellows Retreat during the summer. Please view the "Important Dates" tab to ensure your availability.
Important Dates
2020-2021 Important Dates and Program Timeline
| | |
| --- | --- |
| Event | Date |
| France-Merrick Civic Fellowship Application Opens | December 1, 2020 |
| France-Merrick Civic Fellowship Applications Deadline | February 15, 2021 (11:59 PM) |
| Fellowship Interviews | March 21, 2021 |
| Finalists Contacted | April 1, 2021 |
| Announcement of France-Merrick Civic Fellows | April 5, 2021 |
| France-Merrick Civic Fellows Welcome Reception | TBD |
| First cohort gathering | May 21, 2021 |
| Civic Fellows Retreat *pending scheduling | TBD |
| Service, Reflection, Training, and Mentoring Sessions | September-May |
| Culmination Projects | April-May |