HopServe50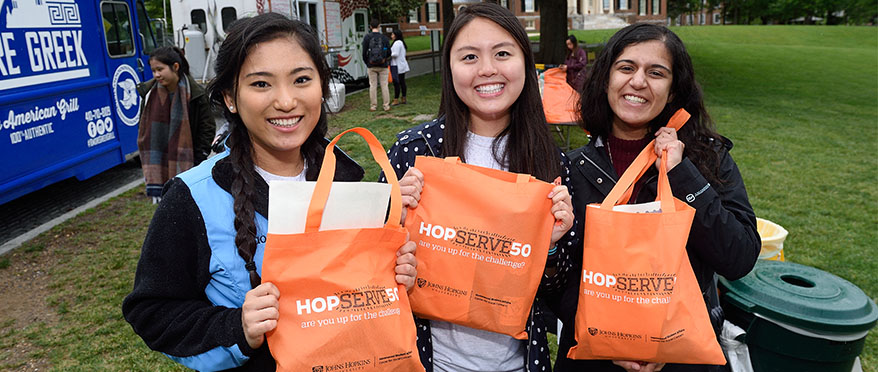 The Center for Social Concern is kicking off the new year by inviting all JHU Homewood undergraduate and graduate students from the Krieger School of Arts and Sciences, Whiting School of Engineering, Peabody Institute, School of Education, and the Carey Business School to participate in the HopServe50 service challenge! Are you up for the challenge? HopServe50 begins on August 29, 2019 and ends on May 1, 2020. Read more information below.
What is HopServe50?
HopServe50 is an academic year service challenge to all undergraduate and graduate Homewood students to serve a minimum of 50 hours of non-paid civic engagement activities in Baltimore City. This includes activities with organizations whose work benefits the residents of our community. There are two tiers of HopServe50: HopServe50 and HopServe50 Plus. Read below to learn about the different tiers.
HopServe50
Registered participants who complete at least 50 qualifying service hours or non-paid civic engagement activities during the academic year are eligible to receive the HopServe50 Certificate. You'll also be invited to an end of the year celebration that you won't want to miss!
HopServe50 Plus
Registered participants who complete 100+ qualifying service hours or non-paid civic engagement activities during the academic year are eligible to receive the HopServe50 Plus Certificate. Similar to the HopServe50 achievers, registered participants who complete over 100 service hours will also be invited to an end of the year celebration!

I love how HopServe50 allows students to engage in a wide range of activities that, altogether, make "Charm City" live up to its name.

Fiona Pat '20
Why Should I Participate in HopServe50?
There are so many reasons why you should participate in HopServe50 but we'd run out of room naming all of them. Look, we realize that as a student your time is limited. We understand you are juggling a full course load, studying lots, and have millions of other activities and commitments, but everyone needs a break! So, get away from your dorm room and leave the library for a little bit and get involved in HopServe50! Meet new friends, learn about Baltimore, and engage with our community, while working side by side with the impactful organizations that support our community 24/7. We're confident that it will rejuvenate you in ways that you aren't expecting! Completing HopServe50 is also a great addition to your resume and will give you something to brag about with future employers and on grad school applications! The CSC believes the most valuable part of this experience is actively engaging with our community and providing an experience that will benefit you and others during your career at Hopkins and beyond. We can't express to you enough the personal benefits, satisfaction, and professional skills (i.e. communication, critical thinking, leadership, etc.) that you'll receive when participating in this challenge!
What Types of Activities Count?
If you are new to the CSC and need help finding a way to participate in HopServe50, it's no problem! Many of the CSC's program activities also count towards the service challenge. Definitely check them out! If you are already are working with an organization as an individual volunteer, not through the CSC, your service hours can count towards this challenge! Still need help? Baltimore First can help you. Read more below.
Baltimore First
Baltimore First, a student initiative, is working with the Center for Social Concern to support HopServe50. Baltimore First provides local nonprofits and community organizations with weekly and bi-weekly volunteers. They believe that consistent commitment breeds trust and stability, which are essential for greater change. Putting "Baltimore First" means carrying out the missions of our partners, as expressed by our partners: organizations that work to improve the quality of life in Baltimore City.
Connect with a great organization and make an impact in our city! We're pretty sure you'll meet a new group of Hopkins students through Baltimore First that may just be your new best friends too! Learn more and join Baltimore First today!
Have questions? Contact volunteer@jhu.edu, or email the Baltimore First Student Executive Board at baltimorefirst17@gmail.com or follow them on Facebook.
Below are some examples and a list of activities that count towards HopServe50. If you still have questions, go to our FAQ page to learn more.
List of Activities
Note: Activities conducted through Community-Based Learning courses and independent study also qualify if course activities fit any of the descriptions below.
Volunteer and direct service that benefits non-Hopkins affiliates (ex. CSC student groups volunteering in the community with a local non-profit, President's Day of Service, etc.)
Center for Educational Outreach (ex. Barclay, HRC, Maryland Science Olympiad, SABES, etc.)
Service completed during an Alternative Breaks Program
Non-paid internships in a non-profit, grassroots collective, social enterprise, or local government setting
Conducting non-paid research on behalf of/in partnership with a non-profit, grassroots collective, social enterprise, or local government
Philanthropic activities (ex. Dance Marathon, Relay for Life)
Blood drives
Serving as a non-paid board member of non-profit, grassroots collective, social enterprise, or local government initiative
Organizing community events and artistic performances that raise awareness of social issues
Faith-based activities that benefit the broader community (ex. food pantries, meal preparation for people experiencing homelessness, but NOT activities that involve influencing someone to adopt a certain religion)
Advocacy and civic participation activities (ex. voter registration drives, campaigns for social justice issues, but NOT promoting a particular political candidate)
Serving as a non-paid organizer of any of the activities above
Attending a facilitated reflection session
Qualifying activities adapted from Grand Valley State University's "What Counts as Service? website.
How do I Register and Track my Hours for HopServe50?
There are a few short steps that you need to complete to participate in HopServe50. Create a Track it Forward Profile, sign up for HopServe50 in Track it Forward, and start logging your hours!
Reflection
The Center for Social Concern believes that critical reflection is an important component of the HopServe50 learning experience. We hope that your service experiences were meaningful and impactful while providing you with a hands-on experience that coincides with your academic and personal goals. We encourage all HopServe50 participants to take the time to reflect on your service experience.
Consider the following questions:
Why did I initially sign up for HopServe50?
What activities did I do?
Who else was there?
What did I learn?
Did I acquire any knowledge or skills during this experience?
What effect did this experience have on me and others?
Will this experience inspire me to continue a commitment to serving others?
Still have questions? Go to our FAQ page to learn more or email us at volunteer@jhu.edu.