Group List
Each student group is categorized based on an interest area listed below. You can briefly view each student group's expectations and learn more about their group by clicking on each student group name within the interest area.
Join a Student Group
After identifying a student group that you'd like to join, click on the student group name. It will take you to "Hopkins Groups" (the system that organizes all of our student groups) and click "Join Organization." Otherwise, you should contact the "primary contact" in each student group you are interested in joining. A team leader should follow up with you shortly.
All of our student groups do amazing work! Check out a few of our group spotlights: Alpha Phi Omega, Charm City Science League, Hopkins for the Homeless, Jail Tutorial Project, and Remington Homework Club!
Still have questions? Consider attending a Volunteering 101 Session (more information coming soon) to more about volunteer and engagement opportunities. Or, consider adding the Student Involvement Fair. You'll get a chance to speak with all of the CSC's student groups in person.
Interest Areas and Student Groups List
Our Support and Commitment
Each student group is assigned a CSC staff advisor and a group management intern. Advisors are professional staff members at the Center for Social Concern or one of its partner offices on campus.
Staff advisors and group management interns serve in an advisory capacity to support student group engagement with community partners, interpret University policy, and provide guidance and support to work through challenges that may arise. In addition, CSC staff advisors and group management interns challenge and support student groups to provide high-quality, respectful, and meaningful service in concert with our community partner organizations to address community-identified needs. We are here and committed to support you! Meet our group management interns for the 2017-2018 academic year below.
Group Management Interns
Reah Vasilakopoulos '19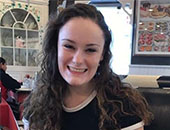 Reah is a sophomore majoring in Public Health and Applied Mathematics & Statistics, originally from Long Island, New York. In addition to working at the Center for Social Concern, she is involved in J.Magazine, the Sexual Assault Resource Unit, Blue Key Society, and Kappa Alpha Theta. Reah is so excited to be a part of the group management team for 2017-2018!
Expectations
Unlike on-campus organizations, Center for Social Concern student groups have an added responsibility to their community partner(s) and the population they serve. Each student group has appointed leaders and officers (i.e. President, Vice-President, Financial Officer, etc.) who serve as points of contact to the CSC, their community partners, and fellow group members. Student group leaders work closely with their community partners to ensure each other's goals are met and there is successful collaboration throughout the year.
In addition, group leaders work with CSC staff advisors and group management interns to ensure they are meeting CSC and University policies and procedures.
Our hope is that your student group experiences provide you and your group members an opportunity that compliments your academic endeavors, helps you explore pressing social justice challenges, and deepens your understanding of your personal strengths and weaknesses.
Still have questions? Contact volunteer@jhu.edu or call (410) 516-4777.