Charm City Science League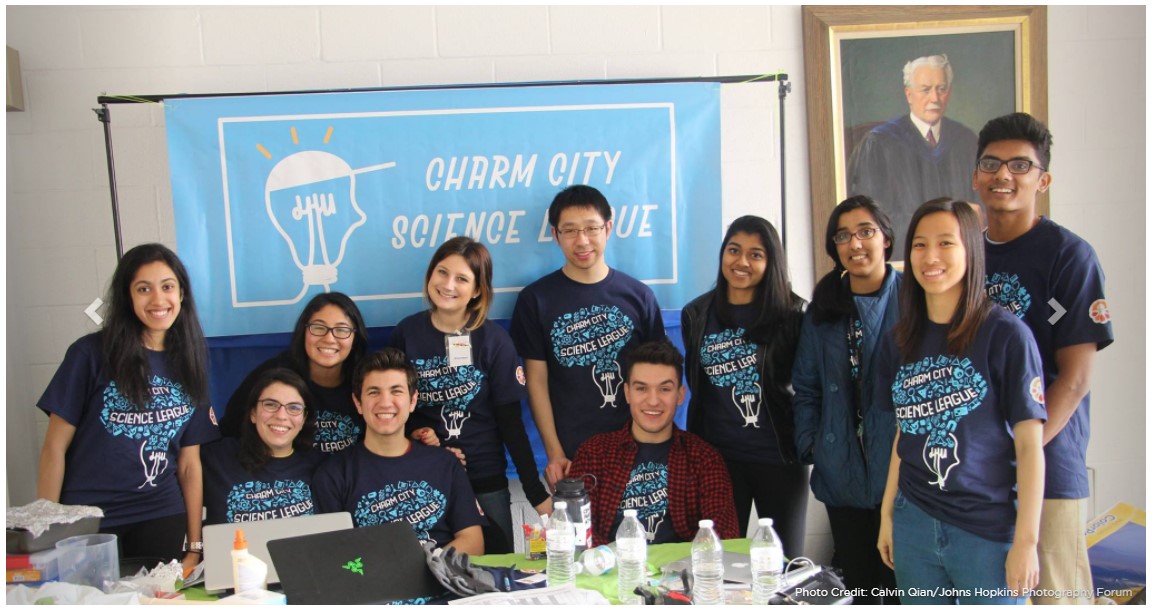 The Charm City Science League was founded in 2012 by undergraduates at the Johns Hopkins University. The group mission was to serve as a science enrichment opportunity for students in inner city Baltimore middle schools. What started as a program with 5 JHU mentors and 5 middle school students has developed into a program boasting 100 JHU undergraduate, graduate, and PhD mentors in addition to 15 middle school programs. In 2016, it was recognized as a model program by the Maryland/DC Campus Compact.
The core of CCSL's impact stems from the Science Olympiad program. Through Science Olympiad, CCSL seeks to deliver a supreme extracurricular education in STEM while inspiring middle school students to consider career options in an emerging field. JHU mentors travel to middle schools on a weekly basis in order to train middle schoolers for Olympiad competitions.
Mission Statement
Charm City Science League's mission is to improve academic performance in Baltimore City middle schools, with a focus on enriching science, technology, engineering, and math (STEM) education. We inspire Baltimore City Middle School students using a unique combination of intensive one-on-one mentoring, academic competition participation, and greater community involvement. In doing so, we hope to bring the considerable educational resources available at Hopkins to the Greater Homewood community, and engage our students with the thrill of scientific discovery and critical thinking.
Join the Charm City Science League
Are you a Johns Hopkins student interested in becoming a mentor? Are you a teacher at a local school interested in receiving mentorship for your students? If so, please contact jhu.ccsl@gmail.com. You can also read more about Charm City Science League's volunteer expectations in the Education and Youth Programming STEM student group list.
Meet the Leaders
Staff

Margaret Hart
STEM Outreach Advisor

Whiting School of Engineering
Johns Hopkins University

Kate McGuire
MD Science Olympiad Advisor

Student Leaders

More information coming soon about the student leaders of the Charm City Science League at Johns Hopkins University.

Joe Falco
President
Evelyn Yeh
Vice President
Damian Cross
Research & Development Head
Kim Koon
Curriculum Head
Richard Oh
School Relations Head
Ank Agarwal
Curriculum Head
Stanley Chu
School Relations Head
Sai Pinni
Research & Development Head
Manjari Sriparna
Secretary
Hadley VanRenterghem
Curriculum Head
Noah Yan
Treasurer