Student Initiatives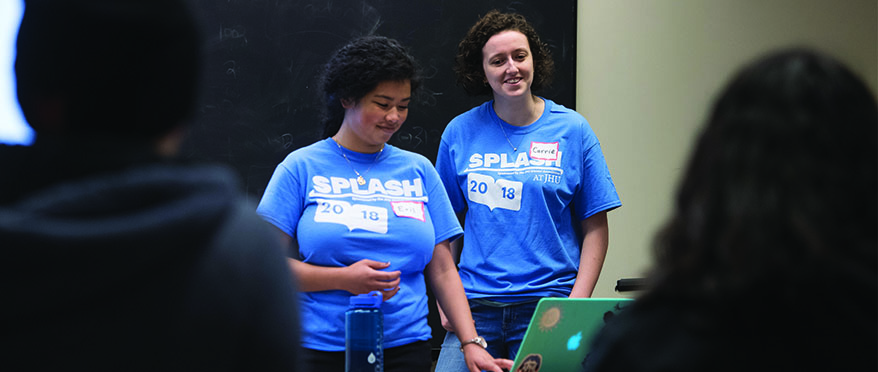 The Center for Social Concern advises and supports over 50 student initiatives, many of which perform direct service in partnership with community based organizations across Baltimore City. These groups are entirely student-led and dedicated student leaders invest hundreds of hours annually into ensuring the continued operations and successes of these vital community programs. The Center also has a network of student interns who are instrumental in helping support the CSC's initiatives and programs. Learn more about these positions by visiting our leadership opportunities page and meet some of our student leaders!
Have questions about student initiatives? Contact Caroline Ouwerkerk, Assistant Director, or drop by and chat with us during walk-in office hours.
Student Initiatives
The Center for Social Concern's three different student initiatives allow for a more tailored advising support while meeting the needs of our students and partners. To support this diversified structure of student led activities, we offer the following three initiatives: 1) Student Groups, 2) Event Based Service Programs (more information coming soon), and 3) Baltimore First Individualized Direct Service Program. Read the initiative descriptions and summer service guidelines below.
Student Group
Event-Based Service Program
Baltimore First Individualized Direct Service Site
Who?
All groups that perform regular group-based direct service to the Baltimore community
All groups that perform group-based direct service through the development and execution of semesterly or annual events
Individuals or groups of individuals who participate in a direct service commitment with a specific service site in the Baltimore community
What do we expect?



Primary Function- direct service

On-campus presence through general meetings, social events, and issue education

Attend all trainings, comply with reporting requirements, and exhibit sound fiscal management




Primary Function--organizing events whose primary beneficiary is an off-campus population

Events align with group's mission and are demonstrated to provide services and/or benefits

Comply with reporting requirements and exhibit sound fiscal management




Commit to regular direct service to a community partner/service site for a semester or school year

Likely be in small groups/cohorts

Attend required trainings and reflections by the CSC


What will service look like?



Maintain consistent and active volunteer membership. "Active membership" defined by group

Primary volunteer effort is strong direct service responding to a community-identified need

No (or few) fundraisers/awareness events


Primary work of group is planning and executing events (no service in interim) responding to a community-identified need
Service activities driven by demonstrated partner need; with each volunteer making a semester-long commitment to one service site
What will we provide?
Assigned advisor, funding, and office support
Assigned advisor, funding, and office support
Site leader, group reflection,and transportation
What will you learn?
Strong direct service; Reflection; Student group organization and volunteer management
Event planning, fundraising, volunteer management
Sustained strong direct service, reflection, meaningful community partnerships
Below are guidelines for student initiatives during the summer period.
Timeline Overview:
Academic Year Period: August 15, 2018 through May 3, 2019
Summer 2019: May 15 through August 15
During the summer period 2018, expenses for CSC student initiatives will be charged to a special "CSC Summer Service" account. Individual initiative budgets will not be charged for summer expenses. Note that students should not charge this account for any academic year period expenses.
Summer 2019 expenses will be requested by groups as part of their 2019-2020 Annual Allocations request
Summer 2018 Guidelines:
During summer 2018, the CSC will process purchase requests only. Purchase requests may be submitted through this form on Hopkins Groups or click the blue button below.
The CSC strongly discourages students from acquiring out of pocket expenses, and thus reimbursement requests will only be processed when students have gotten pre-approval or in the event of an emergency.
Groups should use the Lyft program and HopVans in order to have transportation expenses directly billed to the CSC. In addition, there are free transportation options (the Charm City Circulator and the JHMI) that continue to run throughout the summer.
As a reminder, CSC funding comes from an endowment that is restricted only to expenses related to direct service in Baltimore City. CSC's and Student Leadership and Involvement's normal policies and procedures regarding purchases—with exception of reimbursement procedures—are still in effect.
Volunteers should continue to log their service hours through Track it Forward. Track it Forward is the university's official record of student volunteer hours.
Can I Start a New Initiative?
Students interested in starting a new initiative, have the ability to submit an annual proposal. Read more about starting a new student initiative or visit our frequently asked questions to learn more. If these opportunities don't catch your eye, learn more about other CSC's programs that will allow you to engage with Hopkins and Baltimore communities.
Civic Engagement Recognition and Allocations Commission
The Civic Engagement Recognition and Allocations Commission strives to increase student input and enhance transparency in the student initiative recognition and funding process. The Commission consists of 7 members: 5 student commissioners and 2 CSC staff members.
View members of the Civic Engagement Recognition and Allocations Commission below and learn more about about how to join the Commission by viewing our leadership opportunities page.
Gillian Miller '20

Gillian is a sophomore from Florida studying Neuroscience and Psychology with a minor in Visual Arts. She is currently part of Baltimore First, volunteering at St. Francis Neighborhood Center and Club 1111 regularly and serving on the Board of Directors. She also works as a camp counselor for the weekend Respite Camps through The League for People With Disabilities.
Jamie Park '21

Jamie is a freshman currently majoring in International Studies and Sociology. She is from Seoul, South Korea, and is involved in JHUMUNC, PCT at JHU, and is a member of Kappa Alpha Theta. She is excited to work with other commissioners and looks forward to creating a more comfortable and transparent environment for community service at Hopkins.
Naisa Rahman '20

Naisa Rahman is a second year student from Atlanta, GA interested in building political participation and social justice advocacy in immigrant communities. She is currently a board member of the JHU Muslim Student Association and the Homewood Council on Inclusive Excellence and a part of the Baltimore LeaderShape program. She hopes to be able to strengthen the relationship between Johns Hopkins and Baltimore as a member of this Commission and encourage greater solidarity between diverse communities.
Katie Smith '20

Katie is a sophomore Chemical and Biomolecular Engineering major from Connecticut. She is an AmeriCorps NCCC alum and started her Hopkins career with the HopkinsCORPS pre-orientation program. Since then, she has worked as a facilitator for HopkinsCORPS and the Intersession Alternative Breaks program. Katie is a member of the CSC group Real Food at Hopkins and is on the executive board of the Food Systems Working Group that collaborates with the Dining Department and National Real Food Challenge. She also works for the Dining Department to coordinate procurement shifts to support more just and sustainable food.
Joel Espinoza '21

Joel Espinoza is a freshman Public Health and Molecular and Cell Biology double major. He is currently a member of Baila!, the Latin dance group on campus, and Adoremus, the Christian A Cappella group. Aside from performing, Joel is the Vice President of Indigenous Students at Hopkins, a member of AIDS Alliance at Johns Hopkins, and works part time as a teacher's assistant for Village Learning Place.

The Commission is responsible for reviewing, evaluating and approving new student initiative proposals, ongoing student initiatives, and all funding allocations. They work with CSC staff and student interns to assess the quality of initiative based on the publicized specific criteria and corresponding evaluation rubrics set out for each initiative. These criteria will be assessed through the Commission's review of written reports (e.g. the current Mid-Year and End-of-Year Reports) and in person evaluations such as presentations by potential new group officers to the Commission. CSC staff and interns will work with the officers of each student initiative to support them through making any needed adjustments and will give them the resources they need to be successful. In cases where an initiative is unable or unwilling to meet minimum standards within a semester of an initial notification, the Commission, in consultation with CSC's leadership, reserves the right to discontinue a student initiative.
Funding
Funding allocations will be determined by specific student initiative in consultation with the Civic Engagement Recognition and Allocations Commission throughout the year. Initiatives may apply for multiple grant funding but must complete separate submissions for each grant. Student initiatives are eligible to apply for funding at two frequencies.
Annual Allocations (submitted as part of re-registration in March)
Transportation to service projects
Fees to national organizations
Recruitment expenses
Anticipated supplies for the upcoming academic year
Anticipated service-related expenses (including mandatory trainings, if known)
Fingerprinting expenses
Food for general body meetings
Apparel/imprinted items (request for CSC contribution, design can be approved later)
Supplemental Grants (once a semester)
Service Fund – provides supplemental funding for the student initiative's direct service activities.
Professional Development/Travel Fund -supports students traveling to local, regional, or national conferences/trainings to represent their student initiative.
Event Fund -Annual Allocation (France Merrick) funds cannot be used for event-related expenses, such as food, venue rental, AV, security, facilities, and related items. These expenses must be deducted from the event's revenue. Thus, the final donation from the fundraiser will equal the ticket proceeds minus event expenses.Events fall into two categories:1. Fundraisers – events whose primary purpose is to raise money for a designated nonprofit organization
2. Educational/Awareness Events – events whose primary goal is to educate/raise awareness in the Hopkins Community about a social justice issue
Supplemental Grants Program
General Guidelines
Overview
This program was a result of student leader feedback which indicated that it was difficult to project group expenses nearly a year in advance. It also provides funding for commonly requested activities not covered by the endowment.
This Supplemental Grants Program is designed to:
close the funding gap between spring-awarded funds for service and essential expenses identified between the Annual Allocations period and the following academic year (such as additional supplies and transportation funding);
allow student leaders to participate in professional development opportunities not currently able to be funded through the endowment (such as travel to conferences on behalf of the group);
and allow student initiatives to hold fundraising events for their community partners and/or to offer on-campus educational or advocacy events to raise awareness of social issues related to their service.
General Guidelines
Funding for supplemental grants is limited and is allocated by members of the Civic Engagement Recognition and Allocations Commission once per semester. Proposals will be evaluated based on the specified criteria. Late proposals will be considered during the next review period. Initiatives are encouraged to apply early.
Supplemental funding will not be allocated to student initiatives with rosters where less than 80% of the listed members have completed the mandatory annual CSC training as of October 15. Student initiatives with 10% or more members who haven't completed mandatory CSC training by December 17 will have their CSC account frozen and be unable to receive supplemental grants until their members have completed the training. All students traveling must also complete the mandatory CSC training.
How to Apply
Proposals should be submitted through the CSC Supplemental Grant form on Hopkins Groups. More details about each grant are available on the form.The fall proposal deadline is Monday, October 15 at noon.
The following grants are available:
Service Fund is designed to provide supplemental funding for the student initiative's direct service activities.
Professional Development/Travel fund is designed to support students traveling to local, regional, or national conferences/trainings to represent their student initiative.
Fund—Expenses (such as food, venue rental, etc.) for fundraisers and educational/awareness events
Important Dates
Important 2018 Dates
Event
Date
Fall
Supplemental grant proposals deadline
Monday, October 15 (noon)
Initiatives notified of proposal status
Wednesday, October 24
Spring
Grant proposal form open
Monday, January 28
Grant proposal deadline
Monday, February 18 (noon)
Initiatives notified of proposal status
Wednesday, February 27
New student initiative applications accepted
March 1-16
Existing CSC initiatives re-registration period
March 1-April 1
Prospective new initiative presentations to Civic Engagement Recognition and Allocations Commission
Weeks of March 25 and April 1
CSC groups annual allocations meeting
Saturday, April 6
Annual allocations decisions communicated
Wednesday, April 10
New initiatives announced
Sunday, April 14
Appeals re: prospective initiative application or annual allocation decision must be submitted
Friday, April 19
Annual allocations fund and prospective initiatives application appeals meeting
Week of April 22
All prospective initiatives notified of status.
annual allocations approved for all groups
By April 30