Sister Cities, Sister States: Local Artists Travel to Liberia, West Africa and Perform an Original Play to Mark the Bicentennial
Posted: January 27, 2023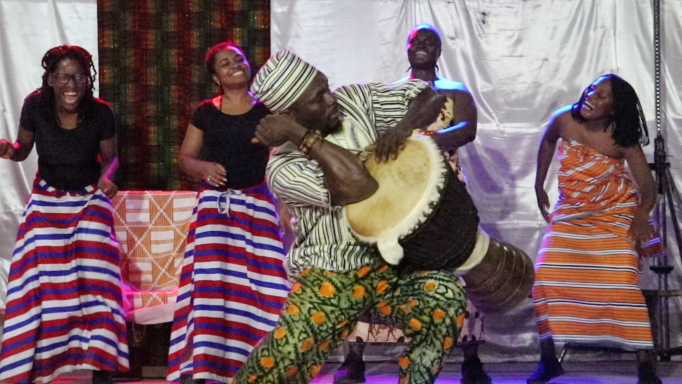 By: Sierra Romero
The Center for Social Concern welcomed Jasmine Blanks Jones as the new Executive Director this past semester. Jasmine comes to the CSC with a multitude of exciting experiences, some that are occurring while she transitions into her new role at Hopkins.
Over the course of twelve days in December, Dr. Jasmine Blanks Jones, Executive Director of the Center for Social Concern, and 13 DMV-area artists and students traveled to Liberia, West Africa to perform an original play with music and dance, 200 Years of Returns.
This Community-Based Learning (CBL) abroad experience was supported by JHU's Program in Racism, Immigration, and Citizenship in partnership with Inheritance Baltimore and involved a vast array of people including residents of Baltimore City affiliated with Orita's Cross Freedom School and the Angels of Praise dance ministry at Pleasant Hope Baptist Church, two graduate students from the greater Baltimore area, Black actors from the Department of Museum Theatre at Colonial Williamsburg Foundation, and youth leaders and students of B4 Youth Theatre, a Maryland-based non-profit.
"You have professional actors, you have people who are acting for the first time, and then you have some youth who have done this a couple of times with a theater," said graduate student Markya Reed, University of Maryland Baltimore County. "You have this diverse range of experiences with people doing something together that's connected by intertwined history, personal history."
Burning Barriers Building Bridges, commonly referred to as B4 Youth Theatre, was founded by Dr. Jasmine Blanks Jones in Liberia in 2010 in effort to showcase the civic capabilities and storytelling of youth artists in Maryland and Liberia through the arts. B4 Youth Theatre has actively worked to amplify the voices of young people through the arts and even performed at Johns Hopkins University over the summer. However, this most recent trip to Liberia was the first time the organization brought performers from the United States abroad for an original production. Notably, former President of Liberia Ellen Johnson Sirleaf hosted the play's ensemble to discuss how the play was being received in Liberia and its implications for the ongoing debate on the nation's motto, "The Love of Liberty Brought Us Here."
200 Years of Returns was originally written in collaboration between B4 Youth Theatre artists from Liberia and four-actor interpreters from Colonial Williamsburg Foundation in Virginia. The performance looks at the adversities and triumphs of freedom seekers and indigenous African people during the late 18th century and early 19th century through the lens of present-day Liberia and the DMV region of the United States.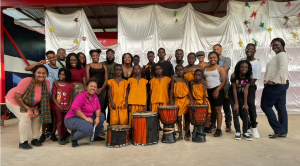 For the Liberian bicentennial performances, the script was revised to center the concerns of a Liberian audience around amplifying the presence and agency of Indigenous people in the history of its founding. The opening performance took place at the UNESCO World Heritage site, Providence Island. The 200 Years of Returns ensemble also performed before a packed house at the Bong County Technical College in Gbarnga City, Liberia.
The trip was not only a showcase of 200 Years of Returns, but also an opportunity to illuminate the richness of Liberian culture and tied history that Gbarnga City shares with Baltimore and that Maryland shares with Liberia. For 50 years, the two had an established relationship with one another to foster mutual learning through the Baltimore-Gbarnga Sister Cities committee under the Mayor's Office of each respective city. The Baltimore artists met with Gbarnga City Mayor Lucia Herbert who also provided special remarks to close the Gbarnga City performance.
In addition, the trip also begins to open dialogue centered around what Community-Based Learning can look like on an international level and challenges narrow definitions of civic engagement that do not consider the complexity of migrations, forces and by choice, in shaping civic attitudes and actions. "Civic engagement to me is being able to be involved in your community and make changes in your community for yourself and for your people, whoever your people are," said Reed. "People have to expand what they think civic engagement is."
Following this, Reed plans to create a full-length documentary with 200 Years of Returns dancer and Morgan State University SWAN alum Amari Grant about the trip to Liberia, release a series of shorts, and an edited version of the full performance. The team looks forward to future performances and workshops around key themes fro their play in both the US and Liberia. They anticipate the release of the documentary this coming fall through a series of screenings throughout the U.S. and with the B4 Youth Theatre team in Liberia. Stay tuned to see when the 200 Years of Returns screening comes to Hopkins!