How to Enroll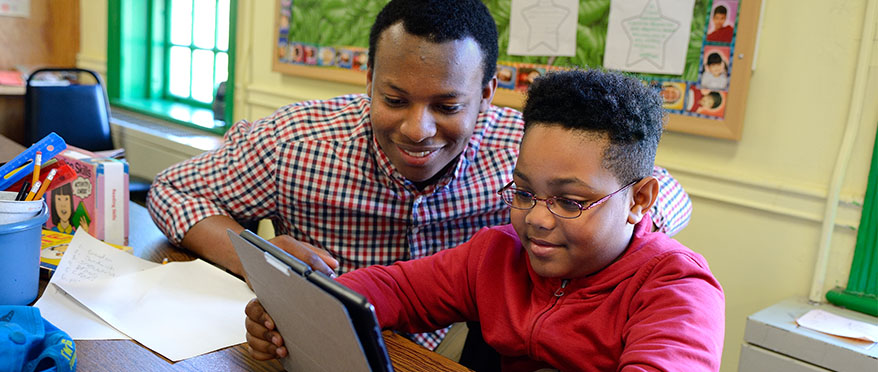 Thank you for your interest in the Johns Hopkins Tutorial Project! Since its founding in 1958, the Tutorial Project has helped more than 5,000 elementary school children gain vital skills and work towards grade level academics, while also cultivating self-esteem and confidence. The Johns Hopkins Tutorial Project seeks to provide a warm, supportive environment for elementary school children in need of academic tutoring. This environment is established through:
the opportunity to work one-on-one with a trained, caring tutor
individualized instruction based on current assessments
a casual, child-centered, yet structured atmosphere
opportunities for tutors to get to know their children and incorporate their interests into the tutoring lessons
a variety of educational materials and resources that appeal to children
The one-on-one nature of the program and the resulting undivided attention that the children receive ensure that they come away with a greater sense of their own abilities, a renewed interest in learning and doing well in school, and the knowledge that they are capable and talented and can succeed.
I was extremely happy to get my daughter involved in the Tutorial Project because the one-on-one tutoring helped her academically. She also became a lot more confident with her math and was enjoying every step of the learning process because of her great tutor. Since the program is on a college campus, it shows the kids that they can excel towards something and be comfortable in a higher education learning environment. – Dia Lynch, Parent
Dates and Times
All tutors and children meet twice a week on:
Mondays AND Wednesdays (4:30 p.m. – 6 p.m.) or
Tuesdays AND Thursdays (4:30 p.m. – 6 p.m.)
Limited bus transportation is available. If your child does not attend a school we pick up from then you will be responsible for transportation to and from Hopkins. To view when Tutorial begins and ends, please view the Tutorial Calendar. The calendar also provides important dates throughout the year.
Application and Forms – Enroll Today!
Our energetic staff is excited to work with your child and hope you consider enrolling your child in Tutorial. Follow the steps below to begin the process.
Step 1
Complete and submit the application (

PDF Document:

view .pdf application). For enrollment in the upcoming semester, applications must be submitted by January 27, 2017.

If you applied for the fall semester, a staff member will follow up with you in August/early September.
If you applied for the spring semester, a staff member will follow up with you in January/early February.
Step 2
After corresponding with a staff member about your application, you may be asked to submit additional forms below.

Please do not submit the forms until you have spoken with a staff member.
Monday/Wednesday Forms
Monday/Wednesday Bus Forms (updated forms coming soon)
Monday/Wednesday Car Forms (updated forms coming soon)
Tuesday/Thursday Forms
Tuesday/Thursday Bus Forms (updated forms coming soon)
Tuesday/Thursday Car Forms (updated forms coming soon)