Week 3: Education & Youth Advocacy
Posted: July 3, 2019
MOUFI ADEDOYIN | CITY SPRINGS ELEMENTARY/MIDDLE SCHOOL
This week I attended the training for community school coordinators where I got to learn more about the role of community school coordinators and their impact in the communities they serve. I got the chance to meet coordinators from various schools and even one from my childhood elementary school Moravia Park. It was interesting being so young in a space of people I like to call 'real' adults, but I felt included and just like another part of the coordinator family. I learned new things from coordinator skillsets to healthy classroom environments and even about other schools approaches to addressing similar problems such as the one I am working on at my site, attendance. From this training I was able to have my project this summer extended to include delving into the causes of why students at my school have lower attendance rates than other partner schools in the area. For the upcoming weeks I am really looking forward to analyzing the data and reaching out to families for the project.
Besides eating a ton of great food, I got to take part in a bunch of workshops. Some of the workshops were similar to the ones we did during orientation week for CIIP. During an identities workshop I was excited and comforted by the fact that all of the coordinators were open to and eager to learn new things about identities that they were not as familiar with so that they could be more inclusive going forward. Many of the coordinators are from an older generation and were not as familiar with certain terms or identities such as non-binary and cisgender. Their curiosity was refreshing, and it was especially funny when cis-gender was mistaken for sis-gender as in sister-gender (since that led to people wondering if cis-men were bro-gender). During the training I got to be in conversations about the challenges that community coordinators face that are not as spoken about and can generally be overlooked. It made me reflect on the barriers that come with being one person that has to wear many hats and deal with things you are not prepared for. At the end of the week I left the training really believing that community school coordinators were superheroes.
VICKY CHEN | CODE IN THE SCHOOLS
YouthWorks starts tomorrow, which means the office has been pretty chaotic. A million trainings happened this week and million people came in and out of the admin space. As everyone prepares for the various programs Code in the Schools offers during the summer, details that we hadn't thought about previously keep coming up: how we're going to serve hot food, where to direct the youth on the first day, what to do if forms haven't been turned in, how we're going to move all our equipment. As has been standard over the past couple of weeks, I've been doing my best to learn how to adapt and adjust to situations. I think I've gotten much better at thinking through things and finding solutions while I'm stressed.
As I sit in certain meetings, I wonder what I bring to the table. I'm still not sure.
I've been thinking a lot about what it will mean to support students during this work experience. We had a training by Neekta from Thread, and she talked about how a lot of what we know about professionalism is rooted in racist and classist ideologies. I'm assisting in this program with only one other person, so I'm worried that I have some deep-rooted problematic ideology that will come out to a student and everything will be a disaster. Honestly, the chance of this happening is probably high. This job has been full of unexpected questions and problems that I don't see coming. But, mistakes happen, and hopefully I come out of it all having learned something.
Also, 71 kids is a lot.
I'm excited to get out of the office. My step count has been low. In the small exchanges I've had with students through email, a lot of them seem excited. I'm hoping this program can live up to it.
YVETTE BAILEY-EMBERSON | ROBERT W COLEMAN ELEMENTARY SCHOOL
This past week I was able to attend community school coordinator training through the Summer Institute with Family League of Baltimore with my supervisor. It was not a usual work week for me as I was not at my typical placement site and I was sitting through workshops learning what it means to be a community school coordinator (CSC) rather than do the work directly. I am very thankful for the opportunity to attend these trainings as it really opened my eyes to what my supervisor does throughout the year and learn about an entire new field of work that I was not familiar with previously.
When I accepted my placement with CIIP, I knew I would be working within a school with a "community school coordinator," but I really did not know what that entailed. My supervisor explained me to what her position was within the school and described the work that I would be doing this summer, which is primarily helping facilitate the move into a swing space, but I still didn't know much about her role within the community outside of the scope of what I would be helping her with directly. As I got to the school and began helping her pack up her offices and the various rooms she is in charge of, I began to realize how large the scope of her work was and how important her job is. As a community school coordinator, she is in charge of connecting the schools to various resources and partners that tend to the needs of the students and families in the community. She is responsible for food and clothing pantries, excess school supplies, and finding partners to fund all those moving parts. However, I wondered why I was unaware of this position within schools when it has such a large impact.
This past week I was able to work alongside the multitudes of CSCs in Baltimore City and learn about how to develop new strategies for communications with the school itself and the families, how to find resources and develop partnerships, how to best assess the needs of the students and the community at large, and much more. Community school coordinators are not just a community liaison, rather they are an instrumental agent in creating social change and helping better their neighborhoods through direct impact. Community schools and the community school strategy is a relatively new concept, but they are an increasingly important tool in addressing inequities within our city and how to overcome those inequities and close the opportunity gaps for students throughout the city. Their work should be promoted much more as they are truly "superheroes," as we often alluded to in our activities.
Although this past week was not my typical work week and I did not work hands-on at my placement site, I gained a lot more tools and knowledge on how to be a better tool and asset for my supervisor and school in general. I have a better understanding of the inner workings of my supervisor's job and I can take the tools I learned moving forward and apply it to other experiences working within communities helping create social change.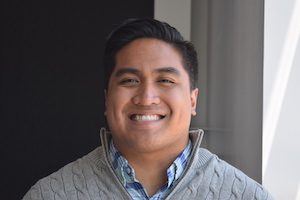 KEONE ALIPHIOS | MERIT
Week 3: "Passion and Purpose"

They say there are two critical days in a man's life: the day he is born, and the day he finds out why. Now, I know for sure about one of these dates. While I remember nothing about my birth, my mother can vividly depict every detail (I was a C-section baby and 10 lbs, so I'll leave the rest to your imagination). It is the second day where I find my purpose in life that keeps me up at night.

I keep running the same conversation in my head. Last Friday, my students had the opportunity to meet the President of the Johns Hopkins Healthcare System, Kevin Sowers. As the first registered nurse and openly gay male to hold the position, the dialogue focused around authenticity and pursuing your passion, but it was not until one of the scholars asked about his motivation.

"I'm surrounded by people of color who share the same goal of wanting to work in the medical field, and this gives me hope to look towards the future. I'm wondering what gives you hope. What keeps you going?"

Something about it felt like poetry. I wanted to snap, but my fingers could not move. My mouth was open, but no sound came out. The feeling resonated with me and enjoyed the stillness, allowing my brain to take all the extra energy and process the question.

It also initiated a series of questions about the rest of my students' hopes. What inspires them? What gives them purpose? Is it their awareness around health disparities plaguing their city, the pursuit of breaking the status quo, or maybe personal motivation to pursue medicine? What keeps them going is something I think about and want to dissect more as the summer goes by.

Sometimes I wonder what my purpose in life is and when will my second day come. Perhaps in a week, month, or years it will happen. For now, the plan is to discover my student's why's and uplift them to achieve it, all while using these conversations and mentorship to find my purpose as well.

Tags: Child First Authority, CIIP, ciip 2019, City Springs Elementary/Middle School, Code in the Schools, MERIT, Robert W Coleman Elementary School