Week 3: Environment & Food Access
Posted: July 3, 2019
TEAGAN KIM | BLACK CHURCH FOOD SECURITY NETWORK
An inspiring person I met at this placement this week was Ms. Yvonne Gunn. She's the gardening coordinator at St. Mark's Institutional Baptist Church. St. Mark's Institutional Baptist Church is a church that is part of the Black Church Food Security Network. It's located in southwest Baltimore just south of Coppin State University.
On Saturday, the Network held a volunteering Day of Service at St. Mark's. I was kind of nervous because I know basically nothing about gardening. I came in with pretty much nothing but my water bottle. However, Sister Yvonne was so knowledgeable and warm and inviting to all of us new gardeners. She gave us bug spray, gloves, spades, and cushions to kneel on. Soon we got to work.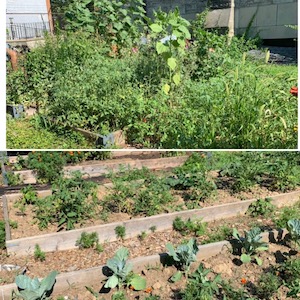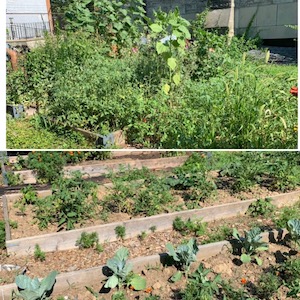 We had two jobs for the day: for the first part of the morning, we needed to weed all the beds. For the second part of the morning, we had to dump soil onto the beds, spread it out, and mix it with the drier soil underneath. These seemed like simple jobs, but they proved to be really difficult work. We were all sweating under the hot sun, and lots of complaining ensued. But she was so patient with us. One of the volunteers pulled up one of Sister Yvonne's precious sunflowers thinking it was a weed. Another one pulled up a tomato plant. Sister Yvonne calmly (but firmly) put the plants back in their beds and showed us the difference between a weed and the leaves of plants she wanted to keep. She taught us the patience and forgiveness required to learn good gardening skills.
I personally was having hard time gardening — I pass out if I'm in the heat for too long, and I was definitely feeling close to it Saturday. But the members of St. Mark's were so kind to me, offering me cold water and encouraging all of us to take breaks when we needed them.
While I was sitting in the shade, recovering, Sister Yvonne kept gardening, never complaining once. Her perseverance was inspiring. As the leader of the church's garden ministry, she was sometimes one of the only people tending to the garden. I wondered how many hours she spent out here in the hot sun alone. It was so inspiring to see her drive and passion even when no one else was doing the same thing.
ZE OU | WHITELOCK COMMUNITY FARM
The end of this week marks the midpoint of CIIP, the end of our first harvest season, and the beginning of YouthWorks next week. Farming is more or less about the consistent daily routine. We mostly do the same thing every day such as planting, watering, trimming, weeding, harvesting, etc. Nevertheless, I still quite enjoyed my work this week, because we shared our produce with community members during this month's potluck and I also read an article yesterday that I resonated with about the work I am doing.
We have our potluck cookout at Whitelock the 4th Wednesday of every month. All community members are invited to come and share dishes with everyone else. This time we people at the farm made turkey burgers, grilled zucchini, and cucumber salad. It was definitely my high point of the week. I haven't grilled anything since roughly elementary school, so it took us a while to start the charcoal at first, but luckily with some google search and tons of lighter liquid and dry twigs, we were able to get the grill going made some fire burgers. Crystal, who is one of our volunteers at the farm, also did a cooking demonstration of cucumber salad. The recipe is really simple: slice the cucumbers into thin slices, mix them with rice vinegar, minced garlic, dill, and some sugar, then enjoy the nice and cooling cucumber salad. I also got to meet many community members and try their dishes. Overall, it was just a really good time after a whole day of hard work.
Before I went to work at our farm stand yesterday morning, I was browsing the Internet and saw an article on a forum written by a fellow Chinese student currently studying in the United States. After I read the article, I felt like I can finally explain to others why I am doing CIIP this summer, especially working at a farm. The author is answering a question posted on the forum, "what are some terrible aspects of America," and she points out that "The development of America is not a result of a continual interaction with the land, but rather an accelerated and compressed process grafting other cultures together, regardless of the discord." Before I read the article, I knew there is something I don't like about the US, but I was never able to find the right language to describe my feelings. The statement is obviously true when we look back to the foundation of this nation, where its creation eliminated the original cultures of this piece of land, and the power of internal combustion engine replaced the authority of sky, earth, and water. With the development of technology, people interact less and less with the nature that provides us with everything we need to survive. There is always an interface between nature and people here. When we go to the supermarket, all we see are polished products deprived of their original forms. When I brought some celery home last weekend, my roommate said that he hasn't had to wash the dirt off the vegetable since he came to the US because everything is so nice and pretty. Technology makes life quite convenient here in the States, however, it also detaches us from the reality that we depend on one hundred percent. Maybe that's why some people don't believe in climate change since they are not exposed to the change in their daily life.
I also found this interesting quote by Jean Baudrillard, a French sociologist, in his book America "what is new in America is the clash of the first level (primitive and wild) and the 'third kind' (the absolute simulacrum). There is no second level. This is a situation we (Europeans) find hard to grasp, since this is the one we have always privileged: the self-reflexive, self-mirroring level, the level of unhappy consciousness. But no vision of America makes sense without this reversal of our values: it is Disneyland that is authentic here! The cinema and TV are America's reality! The freeways, the Safeways, the skylines, speed, and deserts — these are America, not the galleries, churches, and cultures."
Though Baudrillard is talking about a big picture of the American culture, it can also applies to the work I am doing right now. I hope by helping out at an urban farm, I can show people that supermarkets, corner stores, and fast food chains are not the only sources to get food, working with mother nature is healthier and more gratifying. I hope we can reestablish our connections with the soil and break through the simulations designed by big corporations for us.
BENTLEY ADDISON | GREATER BAYBROOK ALLIANCE
It was Friday afternoon, and I was walking around Garrett Park. I had copies of a colorful survey in hand, and I was really ready to talk to some people. We were conducting a survey aimed at getting community input for a mural going up in Brooklyn. The mural was aimed at capturing Brooklyn's identity, so how else would one proceed besides asking actual Brooklyn residents?
I walked up to two men sitting on a bench that had just been installed the previous Tuesday. One of them took a final drag from his cigarette and put out the butt.
"Hi, I'm Bentley with the Greater Baybrook Alliance. We're trying to put a mural down on Hanover, and we wanted to see what people's thoughts were. Do we mind if I ask y'all a few questions about Brooklyn?"
They seemed interested, so I kept going. "The first thing we're interested in is what makes Brooklyn your home- what do you like about living here?"
There was an uncomfortable pause. The only sounds were cars passing on I-895 for what felt like ten minutes.
The taller of the two men chuckled. "I don't like nothing about this place, man. Look at it."
Another pause.
The other man began to speak. His friends are all here. He went to school here. He likes Garrett Park. He values the sense of community and cherishes the memory of what Brooklyn once was.
And just like that, the seal was broken. The man whom moments before was unable to name a single thing he valued about his community was suddenly listing off thing after thing that he loved about Brooklyn and enthusiastically answering the rest of the survey questions.
The trouble is, this wasn't the first time I'd received a response like this. People tell me all the time when I'm conducting surveys that, actually, they hate this place and would be on the first bus out if they could afford it. And generally, I just try to discuss their statement with them- "why don't you like it here? what kinds of issues are there?" and sometimes even push them the tiniest bit on their answers "Is there anything you enjoy about life here?"
As someone who subscribes to an asset-based view of community development, these conversations are excruciating to have. It's incredibly important to me that when work is done in the community, we're looking at what it has, its strengths.
We should be looking to amplify community associations, resident leaders, social ties, institutions, houses of worship, and so on to tackle challenges, instead of starting out from a point of despair that the challenges are so dire and we have nothing.
I also don't live in Brooklyn.
I can't tell them, "No! Don't say that- your community is amazing!"
But I want them to see that it is. I believe it is, and I've heard from plenty of residents that it is.
That's what I think my role is here. To amplify the voices of residents in the community, but also to bring together the community- helping those who are a bit more pessimistic to understand that work is being done.
After we finished going through the survey, the two men -who I learned were both named Steve- and I chatted for a bit. "What organization did you say you were with again?" taller Steve asked.
I told him I was from the Greater Baybrook Alliance, and he asked about our projects. I told him about Maree G. Farring Elementary School's new playground, and the homes we buy, repair, and rent out at low prices as affordable housing, and the down payment assistance program we run, and the Chesapeake Arts Center's new makerspace, and pointed at the new walking path we were physically standing on at Garrett Park.
"Wow," he said. "I guess there is some good stuff going on."
We parted ways, and I felt both incredibly up and incredibly down, but I knew that I'd changed a mind, gotten someone to realize the assets his community held. And for that Friday, that was enough.
CARRINE KING | STRENGTH TO LOVE 2 FARM
There is a girl that I work with at the farm. She's another volunteer like me and she's about to be a senior in college. We started helping out at the farm around the same time so we initially bonded over that. Over the last 3 weeks we have grown pretty close and I look up to her so much. She is very self-aware and confident which is something I aim to be. She's white and she's working at a predominately black farm, in a predominately black part of Baltimore. Instead of ignoring this, she actively talks to people who work on the farm and asks them how they feel about her "coming into their space". And we have had multiple conversations about our privilege and how it feels to be working in Sandtown, an area that is not doing too well. She identifies as a female but she actively doesn't conform to societal norms of what girls have to do such as dressing "feminine" or shaving and when questioned about these choices she basically says she doesn't care what other people think and she does what she wants. It's just so inspiring to meet somebody who is fairly close in age to me and already knows exactly who they are. Also, she is one of the nicest people I have ever met. On the second day that we worked together at the farm she realized that I took the bus and immediately offered to drive me home instead and when I offered to give her gas money or any type of compensation she refused it and has still refused it every single time she has driven me home. Not just that though, she has also offered to drive a bunch of the people that work on the farm through the workforce development program home, as well. So now she has a packed car every time she leaves the farm and makes a bunch of extra stops and never once gets annoyed that it takes her an extra 20 minutes to get home. I am just so happy that I met her and I hope her energy rubs off on me.
KIAHNA REVAN | BALTIMORE GREEN SPACE
Week 3 has been pretty interesting. I feel like my supervisor really likes me, which is nice, but I have also been going back and forth on being satisfied with the type of work that she is giving me. So, last week my supervisor tasked me with going through the database and running a report on all of BGS's QCMOS (Quality Community Managed Open Space) sites. A site being labeled as a "QCMOS site" means that BGS ensures that the city government does not market the lots that these green spaces reside on to developers. It doesn't fully protect the lot, but it lessens the chance of a developer purchasing the lot. After running this report, I was supposed to go through each and every site (there were 252 of them!), look up their addresses on Google Earth, scope out the status of the green spaces and decide whether or not they were being maintained. If the Google Earth image was old or if the site didn't look up to par I had to mark it as needing a site visit. When she gave me this task she kept saying how she didn't want me to be doing busy work, and that she felt bad and just wasn't sure if I would want to do it, but I assured her that I was perfectly happy doing whatever task as long as it mean that I was supporting the organization and taking a load off of her plate, considering that she is the only fulltime staff person. This was on the Friday before week 3, so there I was looking at each site, then it was next Monday and I was still looking at each site, then it was Tuesday, and then it was Wednesday, when I finally finished. I mean obviously on each day I was also doing other things, but for the majority of each of those days I was looking at each site and it was became too much for me. I literally was so bored just staring at the computer doing the same thing over and over and over again. I mean the good thing is that I was able to listen to a bunch of new songs so that's always lit, but I began to get discouraged and lose sight of the larger purpose of my role and why I am interning. I began to build resentment towards my supervisor too, but then I realized that this was my fault! She literally was reluctant to give me this task because she knew what it entailed, so how can I be annoyed with her when I encouraged her to give me this task. This also got me thinking about why I was annoyed and I realized that it was because I really want to be doing work that I feel like has a direct impact on the community. Like I want to be able to do something that both supports the organization and has a direct affect on the community members as well. She just so happens to be looking for someone to fill the role of Education and Engagement Program Manager and I was thinking about talking to her soon about giving me the responsibilities that she would give that person once they came in. I have a bit of experience with curriculum development and creating workshops and I feel like I would be able to offer a fresh perspective on how to get people excited about BGS.
ADINA JAHAN | NO BOUNDARIES COALITION
It was a good week. I've fallen into a routine at my placement, and have definitely learned the ropes more. One thing I struggle with is constantly being busy. While many of my tasks are more administrative, I also do a lot of creative work for No Boundaries, and I've learned that it is harder to fit creative work in to a 9-5, but definitely more enjoyable than the usual intern busy work.

At the stall, I've also started to recognize more and more faces. This week, instead of working the stall (running the register, restocking items, etc.), since there were more volunteers, my supervisor asked me to interact with the customers, and take pictures of them for our social media. At first I was nervous asking people to take pictures of them, but it was a great experience. It started a conversation going, and I got to ask the customers how they found out about Fresh at the Avenue and No Boundaries. Many of the people that I spoke with were very loyal customers, and had been coming to the stall every Saturday since it opened a couple years back. I was very happy to hear about the impact that Fresh was making on their lives. Overall, the people who came to the food stall brought so much positive energy — some of them would even break out into dance to the music blasting in the stall. I'll be honest — it's been hard waking up at 6:00 am every Saturday morning, and working at the food stall until 5:00 pm, but the environment is never boring, and the time flies by.

Overall, my work at No Boundaries has reminded me that health is more than just about the absence of sickness — I think we often see health as that, but so much of the work that No Boundaries does is about promoting physical, mental, and social well-being on a systematic level, and promoting community health.

Tags: Baltimore Green Space, Black Church Food Security Network, CIIP, ciip 2019, Greater Baybrook Alliance, No Boundaries Coalition, Strength to Love 2 Farm, Whitelock Community Farm