Week 3: Family Wellness & Services
Posted: July 3, 2019
CHARLIE NGUYEN | EPISCOPAL REFUGEE & IMMIGRANT CENTER ALLIANCE
The idea of "making a difference" is abstract, and it's something that's been on my mind since the beginning of this placement. What makes the "Impact" part of the Community Impact Internships Program? And with a broad, national issue like refugee and asylum, what difference can a small program like ERICA really make?
Truthfully, these questions are riddled with paternalism, arrogance, and the false belief that to work in nonprofit is to be a savior helping the helpless. The reality is that people—especially refugees and asylum seekers—have their own agency, which is embodied in the work that my supervisor, Betty, does for ERICA. It's not about people coming in and us giving them referrals and cash. It's about allowing people to discover their own power and efficacy, as we're just there as guides to inform them through their often confusing and complicated journeys. And in the process, relationships are built, through shared frustration at the system or laughter over day-to-day stories.
But the phrase "making a difference" isn't always problematic; I find that it describes well the impact that small community partners can have on the bigger picture, on our laws and infrastructure. I had the wonderful opportunity on Thursday and Friday to attend a training in D.C. by the Episcopal Migration Ministries (EMM), one of the nine designated voluntary agencies responsible for resettling refugees in the US, called Love God, Love Neighbor: Advocacy in Action. The goal was to train us to be able to speak to our representatives to advocate for the protection of our refugee resettlement and asylum systems. On the first day, Betty and I were given a refresher about the refugee resettlement and asylum systems in this country and the ways in which they are under threat due to recent changes, followed by training on how to tell stories and craft a strong message.
Like baby birds being thrown out of the nest, we were sent to the Congressional office buildings. I was nervous and skeptic, having never spoken in such meetings and not believing that our words would make any difference, especially with representatives who were "on our side" already. As it was my turn to speak at our first meeting with a staffer for Senator Cardin, I scrambled to remember the talking points EMM gave us to advocate for increased refugee resettlement numbers and the tips I learned for making the issue personal. In emphasizing the positive economic impact of refugees at all of our meetings throughout the day, I didn't expect to be emotional mentioning my own family history, speckled with re-education camps and nail salons. I tried to swallow it away each time I asked for cosponsorships of the GRACE Act, but the truth is that immigrant issues are inherently personal. They affect all of us.
I was surprised to hear almost all the staffers mention how important it was that we continue to interact with our representatives this way. Even with the representatives most in support of our issues, constituent concern communicates a sense of priority, which really does make a difference. With two of the staffers never having heard of the GRACE Act or the Families, Not Facilities Act, I finally believed that these meetings were not for nothing.
To think about "making a difference" in the issues we care most about is an exercise in understanding the different roles we play, as guides, as constituents, and as advocates. It involves thinking about power dynamics and who's really making the impact. I'm the following weeks, I hope to explore more about where I belong in this sphere: how to—and if it is my place to—effect change.
EILLEN MARTINEZ | ESPERANZA CENTER
*name of patient changed to protect confidentiality*
In January, 8-year-old Andy came to the Esperanza Center for a school physical. He is a completely healthy boy aside from the gaping hole in the roof of his mouth. Andy was born with a cleft palate. He arrived in the US in November 2018 from an indigenous region of Guatemala with his dad. He attends a Baltimore City Public School, where they've enrolled him in ESOL, although he has a severe speech impairment. Andy cannot communicate– not in this country where his indigenous language is not spoken, not with his mouth that can shape no words. When he eats, the food and drink leak out of his nose. His life is quite different from his classmates, to say the least.
The good news is, Andy qualifies for the Maryland Children's Medical Service (CMS), a free health benefits program which can get him the surgeries, occupational therapy, and speech therapy he needs.
Now the challenge is getting dad on board and all the documentation collected (such as proof of housing in MD). Dad works full days, six days a week. The kind of support Andy would need in recovery would require dad to stay home for six weeks to care of him. That's six weeks without income. The two of them have no one else here, renting a single room in an apartment with another family.
This week I will be working with others on getting Andy's CMS documents together, but first getting dad completely on board. We are also going to take a chance and ask Esperanza legal services if they can help get mom here on a visitor's visa to help take care of Andy. This entire process, however, is further complicated by the fact that we cannot communicate in dad's native dialect.
Working on this case is a clear example of all the complex factors that intersect a child's health: parental job security, having a familial network physically present, adequate housing, being able to communicate and feel a sense of belonging… Take into account being separated from one's mother and feeling ostracized not just as an immigrant but as a kid with a disability. If all goes well, Andy will get his surgeries, and in time his palate will heal from all the procedures. He will be able to learn to speak and eat.
What of the wounds that cannot be seen, nor heard?
ANGELA ZHU | ST. AMBROSE HOUSING AID CENTER
This Wednesday, I attended an Older Adult Mental Health First Aid training session. It covered a variety of different mental health conditions that seniors are especially at risk for, such as depression, anxiety, dementia, and substance use disorders. This session showed me how serious the problem is for older adults. The percentage of the population over the age of 65 is steadily increasing, especially as baby boomers are reaching their senior years. Furthermore, seniors face difficult transitions in their lives, whether it is moving to a nursing home, losing loved ones, or having less physical mobility. These changes make them vulnerable to mental health disorders. I was glad that I could attend this training and become more informed about older adults' mental health and how to support them. One of the most interesting things I learned was that seniors may develop disorders such as depression or dementia, and yet they do not receive professional help because others assume that their symptoms are a normal part of the aging process.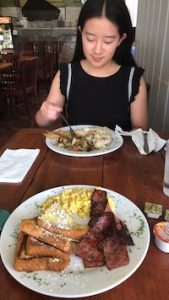 On Thursday I accompanied my supervisor on a home visit to a woman who needed her ceiling fixed. She mentioned that she fell off her bed a few months ago and had to get a hip replacement. It brought to mind that what the training instructor told me, older adults with a history of falls are at a greater risk of depression and anxiety. I know that the one-time home visits that I go on are hardly enough to form a relationship with these seniors, let alone assess for mental health disorders. However, I hope to remember what I learned in training in order to be more empathetic. My instructor, who shared that she struggled with anxiety and alcohol use disorder, talked about the labels that people with mental disorders may be given: withdrawn, nasty, lacking self-control, to name a few. Other people often fail to look past their own offended egos to find out what underlying issues there might be. Certainly I find it easier to withdraw from people if they seem irritated or uninterested. This summer I want to challenge myself to apply what I have learned to be more attentive to older adults' needs and support them in their major life transitions.
EDWIN ARRIOLA | CENTRO SOL
I absolutely love my co-workers. They are all insanely dedicated to their work and put in all their effort to push the mission of Centro SOL. Many of my co-workers wear multiple hats, working on several projects at once. One of my co-workers who I look up to the most is the assistant coordinator of my program, Maria. She's quieter and more reserved than the others in the office, but she practically carries the entire pipeline program at my site. She is constantly getting in touch with people and connecting Latinos in the community with programs and resources to help them educate themselves.
Every week she holds these parent advisory boards to determine how she can engage parents of Latinos more in their education. She helps educate them on the ins and outs of getting their kids on the path to college and how they can help their children in pursuing more education after high school, whether that be through university or a trade school.
She's always the first to be in the office and is always running between meetings or answering emails. And she's always the last one to leave. She always finds time to remind me to take my one-hour break, but I always make sure she does too. There was one time where she went through the entire day and only ate a Snickers bar(Not even the normal sized ones, but one of those fun-sized ones).
Anyways, she works at Centro SOL as an AmeriCorps VISTA worker. She started last summer and is going to finish her program with Centro SOL in late August. I think it's amazing that even though she was only meant to work with the organization for a year, she became a very important part of the team and is constantly making the community better. People like her encourage me to work hard because even though this internship only lasts a couple of weeks, it reminds me that I can still make a HUGE impact.
FATIMA KAMARA | MOMCARES
Friday marked the official ending of MOMCare's first week of the Young Mothers Program! *insert confetti and balloons here* This week gave me a lot of insight on the managerial aspect of actually implementing programs within nonprofits. Not everything went according to plan, but that didn't stop us from getting our show on the road. An example of this unfortunate series of events took place before we even began when we learned that a mistake occurred at our fiscal sponsor's office which caused a delay in payment. These funds were vital to the program as we advertised that we would be able to provide an array of resources such as transportation via Uber gift cards and bus passes. So game over, right? They couldn't deliver so that means we couldn't either, supposedly? Wrong. I watched Ana make the most out of every situation and not let anything deter her from committing to this program as well as her monthly Healing Circle, all of which was very admirable. I remember hearing her say something along the lines of "It's okay, I'll find a way because I'm a black woman and that's what we do," and up until then it never occurred to me that the way she handled these situations so well maybe because it is ingrained within her identity. When I look at it that way, I think of how beautiful it is, whether individually or as a group of people, to be able to turn setbacks and improvisation into strength and creativity. Things like this shape us into the multifaceted, diverse bunch of people on planet Earth today and I hope to see more representation of such uniqueness in spaces like our Healing Circle, where women of different ethnicities were able to come together and indulge in various forms of meditation in order to compare/contrast and find what works best for each other.
JACK SIMONE | CORNER TEAM BOXING
The most inspiring person I have met at my site it Sara Artes, the founder, and owner of Corner Team boxing. Every day she commutes to DC for her job at the Smithsonian, returning to her home city Baltimore at 6. She then continues to work into the night at the nonprofit. Sara is Corner team. She's the visionary behind the many programs that the gym offers and the worker bee who is willing to run the day to day while intermittently improving the gym either on her own or with the help of family and friends. You'd think that her attention to detail would waiver when faced with the magnitude of her task but that's not the case. Every day she starts her work at the gym by cleaning the bathrooms. One day she told me, "I take pride in keeping the bathrooms clean because there are so many people in this neighborhood who don't have access to clean facilities" But, in my eyes, the most motivating thing about all of this is how much positivity she brings in such thankless work. Sara constantly receives backlash from the community that she works so hard to improve. Whether it be the dumping of trash in the side alley which she plans on turning into a garden/ workout space or the indifference from landlords and select businesses she doesn't stop trying and giving. In her words, "it's about the small victories". From her, I learned that if you keep making small and meaningful steps towards your vision once you finally lift your head from the constant slog you'll see that you made the community around you a better place. Baltimore City is lucky to have Sara and the countless others like her who have taken it upon themselves to respond to the negativity in the world with their own brand of constant positivity.

Tags: Centro SOL, CIIP, ciip 2019, Corner Team Boxing, Erica, Esperanza Center, MOMCares, St. Ambrose Housing Aid Center