Week 3: Healthcare/Health Policy
Posted: July 3, 2019
CHANEL LEE | STAR TRACK
This week was quite different from others prior. On Wednesday morning, I rode Route 22 on the MTA and traveled to 3701 Cottage Avenue to table at a community health resource fair. There, we offered free HIV testing and gave out condoms, lube, hot sex kits, and cool merchandise like shirts, fans, and portable first aid kits. It was a meaningful and interactive experience to talk about the work that STAR TRACK does with community members as well as engage with other health-related organizations in Baltimore including the AIDS Healthcare Foundation (AHF) and the Baltimore City Health Department. The following day, Thursday, was National HIV/AIDS Testing Day, so I was offsite again–this time in Highlandtown. We tabled inside of a CVS and encouraged people to get tested as they came through the store.
From these visits, I have been able to get a feel for the different cultural communities in Baltimore. 3701 Cottage Ave led me to a colossal building that had Hebrew inscribed on it. I learned later that it was The Talmudical Academy, a Jewish day school originally built in 1937, and that we were in Park Circle, a historic Jewish community dating back to the late 18th century. From the early 20th century to the 1960s, Park Circle was part of Baltimore's largest Jewish neighborhood. Similarly, when I got off the CityLink Navy in Highlandtown, I noticed very quickly that it was home to a rich and vibrant Hispanic and Latinx community.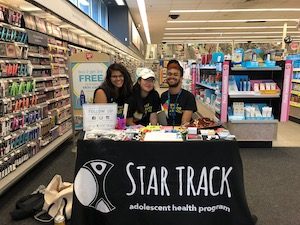 On that note, I want to reflect on my commute these past few weeks. Although the Charm City Circulator boasts an every "10-15 minute" arrival time, it is really 30-40 minutes (at least during my commute hours of before 10am and after 6pm). This often leads me to take the JHMI from Charles Village to Mount Vernon, from which I walk to Inner Harbor and then to my workplace—a total hour in commute time—a trek which I repeat to get back home.
While it sucks to miss the circulator and lug through this unforgiving heat, I consider my predicament to be a blessing in disguise. Often, missing the circulator means that I must walk through neighborhoods and areas in Baltimore that I have never been to before, and I love it. I pass by the most beautiful murals and houses and get to say "good morning" to people who always salute back without missing a beat. Every day, I switch it up and try to arrive at my workplace using a different series of routes (all while trying not to be late). It's like a game. I've found which streets have a pleasant shade (Fayette and Eutaw) and which to avoid because they have an ungodly uphill slope (E. Saratoga near Mercy). The light rail runs through N. Howard, flanked by abandoned and boarded-up stores and shops, reminding me again of the poverty and disparities that still inflict this city and its loving people.
While I dread trudging in this sticky Baltimore heat, I am somewhat thankful for the unreliable circulator for allowing me to experience such vastly different sides of the same city.
SOPHIA LOU | KESWICK MULTI-CARE CENTER
On my first day, our Wise & Well team leader had asked me to formally organize the center's garden club and to be a liaison between the members and the staff. I didn't really have a clear idea of what I was getting into, let alone much knowledge about gardening. I gained some background information from my team leader, created my attempt at a meeting agenda for the group, and called (not all of our members have or are responsive to email) a list of potential members to ask if they would like to attend the meeting.
Wednesday was the big day. There was a small part of me that feared that people had forgotten about the meeting and wouldn't show up, and as I prepared snacks for the meeting I wondered if anyone would end up eating them. I had a phone interview right before the meeting was scheduled, and as I rushed downstairs after finishing the call, the first member was just checking in with our front desk. I felt relieved and nervous at the same time, and my heart rate gradually slowed as we chatted and waited for more members to arrive.
There were a total of five members present at that meeting, but it felt like a lot more. We began with introductions and I tried to follow my agenda, but I quickly realized that my plans and ideas were not addressing their main concerns. I had thought that my main role was to help make sure that members would commit to watering the plants and that the garden would be well taken care of, but the people seated around the table expressed that they wanted to be able to make decisions about the garden themselves and felt that always needing staff approval for actions besides watering decreased their motivation to be involved in the garden.
I had thought that I was there to lead the meeting and guide the members, but in reality my role is to listen and help make sure that our members feel heard. Often times, older adults may feel that their opinions and voices are not respected or listened to because the younger populations that are serving them may think they know newer and better ways of doing things. The garden isn't for me or any of the Wise & Well staff, and it's my job to help members feel that it's a space where they themselves have created and grown something beautiful and valuable.
REAH VASILAKOPOULOUS | BALTIMORE HARM REDUCTION COALITION
Over the last week and a half, I dedicated a good portion of my time to catching up with administrative work at BHRC. While it might be monotonous at times, I know how essential data collection is to the organization and to the state. How else do we ensure that we are truly rooted in equity and justice? If we aren't training many (or any) people in the communities most targeted by the War on Drugs, who are we really supporting? What changes might we need to make?
This administrative time left me with a lot to numbers bouncing around in my brain:
–700+ people trained how to use naloxone over 2 months
–40+ successful overdose reversals
–2 self-reported events of naloxone successfully being used on the person making the report
–1 loss; "person still died."
As I continued entering the Overdose Response Program data and watching my spreadsheet lengthen immensely, I was so proud of the reach that BHRC has. We have met and talked with thousands of people over the course of our 8 years as an organization, and encouraging folks to learn how to administer naloxone is all part of those discussions.
Beyond solely distributing naloxone, I am so humbled by the wide variety of programming that BHRC is piloting at the moment–demonstration Overdose Prevention Sites, Faith Leader Lunch & Learns, countless naloxone trainings, a statewide harm reduction network, harm reduction educational sessions, and more. I am also so lucky to be a part of the organization and its contagious energy.
While the above data shows a lot, it does not show nearly everything. The data we collect doesn't reflect the deep levels of hardship and loss felt among my colleagues and others when a beloved community member passed away from overdose a few months ago. Inside these numbers hides the difficulty of hearing people's personal connections to overdose and tragedy during a naloxone training, the complication of supporting people with harm reduction services in an environment so heavily criminalized and policed.
To me, the data we collect is like a bright light of positivity, serving as a tangible reminder of the people I meet, the work we do, and its capacity to save lives. Yet, every time I read or hear or see a version of "person still died," the lights flicker and shift their focus over to a new spot: the systems that are broken, yet working exactly as they were designed. The War on Drugs is ongoing, and the numbers don't lie.
HILENA GEBRE | JOY WELLNESS CENTER
My experience at the Joy Wellness Center so far has consisted of me constantly trying new things; for this I am grateful, as part of me has always wished I was a little more spontaneous and open to new challenges. This week, I got the chance to start working in our community garden. Though I've never been one with a green thumb, I knew that I wanted to jump straight into the challenge without hesitation. The garden is home to lots of fresh produce such as tomatoes, peppers, and various seasonings/garnishes to be donated to clients of the Joy Wellness Center; this way, they are able to take home fresh veggies to incorporate into their diet/lifestyle.
The community garden is one of my favorite aspects of the center. It's situated on top of a hill above the parking lot of the clinic, surrounded by plentiful shrubs and a towering oak tree (though they cause trouble with continuously sprouting weeds, they add a coolness to the garden that enhances its beauty). While it is unmistakably aesthetically pleasing, the garden's purpose goes beyond this; it establishes a continuity between the nutrition lectures (and other services such as private nutrition consultations, diabetes management education, etc.) and sustainable dietary changes needed to be made. It's important for clients to be able to take what they learn and apply it to their everyday lives. Oftentimes, the population that we serve is faced with the burden of securing healthy groceries consistently, as food access is a considerable issue. Joy Wellness recognizes this and seeks to ensure that clients are able to enact healthy lifestyle changes by removing that burden. Consistency is key to maintaining a healthy lifestyle, and in order for clients to make consistent changes they must have access to the goods that allow them to do so.
ROHINI VERMA | CHASE BREXTON LGBT HEALTH RESOURCE CENTER
This week was a slower week at the office, which made me realize that I'm still figuring out my place within the resource center. On Monday, I didn't have much to do, and on Tuesday, my supervisor was out sick. I'm still struggling to balance not having anything to do unless a task has been specifically delegated to me and not bugging people by asking them if they need help every twenty minutes. Regardless, I wanted to do something productive with my down time, so I decided to jump down the rabbit hole known as Google. I started looking into the blood donation ban on men who have sex with other men, and I learned… a lot.
The FDA originally implemented the policy in 1983. The original policy was essentially a lifetime ban on blood donation for men who have had sex with another man any time after 1977. This was during the HIV/AIDS crisis, at which point almost nothing about the disease was known. Only in 2015 was the policy amended to be a 12-month deferral instead of a lifetime ban. So, if a man who has sex with other men wants to donate blood, they need to be celibate…for an entire year. In my opinion, this policy is largely based on stigma associated with the disease. Even with blood being tested before being distributed, even with increasingly precise tests, the deferral period has not changed. It does not take into account whether the individual has been in a monogamous relationship with another man, or whether the sex was protected. There are many things I have to say about this policy, and you can form your own opinions by checking out the FDA's guidelines and pages on the internet, but I will digress for a moment.
Before coming to Baltimore for the summer, I found a bunch of books that I had bought in high school but never read. During my lunch break, I've been bringing these books with me to the employee lounge and spending my hour long break reading. I recently started a book called Tell the Wolves I'm Home by Carol Rifka Brunt. I started reading it the same day I started reading about the blood ban, and I was surprised to find that it tells the story of a 14-year-old girl whose uncle dies of AIDS in 1987. In one scene, she worries that she might contract HIV from her uncle kissing her cheek.
Chase Brexton offers free, walk-in HIV testing. Now, we know more about disease transmission, and we even know that an undetectable viral load means that there is essentially no chance of passing on the disease to another. Reading the book in the employee lounge makes me proud of how far science has come, but reading about the blood ban makes me realize that there's still so far to go.
KRISTIN KNIGHT | SHEPHERD'S CLINIC
This week I was able to use some of the computer science knowledge I obtained from college at Shepherd's Clinic. I also volunteered at Shepherd's Clinic's fundraising event on Friday.

Over the past few months, the clinic had been handing out surveys to the patients to address their satisfaction with the clinic and discuss room for improvement. These surveys were originally distributed on paper so my job was to make a digital form that could compile all the information on the surveys and future surveys. That data could then be compared on a month to month basis. In order to do this I had to use a little bit of my coding knowledge. I worked with another Hopkins volunteer and by the middle of the day we managed to get the form up and running. It took a bit more time to figure out how to get the program to compile the data by month, but once I figured that part out I felt very proud. This was a task that my supervisor said they were having difficulty with so I'm glad I was able to be useful.

The Fundraising event was very enlightening. I was able to make conversation with some of the donors there and I managed to sell a lot of raffle tickets in the mean time. The event was held at a really nice place called the Volmer Center where they served some expensive food and drinks. I remember thinking how vast the contrast between the people who invest in or donate to Shepherd's Clinic and the patients at Shepherd's Clinic was. Many of the donors were able to spend thousands of dollars at a time on bids or other donations. They were shown a video of a patient who expressed how thankful she was to be able to receive free health care and it really touched my heart. The patient discussed hoe she had cancer and that she was always worried that she would not live for much longer because there was no way for her to get health care until she found my placement. The donors were discussing how they take life for granted and will probably never understand what the patients at Shepherd's clinic are going through. I was glad to hear that they were having these discussions, but I wished that they were also able to hear the stories of the patients in person. I think you develop a whole new form of empathy when you have to interact with the patients everyday. I've gotten phone calls from patients who are in the process of getting evicted from their homes, or patients who have lost their jobs. I'm learning more and more how hard it is to survive in a society where money determines your health and value as a human being.

Tags: Baltimore Harm Reduction Coalition, Chase Brexton, Chase Brexton LGBT Health Resource Center, CIIP, ciip 2019, Joy Wellness Center, Keswick Multi-Care Center, Shepherd's Clinic, STAR TRACK