Accessing Your 1098T
If you have a US Social Security Number on file with the University as of December 31, 2016, and had tuition charges on your SBS during the 2016 calendar year, a 1098T form for 2016 was mailed to you in January 2017. This document would have been mailed to your permanent address listed in your profile in SIS. You can also obtain a copy of this document at www.1098T.com.
Obtaining Your 1098T
Follow these instructions to obtain the document:
Visit www.1098T.com and click on the word "Here", highlighted below.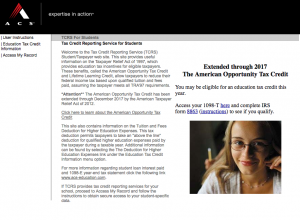 You must then fill in the student's SSN and last name. If you have used this site in the past please enter your password. If this is your first time or if you have forgotten your password, leave this field blank.

Click the Login Button to proceed. Please remember to use the student's information only that is on file with the university.
Note: If the University does not have the students SSN on file, there will be no 1098T document.
Frequently Asked Questions
The IRS Form 1098‐T is an informational return that JHU Krieger School of Arts and Sciences and Whiting School of Engineering is required to issue for the purpose of determining a student's eligibility for an education credit or tuition and fees deduction. Refer to PDF Document: IRS publication 970 (PDF) and PDF Document: Tax Benefits for Education: Information Center (PDF) for further information regarding the 1098‐T, or consult your tax advisor.
Please note: JHU Krieger School of Arts and Sciences and Whiting School of Engineering or the JHU Tax Office cannot answer tax questions or advise you concerning tax related issues.