Incoming Students
Health Maintenance & First Aid Kit
Health Maintenance
PDF Document: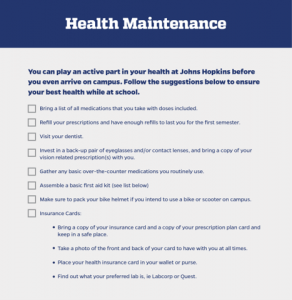 You can play an active part in your health at Johns Hopkins before you even arrive on campus. Follow the suggestions below to ensure your best health while at school.
Bring a list of all medications that you take with doses included.
Refill your prescriptions and have enough refills to last you for the first semester.
Visit your dentist.
Invest in a back-up pair of eyeglasses and/or contact lenses, and bring a copy of your vision-related prescriptions(s) with you.
Gather any basic over-the-counter medications you routinely use.
Assemble a basic first aid kit (see list below)
Make sure to pack your bike helmet if you intend to use a bike or scooter on campus.
Insurance cards:

Bring a copy of your insurance card and a copy of your prescription plan card and keep in a safe place.
Take a photo of the front and back of your card to have with you at all times.
Place your health insurance card in your wallet or purse.
Find out what your preferred lab is (i.e.Quest).
If you have a chronic health condition, such as diabetes, Crohn's disease, or SLE, please follow the additional suggestions below:
Bring a copy of any important medical records, written in English, to share with us if you have a chronic or serious condition.
Visit your specialist provider in June or July to discuss/complete/transfer any treatments in progress in anticipation of your arrival on campus. If you require ongoing specialist care, we recommend you find a local specialist and schedule an appointment for early in your first semester to establish care in Baltimore.

We are happy to suggest appropriate specialist providers in Baltimore.
It can take several months to secure an appointment with a specialist, so we suggest you do this as early as possible.

If you use any injectable medications, prevent injuries to others by bringing a sharps container. You can also get a FREE bio-hazard container at Health Services. Your full container can be brought to the Student Health & Wellness Center for disposal and exchange.
Allergy Serum: Our nursing staff is available to administer injections. Please check our website for additional information regarding this.
First Aid Kit
PDF Document:
Here's a checklist of health-related items we suggest you bring with you to help you prepare for your transition to Johns Hopkins. You can treat minor illnesses and injuries on your own with a personal first aid kit, and care for more serious problems until you get professional help. Here's what to include:
Adhesive bandages (assorted sizes)
Adhesive tape (1″ wide)
Antibacterial handwash
Antibiotic ointment
Antihistamine (diphenhydramine hydrochloride—generic for Benadryl)
Antiseptic wipes
Cold pack (disposable)
Cough drops
Cotton rolls and balls
Decongestant (pseudoephedrine hydrochloride—generic for Sudafed)
Digital thermometer
Elastic bandage (3″ wide, Ace wrap)
EpiPen if you have had one prescribed
Flashlight (and extra batteries)
Gauze pads
Pain relief medicine such as acetaminophen (Tylenol/Paracetamol) or ibuprofen (Advil)
Scissors
Tissues
Sunscreen
Hydrocortisone cream
Eligibility for use of Student Health and Wellness Center services is determined by the school in which you are enrolled. Not all Johns Hopkins students are eligible to utilize our services and thus only eligible incoming students are required to submit these health requirements to our office. Please verify your eligibility before proceeding.
All eligible incoming students to the Johns Hopkins University are required to provide proof of immunity to certain communicable diseases, in accordance with immunization guidelines of the Advisory Committee on Immunization Practices (ACIP), the American Academy of Pediatrics (AAP) and the American College Health Association (ACHA). Proof of immunity can be demonstrated by health care provider verification of the dates of the vaccinations and/or by laboratory evidence of antibody blood titer tests demonstrating immunity.
Failure to comply with the pre-entrance health requirements prior to your arrival on campus will block you from adding or dropping classes, interrupt your orientation and may result in a $100 health form completion fee.
Upcoming Deadlines
Pre-entrance health requirements must be completed by the following dates:
Early Arrivals: May 30
Fall admission: July 15
Spring admission: January 15
Post-doctoral fellows: One month prior to the start of your appointment
Completing the Pre-Entrance Health Requirements
All incoming students must:
Complete a paper

PDF Document:

Pre-Entrance Health Form
Complete online forms via the Health WebPortal.
As you complete the Immunization online form, there is a place within the form to upload your completed pre-entrance health form, either signed by medical provider or with vaccine history records attached/uploaded as well.
In following the AMA Code of Medical Ethics 1.2.1, the JHU SHWC will not accept any medical forms completed by a medical clinician family member.
Please carefully follow these instructions in the order outlined to complete the pre-health requirements and ensure your records are processed without delay.
Mandatory Immunization Requirements
COVID-19 vaccines
For the latest COVID-19 vaccination and booster information, refer to the university's COVID information website.
Influenza
For the current flu season (August through March). Depending when you start at JHU, you might not have this vaccine yet. There will be flu vaccine clinics on campus each fall.
Measles, Mumps and Rubella (MMR)
Two doses, with the first dose being administered after 12 months of age.
Meningococcal Vaccine
Under Maryland law, students enrolled in a Maryland institution of higher education who reside in on-campus student housing are required to be vaccinated against meningococcal disease or sign a waiver declining the vaccination. One dose of the 4-valent (ACYW) meningococcal conjugate vaccine is required after age 16 or you must sign the waiver. Only the 4-valent conjugate vaccine is acceptable.
Tetanus, Diphtheria and Pertussis (Tdap) vaccine for adults
Must be given at age 11 or older. Td (tetanus-diphtheria) does not satisfy this requirement.
Tuberculosis Screening (if applicable)
Students who have spent 4 consecutive weeks or longer in a country with a high incidence rate of Tuberculosis are required to receive an IGRA blood test within the 6 months prior to their arrival on campus.
Medical Exemption Request
Please have your physician complete the PDF Document: medical exception form and e-mail it to rkessle5@jhu.edu or fax to 410-516-4784 Attn: Dr. Kessler.
Religious Exemption Request
All requests for religious exemptions/accommodations must be submitted through the Office of Institutional Equity.
Athletes
All athletes are still required to complete the SHWC pre-entrance health forms and comply with all requirements even if they have already submitted health-related information to the athletics department.