Baltimore Scholars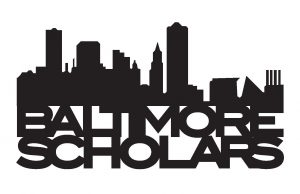 The Baltimore Scholars Program celebrates and invests in the talented students of Baltimore City public schools through a variety of academic, social, and financial resources. Since 2005, Johns Hopkins University has welcomed over 200 Baltimore Scholars, with a 94% graduation rate. Participants in the Baltimore Scholars Program are selected based on certain characteristics and family income levels as determined by the Office of Undergraduate Admissions.
The Baltimore Scholars Program provides for students in four key ways:
Advising/Success Coaching
Through our partnership with the Success Coaching Program in Academic Advising, Baltimore Scholars are provided an academic advisor who assists in exploring academic and professional opportunities and connecting them with appropriate resources.
Community Building
With an array of social programming led by students, and opportunities to network with alumni, faculty and staff, the program cultivates a warm and inclusive environment for Baltimore Scholars.
Mentoring and Advocacy
Through the support of a faculty advisory board, Baltimore Scholars are afforded the unique opportunity to meet faculty outside of the classroom and engage in rich dialogue. In turn, this faculty advisory committee continues to advocate for more equitable policies on campus.
Financial Assistance
In addition to the financial award, Baltimore Scholars also have access to supplemental funding to complete experiential learning opportunities such as an internship, research with a faculty member, or a study abroad program.
Contact
Baltimore Scholars Program
Program Liaison: Kelly Barry, PhD
Email: baltimorescholars@jhu.edu
Social Media
Instagram: @jhubaltimorescholars
Twitter: @balt_scholars
LinkedIn: The Baltimore Scholars Program
Advocacy
The Baltimore Scholars Program is a member of the first generation, limited income student initiatives (FLI) at Johns Hopkins University. To learn more, visit the FLI Network.
Testimonials
"Baltimore Scholars is an indispensable community on a campus where you do not meet many people from the city. Baltimore Scholars helped me with my transition to college as a first-generation student and connected me with many resources to aid in my success. At Hopkins it is easy to get lost in the mix, but Scholars is closing that gap for their students. For me, Baltimore scholars means support and community."

Moufidatou Adedoyin '22
"The Baltimore Scholars program gives local students the opportunity to pursue academic excellence at an excellent university without the financial strain usually involved. Through the program, I have received so much support and guidance from my advisors and peers, which has helped me find my place at Hopkins and pursue my goals. By connecting me with professors and funding study abroad experiences, Baltimore Scholars has vastly improved my college experience. I love being a Hopkins student and getting to know Baltimore all over again as a young adult."

Lily Batchelor '23
"I joined the Success Coaching and Academic Advising program because I believe that your support team can never be too big. I am always looking to grow my network of supporters and advisors and SCAA is a great way to do that! My advisor is always willing and ready to help in whatever way she can. We meet regularly and she is always looking for new opportunities to enrich my academic experience."

Sherry Bossard '22
Mentoring
If you are interested in being an alumni mentor, please contact Dr. Stephon J. Hamell at baltimorescholars@jhu.edu.