First-Year Experience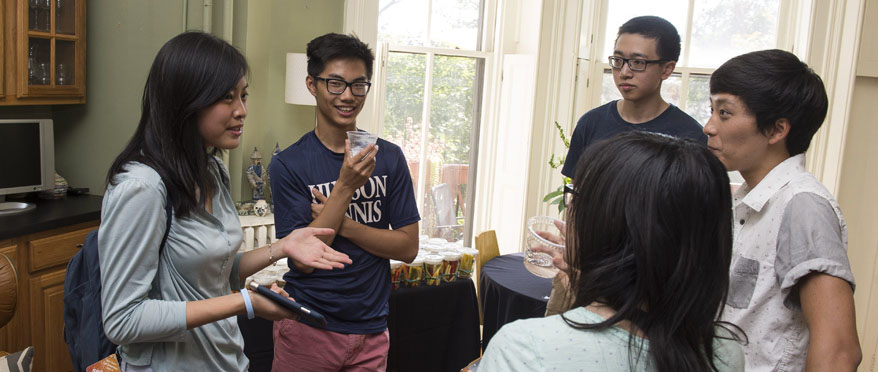 The First-Year Experience is a continuation of New Student Orientation. Our team seeks to ensure you are supported in your transition to Hopkins and are provided the tools and resources necessary to succeed and thrive. Through meaningful programs and events, resources, and initiatives that foster an inclusive community and create opportunities for intellectual and personal growth, we hope to make your connections at Hopkins strong and lasting.
Programs & Events
In addition to New Student Orientation, a variety of programs and events exist to ensure that students have a successful and enjoyable first year at Johns Hopkins.
Pre-Orientation
There are several Pre-Orientation programs offered for incoming students. While these programs are optional, they are a great way to immerse yourself in JHU and the greater Baltimore community before New Student Orientation!
Family Weekend
Family Weekend is designed to highlight the many exciting opportunities that students have at Johns Hopkins and to deepen the connection that family members have to the campus and to our community. It provides students with a chance to involve their families with their lives at Johns Hopkins and creates a valuable opportunity for parents and family members to interact with faculty and staff, get to know the campus, and experience a sense of confidence in their student's progress in their new home.
The dates for Family Weekend 2019 have yet to be announced. Please visit the Family Weekend website for more information.
B'More Intersession Program
The B'More program is designed to introduce first-year students to Baltimore and help them establish a relationship that will transcend beyond the program and their time at Hopkins. The program as a whole immerses students into the city, and show them the ways in which the city's civic and cultural resources can enhance a Johns Hopkins education.
Students will identify ways that Baltimore will contribute to their overall educational goals, and they will be called to action to make a contribution to the city and its residents. There are integrated activities that serve to reinforce the courses, as well as social and service activities that will enhance class spirit throughout the last week of Intersession. Check out the B'More website for more information.
First-Year February
Piloted in 2017, First-Year February is an initiative designed to create meaningful opportunities for engagement, to build community, and reconnect first-year students to offices and resources that were introduced at orientation and in the fall semester.
First-Year Banquet
Originally inspired by the British tradition of Formal Hall, the First-Year Banquet is an annual first-year tradition held each spring where students, faculty, and administrators gather for a formal dinner in the Ralph S. O'Connor Recreation Center. This dinner provides a unique venue for faculty, students, and administrators to dine and interact.