New Student Orientation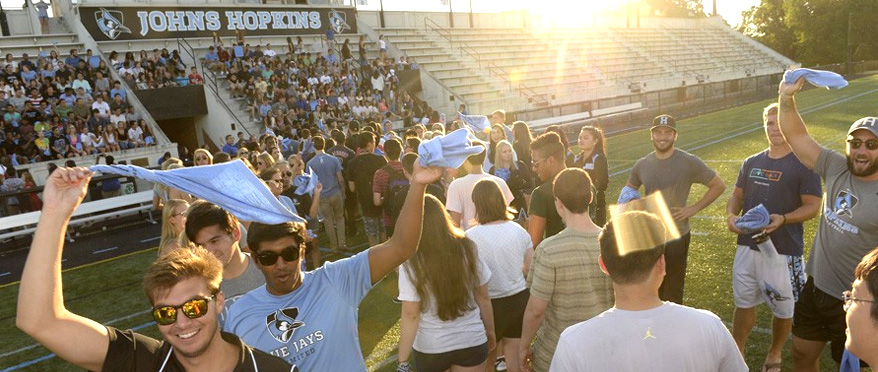 What's Before Orientation?
Whether you're a first-year student, a transfer student, or a parent/family member, the Orientation & First-Year Experience team wants to help you settle into Homewood. We can start by providing information about campus resources and ways to get engaged in your new community.
Orientation Sessions
First-Year Students
New Student Orientation is a five-day program in August that will leave you prepared and excited to begin your first year. With the assistance of a First-Year Mentor, students will get an overview of academics, student life, and what it takes to make a smooth transition to college.
New Student Orientation will be held from Saturday, August 24, 2019 through Wednesday, August 28, 2019. Participation in all Orientation programming is expected of all new students. Fall semester classes begin on Thursday, August 29, 2019.
Transfer Students
If you are a transfer student, your move-in date will be Thursday, August 22, 2019, and you will take part in a supplemental orientation program that begins later that evening. Stay tuned for more details.
International Students
International students will move in on Thursday, August 22, 2019, and will take part in a supplemental orientation program that begins later that evening.
Following the international orientation program, students will then participate in the larger New Student Orientation program from the evening of Saturday, August 24, 2019, through Wednesday, August 28, 2019.
Parents and Families
Parent and Family Orientation will take place Friday, August 23, 2019, through Sunday, August 25, 2019, the same weekend as New Student Move-In. Specific times and programs will be announced in July.
Parents and families of student-athletes and students participating in Pre-Orientation programs can choose to attend an abridged orientation program on Saturday, August 17, 2019, or Wednesday, August 21, 2019, in place of the regular Parent and Family Orientation.
Orientation Traditions
On the evening of the first day of orientation, all new students (First-Year, Transfer, and International alike) enter the Homewood Field stands for a pep rally. Members of the Hopkins Administration, JHU Athletics and Recreation, and Athletics Teams are among the welcome committee. Students then meet their Mentors and groups to get started on Orientation!
Baltimore Day, a longtime Orientation tradition, is getting an exciting update this year! Charm City is a city of neighborhoods, and students will get to explore one firsthand on the third day of Orientation. Previously, students visited museums, historic sites, and local hangouts with their groups. The murals of Station North, Mount Vernon's art museums, and the free city buses were just a few of the highlights of those trips.
This year, we're keeping the best of that model while adding group dinner on us. Areas like Hampden, Fells Point, and Station North will come alive for students through unique local restaurants and neighborhood walking tours. This may be your first time exploring Baltimore with friends, but we know it won't be your last!
What are some good Baltimore restaurants in the area?
Baltimore is a cornucopia of culinary delight! Check out Baltimore Magazine's Top 50 Restaurants for some searchable suggestions.