New Student Orientation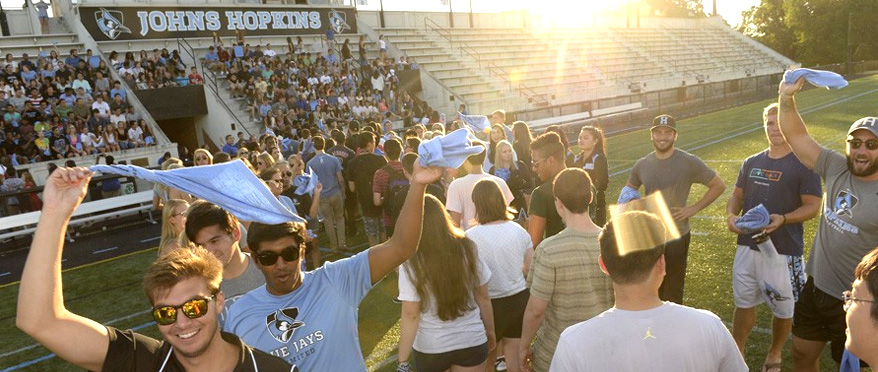 What's Before Orientation?
Whether you're a first-year student, a transfer student, or a parent/family member, the Orientation & First-Year Experience team will help you settle into Homewood by providing information about campus resources and ways to get engaged in your new community.
Orientation Sessions
First-Year Students
New Student Orientation is a five-day program in August that will leave you prepared and excited to begin your first year. With the assistance of a First-Year Mentor, students will get an overview of academics, student life, and what it takes to make a smooth transition to college.
New Student Orientation will be held from Saturday, August 24 through Wednesday, August 28, 2019. Participation in all Orientation programming is expected of all new students. Fall semester classes begin on Thursday, August 29, 2019.
Transfer Students
If you are a transfer student, your move-in date will be Thursday, August 22, 2019, and you will take part in a supplemental orientation program that begins in on Friday, August 23, 2019. Stay tuned for more details.
International Students
International students will move in on Thursday, August 22 2019. The Office of International Services will host an orientation program for international students on Saturday, August 24, 2019. International students should soon be receiving information from OIS regarding this orientation program. If there are further questions, email ois@jhu.edu or call OIS at +1-667-208-7001.
Following the international orientation program, students will then participate in the larger New Student Orientation program from the evening of Saturday, August 24 through Wednesday, August 28, 2019.
Parents and Families
Parent and Family Orientation will take place the weekend of New Student Move-In. Specific times and programs will be announced in July.
Parents and families of student-athletes and students participating in Pre-Orientation programs will have the option of attending an abridged orientation program on Saturday, August 17, 2019, or Wednesday, August 21, 2019, in place of the regular Parent and Family Orientation.
Orientation Traditions
On the evening of the first day of orientation, all new students (First-Year, Transfer, and International alike) enter the Homewood Field stands for a pep rally welcome from members of the Hopkins Administration, JHU Athletics and Recreation, and Athletics Teams. Then, they will meet with their First-Year or Transfer Mentor, and get to know fellow new students.
Traditionally held on the second day of New Student Orientation in August, Baltimore Day exposes students to opportunities for engagement within the community right off the bat. We want our students to explore and better understand the city that will be their home for the next few years of their lives!
Baltimore Day begins with a few presentations and small-group meetings around what Baltimore and JHU have to offer–everything from historic and cultural sites; to exciting tourist spots; to civic engagement and volunteer opportunities; and ways to get around the city using university shuttle services or public transportation. Students will then visit various neighborhoods throughout the city, whether it's the murals in Station North, the museums of Mount Vernon, the bocce courts in Little Italy! Upon their return to campus, students will enjoy an absolutely delicious Baltimore-themed picnic with delicacies such as crab cakes, pit beef, Utz chips, local steamed corn, Taharka Brothers ice cream, and, of course, the acclaimed Berger cookies. And what would a Baltimore barbecue be without some good ol' Maryland Old Bay seasoning! All of these aspects come together to show students why we love Charm City; the city that we call home.
What are some good Baltimore restaurants in the area?
Baltimore is a cornucopia of culinary delight! Check out Baltimore Magazine's Top 50 Restaurants for some searchable suggestions.