Second-Year Experience Aims to Make Students' Second Year Truly Transformational
Posted: April 24, 2018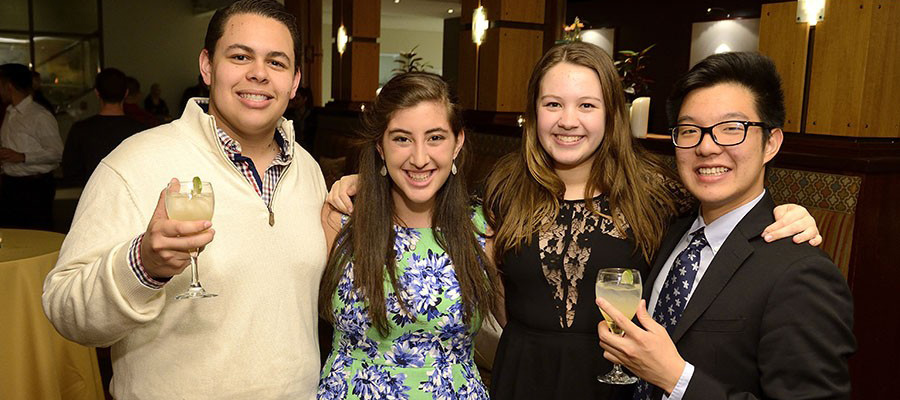 Orientation Week—the event where colleges and universities pull out all the stops to ensure that first-year students feel welcome, excited, and at home. It is typically the beginning of a year-long series of programs, banquets, semi-formals, and day trips all intended to ensure a fun and successful introduction to their higher education experience.
But what happens when those students return for their second year?
The second year is a critical time for students, a time when they are facing major social, academic, and personal issues and having to answer big questions. Unfortunately, most institutions don't support these students in a holistic way.
Contrasted with the attention given to acclimating new students and the efforts made to steward young alumni, the second year of university can often feel like "the forgotten year."
In fact, research shows there's a lack of engagement and a lack of faculty connections for second-year college students nationally. At Johns Hopkins University in particular, second-years report the highest levels of stress, the lowest levels of satisfaction, the lowest levels of affinity for the institution, and the lowest levels of community.
Statistically, there are as many Hopkins students who leave the institution after their second year as those who leave after their first; whereas, nationally, more leave after their first year. What's more, second-year Hopkins students are also the least likely to engage with people who are different from them, whether by major, cultural identity, or otherwise. Those engagement levels go back up in junior and senior years, however, perhaps indicating that the difficulties of the second year cause students to retreat to known, familiar spaces.
But how to counteract this sophomore slump? For two years and counting, the Second-Year Experience program has been working toward that very goal.
SYE offers all second-year students at Hopkins the opportunity to engage with the campus community at whatever level they feel most comfortable, from broad social events like the annual Spring Garden Party to one-on-one mentoring with a faculty or staff member through the Links coaching program.
The Links program, in particular, has proven to be rewarding not only for the students who participate but also for their faculty and staff coaches. Links coaches have helped students see their way through changes in academic focus, assisted them with transitions in housing, and even advocated for them in disciplinary issues. In some cases, coaches have stayed in close contact with their students even after the conclusion of their second year.
For many of the student participants, their Links coach becomes their first point of contact for help with complicated processes or difficult experiences, a sounding board that allows them to talk through situations beyond the classroom. Likewise, for the faculty and staff volunteers, being a Links coach can result in one of the most meaningful relationships they build with a student.
SYE also offers opportunities for alumni engagement and shadowing to help second-year students receive career guidance as their academic focus and professional interests take shape. This includes the Second-Year Blue Jay Summit, a day-long conference during Intersession that includes an alumni networking lunch and afternoon immersion trips to local business and organizations.
Carrying out a program of this scope is certainly not without challenges. Cost is one consideration, as all of SYE's programming and events are free to participants; capacity is another. For example, EXCITE Hopkins—a two-day retreat that takes second-year students to DC to connect with alumni and focus on post-graduation planning—facilitated roughly 25 students in its first year. In its second year, that number doubled. Similarly, the SYE Links program began with a cohort of 30 students that grew to nearly 80 in year two.
But these challenges are signs of SYE's success. The program is currently gearing up for one of its biggest events, Expeditions 2021, a big carnival that will take place on the Freshman Quad.
This is also the time of year when SYE begins to introduce first-year students to its work. The program is currently accepting applications for EXCITE Hopkins and the Links Coaching Program.
While the second year of college is very different, and often more difficult, than the first, SYE exists to ensure that Hopkins' students are never alone in that stage of their journey. Students are encouraged to connect with SYE in whatever way they find most helpful, whether that be applying for a Links coach or simply setting up a time to ask a staff member questions over coffee. With SYE's help, the second year can be truly transformational.
Expeditions 2021 will take place on May 7, 2018, on the Freshman Quad.