University Health Services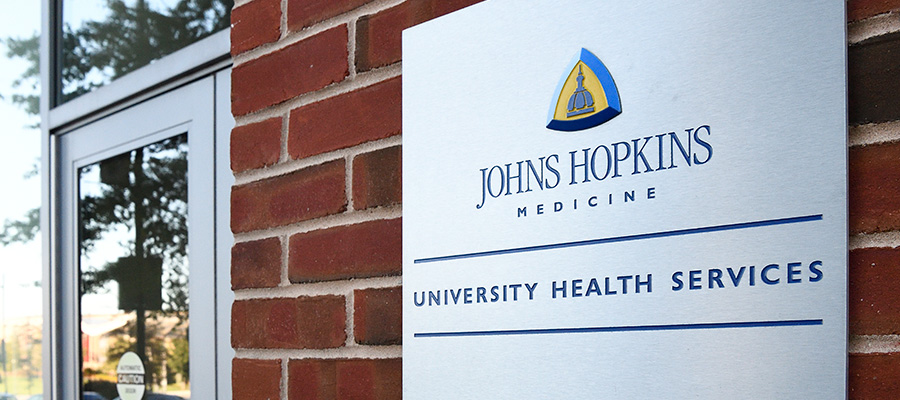 At University Health Services (UHS), we are privileged to provide medical, mental health, and wellness services to students, residents, fellows, and trainees on the Johns Hopkins East Baltimore campus, which includes the School of Medicine, the Bloomberg School of Public Health, the School of Nursing, and the Berman Institute of Bioethics. Full-time students, trainees, and their spouses, domestic partners, and dependent children are also eligible for a comprehensive health insurance program with Johns Hopkins EHP (Student Health Program). Spouses/domestic partners who are on the Student Health Program are also eligible to be seen at the UHS clinic for primary care and mental health services.
Regardless of whether you are insured through the Student Health Program or elsewhere, students and trainees have access to UHS. There is no charge for clinic visits if you are 1) a full-time, East Baltimore-based student or postdoctoral fellow in the Schools of Medicine, Public Health, or Nursing, 2) house staff or clinical fellow at Johns Hopkins Hospital or Johns Hopkins Bayview Medical Center, or 3) a spouse/domestic partner enrolled in the Student Health Program. However, additional services such as labs, x-rays, and medications will be billed to your health insurance.
Our health care providers consist of physicians, psychiatrists, psychologists, nurse practitioners (including women's health specialists), nurses, and licensed clinical social workers assisted by our clinical and administrative staff. UHS staff will assist you with your medical appointment scheduling, billing and insurance questions. Our team is committed to providing individualized care focused on your health care needs.
Make an Appointment
UHS Primary Care Appointments Line: 410-955-3250
For all medical appointments, please call the general center number at 410-955-3250 during our regular hours (8:30 a.m. to 5 p.m. Monday, Tuesday, Thursday, and Friday and 1 p.m. to 5 p.m. on Wednesday; closed daily from 12 p.m. to 1 p.m. for lunch). For any urgent primary care medical concerns after hours or on the weekend, please call our main number at 410-955-3250 and stay on the line to be connected with our nurse triage service.
UHS Mental Health Appointments Line: 410-955-1892
For a mental health appointment please call 410-955-1892. You may also reach UHS Mental Health staff by e-mail for non-urgent issues: uhsmentalhealth@jh.edu. For urgent care after hours, please call 410-955-1892 and you will be connected with our after hours mental health professional. In the case of an emergency, dial 911 or go to nearest Emergency Room immediately.
Getting to UHS
Walk: UHS is adjacent to the East Baltimore campus. You can also use Johns Hopkins Walking Escort Services, available 24/7.
Ride Johns Hopkins Shuttles: You can also get to UHS via the Church-Ashland shuttle (Route 12) and we are a short walk from several other shuttle routes.
Ride Baltimore Public Transportation: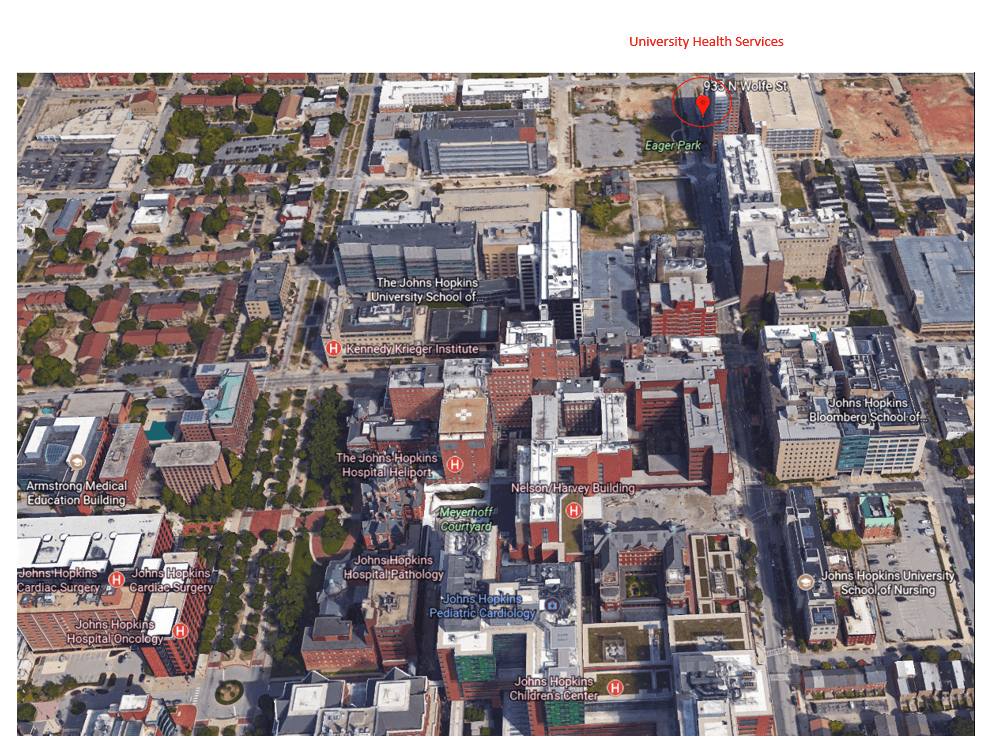 We Welcome Your Feedback
We strive to provide high-quality health care and well-being resources that recognize the values, experiences, and needs of our diverse student community. We believe that a confidential, mutually respectful partnership between you and our staff and providers is the foundation necessary to develop and maintain optimal health and well-being. Understanding PDF Document: your rights and responsibilities and engaging your feedback about services is central to this partnership.
Your feedback is important to us, so if you had a good experience or have helpful suggestions, we encourage you to share that directly with the staff or provider in the office you visited. Our providers are trained to listen, answer your questions, and work with you to resolve concerns. For questions or concerns that arise prior to working with a provider, or if you feel it is best to speak with someone other than your provider, please share using our online feedback form.