Women's History Month 2017
Posted: February 23, 2017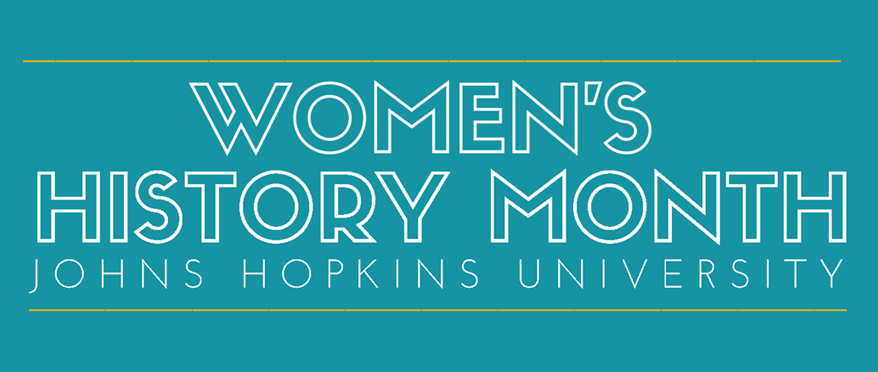 March is Women's History Month! Gender Equity is collaborating with campus partners, student organizations, and invited speakers to celebrate the contributions and experiences of women. The month of events kicks off March 1 at the women's lacrosse game. Highlights of the month include a guided tour of the Guerrilla Girls exhibit at the Baltimore Museum of Art, International Women's Day, a facilitated pay equity and negotiation workshop, and guest speaker Dr. Sonia Sanchez.
For a list of events and details, view our PDF Document: event poster or explore the list below.
"To communicate the truths of history is an act of hope for the future." – Daisaku Ikeda
Scheduled Events
Event
Date & Time
Location
Description
Kick-Off Tailgate at Women's Lacrosse Game
March 1, 4 p.m.
Athletic Circle
Women's History Month and Athletics invite you to a kick-off tailgate at our Women's Lacrosse game. Grab some food and stay for an amazing game!
Co-sponsored by Athletics.
Men Can Be Feminists Too
March 1, 6:30 p.m.
Mattin 162
A discussion on feminism, womanism, activism, and the role of male voices.
Co-sponsored by Hopkins Feminists and The Masculinity Project.
Tour of Guerrilla Girls Exhibit
March 2, 3:15–4:30 p.m.
Baltimore Museum of Art
This exhibit confronts the marginalization of female artists and artists of color within museums. RSVPs required to Jeannine Heynes at jheynes@jhu.edu. Space is limited.
Co-sponsored by Female Leaders of Color.
New Forms/New Paths Circuit Workshop
March 4, 1 p.m.
Mattin Center Offit Building
Featuring Bonnie Jones and Suzanne Thorpe of TECHNE. Create and musically experiment with your very own light controlled oscillator instrument!
Co-sponsored by the Digital Media Center.
Open Mic: Gender, Sexuality and Faith
March 5, 6 p.m.
Bamboo Cafe
Join us for an opportunity to share your writing, music, and experiences over dessert and conversation.
Co-sponsored by the Interfaith Center.
Women Performing Masculinities
March 6, 5 p.m.
Gilman 50
A panel-led discussion on the performance of masculine and feminine behaviors, experiences within queer and non-queer spaces, and stereotyping.
Co-sponsored by The Masculinity Project.
International Women's Day Celebration
March 8, 7 p.m.
The LaB
Celebrate International Women's Day with a night of food, community, and conversation led by an international panel discussion on women, gender, and culture.
Co-sponsored by the Office of International Services.
"Girl Rising" Film Screening
March 9, 6:30 p.m.
Wolman Theater
Hopkins Feminists will host a screening of the 2013 documentary Girl Rising, a film which highlights the stories of nine girls from developing countries who overcome great obstacles to obtain an education.
Co-sponsored by Hopkins Feminists.
"Queen of Katwe" Film Screening
March 10, 8 p.m.
Glass Pavilion
Living in the slum of Katwe in Uganda, Phiona's world changes when she meets Robert Katende, a missionary who teaches her how to play chess. Free pizza will be provided!
Co-sponsored by OMA.
A Night of Appreciation
March 11, 7 p.m.
Great Hall, Levering
Come celebrate women and non-binary individuals who have made significant contributions to communities of color at Hopkins.
Co-sponsored by OMA, MOCHA, the Sigma Sigma Chapter of Alpha Phi Alpha Fraternity, Inc.
AAUW Smart Start Salary Negotiation Workshop
March 13, 6 p.m.
TBD
This workshop will help students learn about the consequences of the gender pay gap and ways to negotiate their desired salary. RSVP to Jeannine Heynes at jheynes@jhu.edu.
Ladies of the 80's Karaoke Night
March 15, 7 p.m.
OMA Student Lounge
Sing your heart out to a night inspired by women of the 80's. Sport your best 80's gear at the mic!
Co-sponsored by OMA.
An Evening with Sonia Sanchez
March 16, 7 p.m.
Hodson 110
Sonia Sanchez, renowned educator, poet, and activist, will give an interactive talk that delves deep into the intersectionality of identities.
Co-sponsored by OMA and the Interfaith Center.
Sophomore Women's Lunch
March 21, 12 p.m.
Baltimore
Join SYE and Gender Equity for an afternoon luncheon in Baltimore. RSVP to Aaron Rutledge at arutled2@jhu.edu for reservations.
Co-sponsored by Second-Year Experience.
World Water Day
March 22
#WorldWaterDay
Celebrate the life and work of Rachel Carson, the mother of the environmental movement and one of our own Women of Hopkins.
Co-sponsored by the Office of Sustainability, Alliance for Clean Water, and Alumni Relations.
Natural Hair Event
March 28, 6:22 p.m.
Charles Commons Salon A & B
Join us for our annual Natural Hair event. We will have a panel discussion about natural hair care and the politics of natural hair. All are welcome!
Co-sponsored by Sigma Gamma Rho Sorority, Inc.
With Liberty, Justice and Reproductive Rights For All
March 29, 6 p.m.
Mattin Center 162
An enlightening presentation and discussion about the current state of reproductive rights in the United States. Food will be provided.
Co-sponsored by Voice for Choice and Hopkins Feminists.
"Kinky Boots" Film Screening
March 31, 7 p.m.
OMA Student Lounge
Celebrate Trans Day of Visibility with a screening of Kinky Boots.
Co-sponsored by OMA and LGBTQ Life.
WPHLS Annual Conference: A Lifetime of Medicine
April 1, 1 p.m.
Mudd Atrium
Conference attendees will engage in round table discussions with physicians and healthcare professionals from Johns Hopkins Hospital. Featuring two keynote speakers. All are welcome!
Co-sponsored by the Women's Pre-Health Leadership Society.