Women's History Month 2018
Posted: February 28, 2018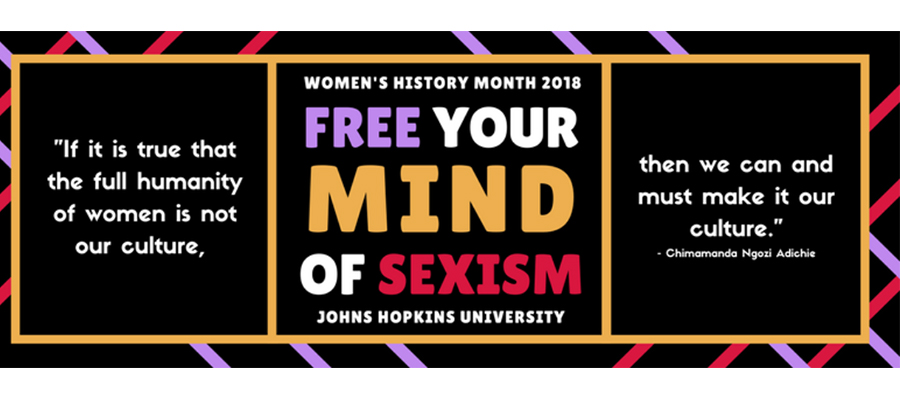 It's March and that means the Office of Women and Gender Resources is celebrating Women's History Month! We will be highlighting an amazing line-up of programs and events. This year's theme is "Free Your Mind of Sexism". The theme allows us to unpack a host of topics that puts the diverse experiences and celebrations of women front and center. We are excited, as always, to be collaborating with student organizations and departments from all over campus.
For a list of events and details, view our PDF Document: event poster or explore the list below.
"If it is true that the full humanity of women is not our culture, then we can and must make it our culture." – Chimamanda Ngozi Adichie

Scheduled Events
Event
Date & Time
Location
Description
Designing Games to Save Your Own Life
March 2, 7 p.m.
Mattin 162
Guest artist Lishan AZ will discuss her
development of effective games that engage communities and drive conversations. Sponsored by the Digital Media Center.
Board Games Celebrating Women
March 3, 2–5 p.m.
Digital Media Center
Lishan AZ will lead a workshop to create prototypes of board and card games inspired by Baltimorean
women pioneers. Sponsored by the Digital Media Center.
Women & Religion: Experiences of Faith & Feminism
March 5, 6:30 p.m.
Interfaith Center
A lively discussion on the intersection of women, faith, and feminism. Dinner provided. Sponsored by
the Interfaith Center.
Celeste Doaks: Cornrows & Cornfields
March 7, 7–8:30 p.m.
Gilman 55
Celeste Doaks will read excerpts from her poetry anthology and discuss her writing. Food provided. Co-sponsored by Hopkins
Feminists and the Black Student Union.
International Women's Day Speaker Azhin Fuad
March 8, 6 p.m.
Charles Commons Barber Conference Room
Azhin Fuad will discuss her work with SAIS Women
Lead and her research with the Emirates Diplomatic
Academy, which aims to include more women in global diplomacy. Co-sponsored by the Office of International Services and the International Studies Program.
Women's Lacrosse Tailgate: Celebrating Women in Sports
March 10, 12 p.m. tailgate/1 p.m. game
Athletic Circle
Support your women athletes! Grab some food, and stay for an amazing game. Co-sponsored by Athletics.
TEDxJHU Presents:
Schuyler Bailar
March 10, 3:45 p.m. talk/4:30 p.m. Q&A session
Mudd 26
Schuyler Bailar, the first openly transgender NCAA Division 1 swimmer, will speak on his experience as a transgender athlete. Co-sponsored by
TEDxJHU and The Masculinity Project. Co-sponsored by the Office of International Services.
FAS Presents: Samantha Power
March 13, 8 p.m.
Hodson 110
A talk by Samantha Power, former U.S. Ambassador to the United Nations. Co-sponsored by the Foreign Affairs Symposium.
Sophomore Women's Luncheon
March 20, 12 p.m.
Golden West Cafe
Join Second-Year Experience for a fun afternoon at Golden West Cafe. Co-sponsored by Second-Year Experience.
6th Annual JHU Women in Business Leadership Conference
March 23, 8 a.m.
Palomar Hotel, Washington D.C.
A dynamic opportunity to expand your professional skill set and make meaningful connections. Sponsored by the Women In Business Alumni Association.
Voices of Color: A Dialogue for Hopkins Women
March 28, 5 p.m.
Charles Commons Banquet Room
Students will network with Hopkins alumnae of color, who will discuss education, relationships, and
navigating race and gender in the workplace. Dinner
provided. Co-sponsored by OMA, Alumni Relations,
and Female Leaders of Color.
Approaching Gender Violence on Campus
March 30, 9 a.m.
Charles Commons Conference Room
A conference to discuss ideas and initiatives to
combat campus gender violence. Co-sponsored by the Center for Health Education and Wellness.
A Night of Appreciation
March 31, 6–8 p.m.
Great Hall, Levering
Celebrate women and non-binary individuals who have made significant contributions to communities of color at Hopkins. Sponsored by OMA, MOCHA, and the Alpha Phi Alpha Fraternity, Inc.
Follow the Women and Gender Resources Facebook page for more information. Events are open to all!