Pre-Orientation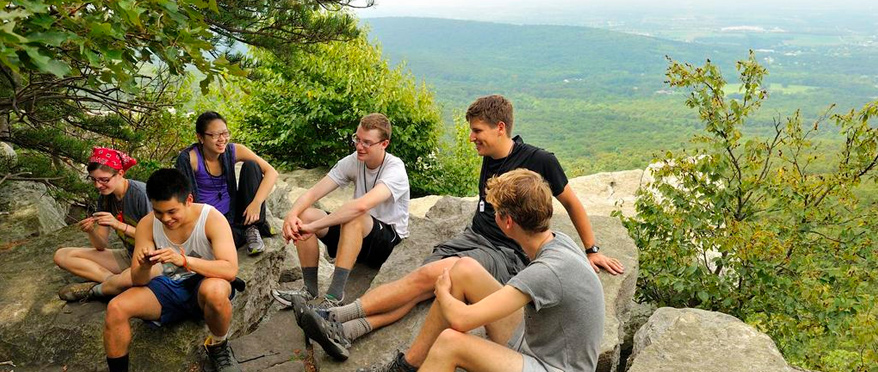 There were four Pre-Orientation programs offered in 2016 for incoming students. Please stay tuned for information regarding the 2017 Pre-Orientation programs. Programs fill quickly so be sure to apply as soon as possible. Scholarships are available, and participants will move into their residence halls on Friday, August 18.
Program Dates: Friday, August 18 – Friday, August 25
Check out the four Pre-Orientation program options below. Please stay tuned for more information regarding the application process for each program. We hope you consider applying!
Experiential Education: Outdoor Pre-O
The JHU Experiential Education Outdoor Pre-O program offers five outdoor excursions that run the gamut from water to land with everything in between. Whether you are looking for an intense adventure or something a little more relaxed, we have options for everyone – and no matter the trip, no experience is necessary! Take advantage of the last days of summer and meet fellow first-year students before the academic year kicks into high gear. You may even pick up a few backcountry skills to help you survive college…
Find out more information and apply to Experiential Education's Outdoor Pre-O.
HopkinsCORPS: Civic Engagement, Outreach, and Public Service
HopkinsCORPS is an immersive, week-long community service and leadership development pre-orientation program for incoming first-year students. Through direct service, site visits with community organizations, reflection sessions, and leadership development activities, students learn about a variety of social justice issues relevant to Baltimore, then participate in fun group outings in the evenings to continue to explore their new community together. Participants move into their residence halls early, then spend the week living together at a retreat center located in the historic Mount Vernon neighborhood of central Baltimore. The program is facilitated by student leaders and staff from the Center for Social Concern, the community service and civic engagement center at Johns Hopkins.
HopkinsLEAD: Leadership Education, Advocacy, and Development
HopkinsLEAD is designed to get students thinking and excited about who they are, what they're passionate about, and what type of communities they want to develop at JHU. Throughout this program, incoming Blue Jays will develop the personal and interpersonal skills needed to be effective leaders. They will explore ways to get involved on campus, meet with leaders from across Johns Hopkins, and learn from community members who have realized their visions for a better Baltimore. After HopkinsLEAD, students will feel more connected to one another and more capable of enacting positive social change.
HopkinsLEAD is split into two parts. During the first part incoming students, returning student facilitators, and staff from Student Leadership and Involvement will travel off campus for a retreat focusing on value clarification, self-awareness, communication, and group formation. During the second half of this experience, the group will return to campus and the neighborhoods surrounding Johns Hopkins to continue learning how leaders on and off campus have put their skills and values to work.
This program is in its introductory year and is being limited to 20 participants. The cost of participation is $450 dollars, but generous scholarships are available. Students who are accepted to the program will move in to their residence halls on August 19th, be off-campus from August 20th – 21st, and then return to campus for the second half of the program from August 22nd to August 25th. A more detailed agenda will be available in June.
Please email Travis Olson, Coordinator for Leadership Development, at travisolson@jhu.edu if you have further questions.
Habitat for Humanity
Each August, the JHU Habitat for Humanity chapter welcomes around 20 first-year students to the Johns Hopkins campus and Baltimore community. During this week-long program, we work closely with Habitat for Humanity of the Chesapeake on a Johns Hopkins-sponsored house, helping with everything from laying down flooring to building the walls of the future home. During our break days, we'll explore the rich Baltimore culture, from the scenic Inner Harbor, to the artsy Mount Vernon, and the world-famous Lexington Market. Come be a part of an impactful organization and make long lasting friendships along the way!