Vice Provost for Student Affairs
Expand
Vice Provost for Student Affairs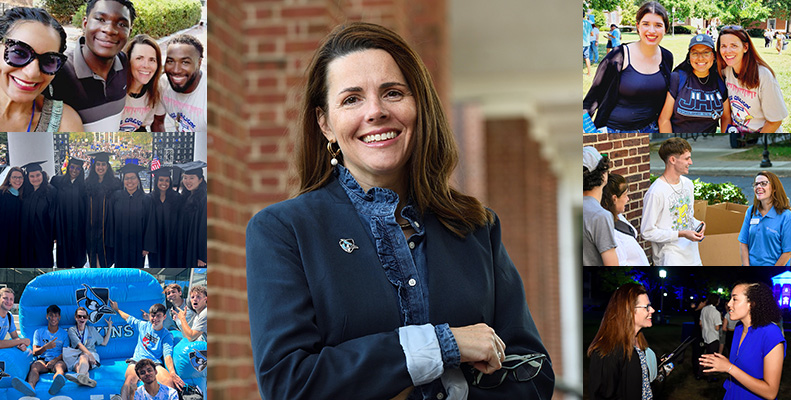 Blue Jays,
What a privilege it is to be part of our amazing JHU community of students, scholars, and dedicated staff members who are engaged in learning, developing, and discovering together. It's always a great day to be a JAY!
We know your time at JHU will serve as the launching pad for your future, so our focus is on helping you take advantage of all that a JHU education and the JHU community have to offer. Our programs, services, and our collaborations with colleagues across the university are designed to help support you as you engage in meaningful experiences, pursue your passions, and make lifelong connections throughout your educational journey. From leadership opportunities to community service, we provide infrastructure, programming, and partnerships that foster student engagement, development, and success. Your time at Hopkins will be life changing and mind expanding, and our colleagues across Student Affairs are dedicated to championing student success as we focus on helping you make your college experience all you imagined it could be.
As our alumni know well, once a Blue Jay, Forever, a Blue Jay! The knowledge you gain, the life-long friends and mentors you meet, and the experiences you have here will be a source of pride, connection, and belonging throughout your time at the university and well beyond your graduation ceremony. We are so thrilled that you have chosen Hopkins as your college home, and we are beyond honored to be a part of your incredible journey on your way to achieving your dreams.
Go HOP!

Rachelle Hernandez
Vice Provost for Student Affairs
Learn more about Vice Provost Hernandez
Student Affairs Statement on Inclusion, Community, and Excellence
At Johns Hopkins, we strive to be a model of a pluralistic society in which we acknowledge, embrace, and engage diverse identities, perspectives, and experiences. We seek to build and buttress an inclusive intellectual and physical environment to ensure that all members of our community know with certainty that they belong at Johns Hopkins and we aspire to equitably share the benefits and burdens of dismantling persistent systemic barriers to individual and communal success.
Hopkins Student Affairs is committed to fostering a welcoming and inclusive community for students, faculty, and staff of all backgrounds:
We believe that diversity is inherent to excellence and that the broad diversity of talents, cultures, identities, and experiences of our community members are core to our ability to deliver exceptional student development and learning experiences.
We strive to support a student experience where academic, leadership, and community engagement opportunities spur discovery and learning; encourage a respect for and valuing of the perspectives of others; and foster a sense of belonging and connection across our student, broader university, and Baltimore community.
We strive to create a learning environment where our students feel invited to learn from, and contribute to the learning of others through the sharing and honoring of each other's perspectives, identities, cultures, talents, and experiences.
Read the university's Statement of Principles on Diversity, Equity, and Inclusion.