Aspirations for Student Learning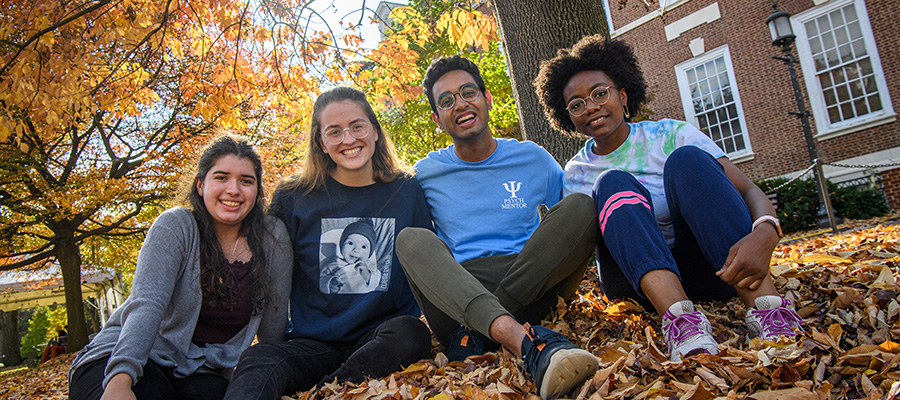 How do we want students to learn and grow through their engagement with Student Affairs?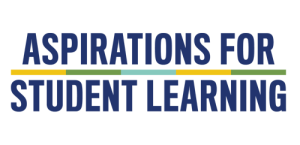 This all-important question has been at the center of a strategic visioning process recently undertaken by Student Affairs. Through a series of surveys, listening sessions, and working groups, we have arrived at five key student learning outcomes, known collectively as the Aspirations for Student Learning.
Together, these Aspirations will play a critical role in helping Student Affairs fulfill our mission of educating beyond the classroom, helping students to deepen self-awareness, develop relationships, nurture inclusion, and find fulfillment in the collegiate experience to ensure lifelong success and happiness.
Continue reading to explore the Aspirations and be sure to check this page for additional information and updates as the Aspirations are introduced to our community.
The Five Aspirations
Curiosity

Asking questions and exploring new ideas, new relationships, and new possibilities is central to the Student Affairs experience. Learners of all kinds are encouraged to dream big and develop their talents to support community well-being where everyone thrives. As integrative thinkers and lifelong learners, students' curiosity is harnessed and honed for the benefit of all.

Self-Awareness

Discovery begins within. Student Affairs helps students identify and strengthen their individual values in order to live with greater purpose. Students gain a deeper understanding of themselves and in turn identify their strengths, weaknesses, and ways to employ self-understanding as a powerful tool for academic, professional, and interpersonal success.

Collaboration

Relationships and partnerships are vital to individual and collective success. Student Affairs helps students expand their local and global consciousness and discover ways to build understanding through inclusive and intentional connections. Embracing diverse perspectives and differing viewpoints fosters compassion and inspires action on behalf of others.

Confidence

Developing character along with competency leads to confidence. Student Affairs instills values that promote personal growth and emotional strength. Navigating life's many challenges requires not just intellectual fortitude, but also healthy self-esteem. Helping students grow both academically and emotionally builds tenacity, determination, and resilience.

Responsible Leadership

Ethical decision making, socially responsible action, and impactful change are realized with great leadership skills. Student Affairs prepares students to become visionary leaders who address complex issues and make the world a better place.
Aspirations Awards
The Aspirations Awards recognize Hopkins students, faculty, and staff who exemplify our Aspirations for Student Learning. Five students, each representing a different Aspiration, and two faculty/staff members are awarded each semester.
Homewood students of any major and level of study and Homewood faculty and staff are eligible for nomination, and multiple names can be submitted. Awardees will be selected and notified by the Aspiration Awards committee.
Share the story of a deserving Blue Jay!
Nominations for fall have closed and will reopen in the spring. Stay tuned for more information!
Fall 2022 Awardees
Student Awardees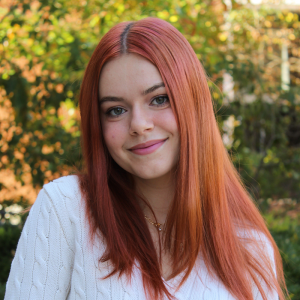 Ava Levine's passion for reducing systemic inequalities and injustices in the American legal system began her sophomore year with the course "Introduction to Police and Prisons." Since then, she has resolutely pursued a desire to know learn, educate, and address the challenges that face formerly incarcerated individuals, particularly women.
In April 2021, using grant funding awarded by the JHU Gender and Racial Justice Scholars Awards, Ava began a year-long independent research project on the lives of women in Maryland who have been released from incarceration. Dr. Stuart Schrader, Associate Director of the Program in Racism, Immigration, and Citizenship and faculty supervisor on Ava's project, said, "Ava keenly noted that much of the scholarly literature on incarceration focuses on male-identified prisoners with little research on female-identified prisoners. In fact, Ava found that the state's record keeping on women is woefully inadequate, making it difficult to characterize this population in the most general terms. Ava's curiosity led to an impressive research agenda, and in the face of adversity, she demonstrated more perseverance than any student I have encountered."
From there, Ava began working with the Maryland Justice Project, an organization that addresses mass incarceration and other social justice issues facing our State through vigorous policy work. Through this internship, Ava directly contributed to the development of the Primary Caretakers Bill, which would allow non-violent offenders who are the primary caretakers of dependents to serve their sentences through community rehabilitation programs rather than incarceration. Ava assisted in drafting the text of the bill, organized meetings with House and Senate sponsors, and started a coalition of 11 organizations to advocate for the bill's passage.
"I am most proud of my efforts at Maryland Justice Project," Ava says, "where last session I led the initiative to introduce the Primary Caretakers Bill in the Maryland legislature. While the bill unfortunately failed to pass, I believe we were able to contribute to an important conversation on incarceration induced family separation and inform legislators who had not known this was a problem. In the upcoming legislative session, we are hoping to reintroduce the bill, as well as an additional bill that would allow pregnant incarcerated women to remain with their newborns upon giving birth in a nursery program."
In addition to the difference she has made through her off-campus partnerships, here at Homewood, Ava is the president of the Hopkins Feminists and has arranged collaborations with other socially-minded student groups that have resulted in fundraisers for abortion funds and a Women's History Month art show.
Now in her senior year, Ava plans to take a gap year after graduation and work in public service before attending law school thereafter.
When asked what curiosity meant to her, Ava said that it means, "Being willing to seek out new experiences and going out of your comfort zone." She is an excellent example of what can be accomplished when we are guided by a passion to learn, not only from our own experiences but also from those outside our immediate sphere of influence.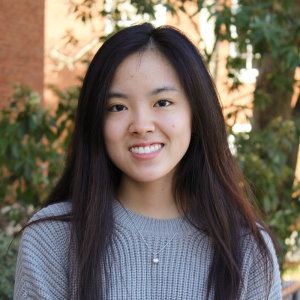 When asked about the importance of Self-Awareness, Stacey said, "Because of my more reserved nature, it's difficult for me to lead with just my words. Reflecting on my prior experiences and identifying my own strengths and weaknesses assures me of my role in the spaces I find myself in and empowers me to develop the confidence I need to support my words and feel like I can bring valuable contributions to the table." Ever since her first year, which was spent in her family home in New Jersey due to the COVID-19 shutdown, Stacey has made intentional efforts to go beyond her comfort zone and challenge these self-perceived limitations.
While she may describe herself as innately shy, Stacey has become an outgoing presence both on and off campus. She is the current Vice President of the Inter-Asian Council, a volunteer with the Pediatric Emergency Department of the Johns Hopkins Hospital, and an active participant in many Center for Social Concern programs, including the In Community Interns federal work study program; Baltimore First, for which she is the Director of Community Engagement; and the Community Impact Internship Program, for which she is a peer mentor helping fellow Blue Jays break out of the Hopkins bubble and expand their horizons socially as well as academically.
Eli Lopatin, Assistant Director of Civic Leadership and Stacey's nominator, said, "When Stacey was encouraged to apply to be a Peer Mentor with CIIP, she was initially unsure of her abilities to lead and mentor her fellow students. She did step up, however, and became a driving force in educating her peers around ethical and impactful service in Baltimore. She went on to lead the subset of CIIP interns focused on healthcare, while interning herself with Healthcare for the Homeless, and she helped to make all students feel comfortable taking on their new roles and responsibilities."
Or in Stacey's own words: "While it's true that we come here to learn, it is just as important to prioritize other engagements such as finding your community at Hopkins and going out to experience everything Baltimore has to offer. You're only at Hopkins for four years, so it's important to make the most out of the things that you can only find here and in Baltimore!"
Through her internships and volunteer activities, she has dedicated her time and energy to forming connections with the citizens of the city she now calls home. In addition to Healthcare for the Homeless, a health services and advocacy group that cares for unhoused people in Baltimore, Stacey has worked with the Hampden Family Center, which provides a variety of health, education, and support services for youth, adults, and seniors; with Thread, an academic support program for Baltimore City high schoolers; and with the St. Francis Neighborhood Center, Baltimore's oldest youth enrichment center.
Throughout her three years at Hopkins, Stacey has shown remarkable personal growth, a determination to pursue her newfound passions, and a commitment to personal reflection. While graduation is still a year away, she plans continue developing these qualities in her life and career beyond the university. "I hope to pursue a career in medicine," Stacey says. "I'm not 100% sure what I would specifically want to do, but I'm leaning towards pediatrics right now. I also want to continue to serve those in my community and remain engaged, either through volunteering or public service!"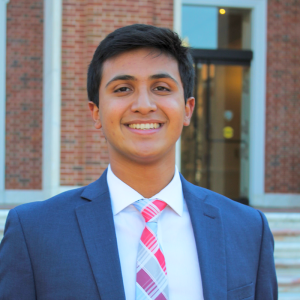 "When I first got to Hopkins, I was almost overwhelmed by the wide array of groups, opportunities, and other experiences available to me," says Arya Satish. "It took some time just for the possibilities to settle in, and once they did, I wanted to get myself out there and try as much as I could handle. I tried taking new classes in various academic areas that excited me, joining different clubs and organizations, and striking up conversations with students I had just met. Ultimately, I not only discovered what I enjoy doing but also was able to make meaningful connections along the way."
Arya has a demonstrated gift for productive collaboration, working with his fraternity brothers as Risk Manager for Phi Delta Theta; with administrators and graduate students in his role as a research assistant for the Idea Initiative, the Chen Lab, and the BEEHIVE Study at the School of Public Health; and with prospective students as a tour guide for the Blue Key Society. As his friend and nominator, Nicole, puts it, "Arya inspires both compassion and tenacity in the people around him taking the phrase 'Be the change you want to see' literally. Arya's flexibility and zeal for completing a project, regardless of who he works with, illustrates his desire to work well with others."
Arya's commitment to communal success has influenced his leadership role within Phi Delta Theta, organizing events to raise money for non-profit organizations such as LiveLikeLou, which promotes ALS research, patient care, and awareness. In addition, Arya serves as a member of the executive board of the Medical Ethics Discussion Panel and on the project management committee for Agara Bio, a student-run biology lab space open to all members of the Hopkins community.
"Being able to build valuable, sincere relationships with my friends, research mentors, professors, and other people at this university has allowed me to truly grow as a person," Arya says. "I have been able to get involved with public health research, molecular biology research, interest clubs, a fraternity, and many other organizations that have allowed me to achieve my goals and build a sense of self. The most amazing aspect of this has been being able to work with so many of my peers who are just as passionate about making an impact and using our passion for learning to do so."
Arya's nominator emphasized his, "dedication to building a better, safer, and happier community at Hopkins and in the world," and in the future, Arya plans to practice medicine as a physician while working to develop public health research and policy. "Through studying Public Health and Molecular & Cellular Biology on the pre-med track at Hopkins," he says, "I am currently working towards a career in medicine rooted in fundamental biology as well as a broader understanding of healthcare and health systems."
Arya's sense of unity and compassion are essential to his success and qualities certain to serve him well going forward. "Collaboration is the pursuit of working with the people around you—be it your peers, professors, colleagues, bosses, or anyone else—to build trusting relationships and achieve collective success," Arya says. "You don't have to go at everything alone, and recognizing that there are so many people around you who can support you on your journey is such an immense source of strength."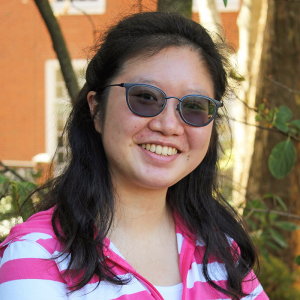 Elaine's nominator, Jessica Kupper, Director of Residential Life, describes her as "a community builder, engaged student, and overall fantastic human," noting her "school spirit, care for her peers, and genuine good nature." In her three years at Hopkins, Elaine has demonstrated that caring nature both as a First-Year Mentor and as a Resident Advisor, and the attention and planning that she has put into events for her residents have resulted in record-setting attendance and a genuine feeling of connection among all involved.
In addition to her RA work, Elaine is also a physics tutor for PILOT and Vice President of the Charm City Science League, a student group that seeks to inspire middle schoolers in Baltimore through one-on-one mentoring, field trips, Science Olympiad competitions, and greater community involvement. In her sophomore year, she also served as Chapter President of Splash at JHU, a program that brings high school students to visit college campuses and attend non-traditional classes taught by undergraduate students on topics ranging from solving equations with origami to Kittens 101.
All of these opportunities have helped Elaine discover her true passion: passing confidence on to others and empowering them to find their own success. "I get excited about making the invisible known, whether it's centering the inner workings of cells under a microscope or lifting people up so that their stories can be shared," she says. "I feel most proud when I see people picking up the torches I pass to them: my PILOT students speaking up during sessions and later becoming PILOT Leaders themselves, my first-year mentees growing past needing my guidance and eventually becoming mentors as well, and my successors rising to the challenge of running Splash and carrying on the initiatives I set into motion after I stepped down from the role of chapter president."
"She's always willing to help others, acknowledge and celebrate small and large milestones with them, and always has a positive attitude, no matter what challenges she may face on any given day," says Jessica. "If you pass Elaine on campus, it's almost a guarantee that she'll be smiling, and her positivity is contagious!"
Through her various leadership roles, she has developed the skills needed to navigate through complex situations, and she knows that she will use these skills throughout her life. She plans to apply to medical schools in the upcoming application cycle with the intent "to continue learning and caring for people at a higher level."
Elaine is a great example of someone who seeks out the resources available to her, uses what she finds to her advantage, and then shares what she has learned with others.
"The relationship between confidence and success is a bit like the chicken-and-egg problem," she says, "being successful is reason to feel confident, and confidence brings success. Either way, confidence is entangled with success, and students feel the need to always prove ourselves to be worthy of either. Ironically, being selected to receive the Aspiration Award for Confidence has helped me realize that confidence is less about external validation of success or a showy form of self-assurance than it is about developing the kind of unconditional acceptance of ourselves that allows for growth into who we want to be."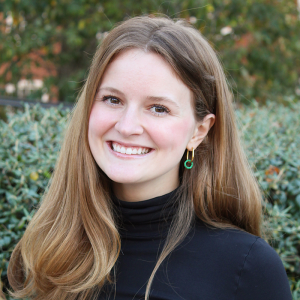 Mia Grahn is an Executive Board Member of GreenHacks, Hopkins' first hackathon group focused on issues of environmental sustainability. As director of GreenHacks' marketing and communications committee, she has worked to extend awareness of the hackathon and its mission both within and outside the university. Thanks to Mia's efforts, the fall 2021 hackathon drew a record audience of over 100 participants from more than five undergraduate and graduate programs at JHU as well as those from other universities in Maryland and Delaware.
"I am most proud of the work my GreenHacks team and I have pulled off over the past two years," Mia says. "We went from having to cancel our spring 2021 hackathon due to having too few sign ups as a result of the pandemic having significantly decreased our presence on campus to setting participation records the following semester with our fall 2021 hackathon. This was a huge feat for our small board, who spent hours working together for weeks so the event would be successful, and as a result we are closer than ever and have accomplished our overall goal of increasing sustainability awareness on campus and in the surrounding Baltimore community!"
Maria, Mia's nominator, friend, and co-director of GreenHacks, says of their experience working together, "Mia's creativity and innovative mind brought our vision for GreenHacks to life. Her outreach to hundreds of brands, sponsors, organizations, and universities was not required, but she went above and beyond and had the confidence to secure the best corporate and NGO sponsors so that everything could go smoothly. She is not achieving all of these amazing things at the expense of others or by tearing others down. She is constantly learning from others, taking advice, and applying all of the advice she has been given to everyone's benefit."
Mia has exemplified responsible leadership not only through her involvement with GreenHacks. She has also served as an undergraduate representative to the COVID Student Advisory Committee, and her belief in the importance of STEM education has led to numerous teaching positions including organic chemistry instructor for PILOT Learning, chemistry teaching assistant, Python tutor at The Coding School, and STEM educator at Engineers Without Borders, through which she arranged environmental science activities for fifth-grade students at Barclay Elementary.
"A responsible leader is an advocate for important initiatives within their community," Mia says, "and helps others become involved in making a broader impact with their voice and actions. I look for effective ways to communicate my team's passion for sustainability to our peers so that other community members know how to participate with the work we do and can easily identify ways they can make an impact in our environment as well."
Now heading into her final semester of undergrad, Mia's commitment to leadership for the greater good is evident in her plans to attend graduate school in the hopes of ultimately obtaining a Ph.D. and leading research efforts on both sustainability and cancer.
Staff Awardees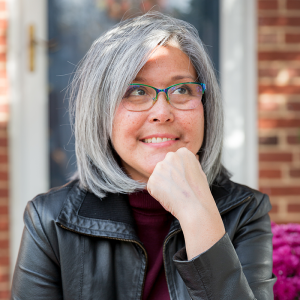 Dr. Sharleen Argamaso, Assistant Director of Academic Support and head of the Study Consulting program, first became part of the Hopkins family in 1996 as post-doctoral fellow in cell biology at the Wilmer Eye Institute. In 1998, her career path led her to education, and Sharleen spent the next twenty years teaching science for 8th-12th graders in the Baltimore County Public School system and leading college prep and advanced placement courses.
"The more students that we sent off to college, the more I realized when they came back to visit that they were better prepared for college but they still didn't always have what they needed to feel successful or supported," Sharleen says. "Many of the students were first-generation/limited income and didn't know where to turn on campus for support. At the same time, I was helping my daughter look for colleges and I realized maybe I could make a difference on a college campus. So, when I stumbled upon the Study Consultant job at Hopkins, it seemed like a perfect opportunity to offer my skillset in a different way."
Sharleen used her experience as an educator and mentor to shape Hopkins' Study Consulting program into a peer-mentorship model that benefits the mentors as much as the mentees. "My students go out of their way to meet with me to come up with strategies to best support their peers," she says. "I feel like they wouldn't invest that much in something they didn't believe in, so the fact that they do makes me realize we built something special together. I just hope I've been a role model for empathetic listening, understanding, meeting them where they are, and offering practical, dignified advice."
Considering the 23 nominations that Sharleen received from both students and colleagues during the Aspirations Awards open nomination period, it is safe to say she has been just that. The following is just a sample…
"Sharleen is an amazing human. She is the type of person who positively impacts most everyone who they cross paths with in life. In her time at Hopkins, Sharleen has helped thousands of students to get the academic support and mentoring they need to be confident and successful students. She has been a good friend, colleague and confidant and has always been there to lend a hand in anyone's time of need."
"The Study Consulting Program is Sharleen's baby, and she is constantly thinking of new ways to improve. She also leads many, many trainings aimed at not only making us better study consultants but better people, and she gives us outlooks on education that heal past wounds from the education system."
"Sharleen is a true leader. Not the leader in the front who takes all the credit, wanting to be seen, but rather a leader at the way back wanting the student leaders to be seen. Her leadership in this program cultivates student leaders and fosters their leadership, compassion, and enthusiasm for other students and for making the world a better place."
And a phrase that was used time and time again:
"I cannot think of anyone else more deserving of this award!"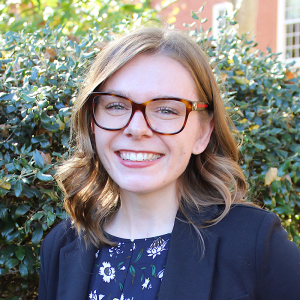 Molly Hutchison is a Health Education Specialist for the Office of Health Promotion and Well-Being. In her two years at Hopkins, she has made her mark through collaborative efforts at Homewood, Peabody, and East Baltimore both with fellow staff members and with various student-led organizations. Her cross-departmental initiatives like Safer Sex at JHU, Well-Being on Wheels, and the Homewood Student Well-Being Fair have all helped to improve students' access to resources and education for sexual health, stress management, sleep hygiene, and more.
"My passion is cultivating spaces for young adults to explore and gain skills around their personal and community well-being," Molly says. "Supporting students as they learn to foster self-compassion for themselves and gain knowledge to help them make informed decisions on their health and well-being is such a fulfilling experience."
The Well-Being on Wheels program, for example, provides wellness-centered student groups such as Peer Health Educators, Advocates for Reproductive and Sexual Health, and the Sexual Assault Resource Unit an opportunity to deliver their messages directly to their peers. "Well-Being on Wheels is a push-cart that includes various items to promote individual well-being—such as sleep kits, journals, menstrual products, et cetera—as well as educational handouts and resources. Every week the cart is pushed across the Homewood campus by a different student organization or department. Each group can add giveaways and items related to their organization so that each time the cart is on campus there are different students and services represented."
As Alyse Campbell, Molly's nominator and the Associate Director of Student Well-Being and Gender Violence Prevention, describes it, "Molly repurposed tool carts as well-being education vehicles that can be taken across Homewood and East Baltimore campuses for workshops, programs, and other educational events for students. Just this semester, the cart has already brought a variety of well-being education to students, as opposed to asking students to come to us, and built inclusive and intentional connections with students we might not have reached otherwise."
Beyond these initiatives, Molly is a certified instructor of Koru Mindfulness, a program specially designed to teach college students meditation, mindfulness, and stress management. She helps to lead month-long Koru Mindfulness workshops on campus throughout the year.
"I am one of many trained meditation instructors that teach the program Koru Mindfulness at JHU," she says. "I love working with my co-instructors since not only do we hold space for students to take care of themselves but we also hold it for each other as staff."
When asked what Collaboration means to her, Molly said, "Collaboration is an important part of being a health educator. It's important for me to have humility and understanding of my perspective and biases when I work with students, staff, and faculty since I will never be able to perfectly understand a student's lived experiences. As a result, Collaboration means uplifting voices from various backgrounds to build understanding of the needs of those who I work with and serve. It's through these connections and collaborations that I have found the work that I do to be most impactful."
Aspirations Celebrations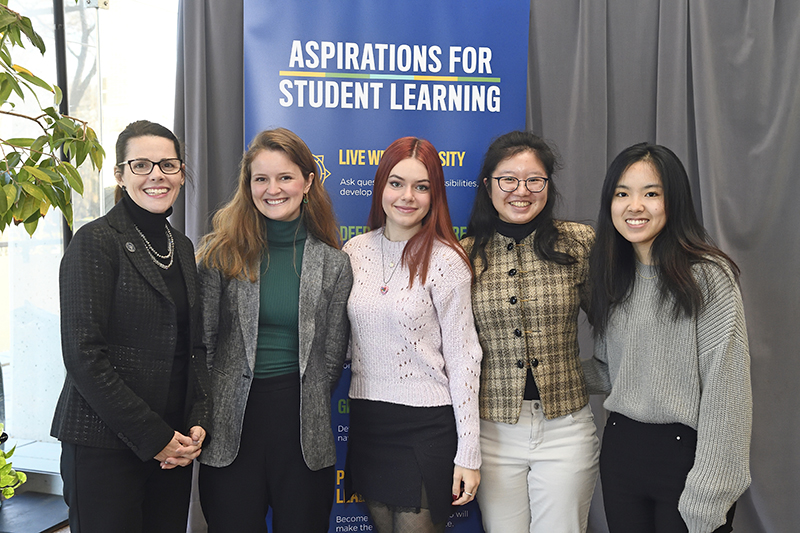 Vice Provost Rachelle Hernandez with some of the fall 2022 Aspirations Award recipients
Aspirations Award recipients will be recognized during Aspirations Celebrations, a semi-annual event that brings our community together to acknowledge students, faculty, and staff for living into the Aspirations. The fall 2022 Aspirations Celebration was held on Thursday, December 1, 2022; a second Aspirations Celebration is planned for the spring.