Pre-Orientation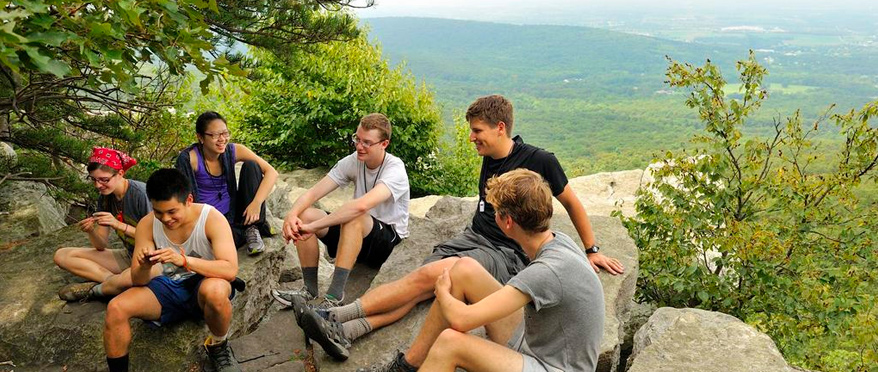 2018 Pre-Orientation program registration is open!
Pre-Orientation programs for incoming new students in 2018 are currently being finalized. Most programs are currently full, but you may apply for a spot on the waitlist for your desired program. Financial assistance is available for those demonstrating financial need. Participants will be able to move into their residence halls when they arrive to campus for their program.
Please review our Frequently Asked Questions (FAQ) page for more information on our programs, or contact firstyear@jhu.edu with any further questions.
Programs
Check out our 2018 Pre-Orientation program options below.
Experiential Education's Outdoor Pre-O
Program Dates: Friday, August 17 – Friday, August 24
Cost: $500
The Experiential Education Outdoor Pre-O program offers multiple outdoor expeditions that range from water to land with everything in between. If you are looking for an outdoor adventure or to try something new and unique, we have options for everyone – and no matter the trip, no experience is necessary! Take advantage of the last days of summer and meet fellow first-year students before the academic year kicks into high gear. You may even pick up a few backcountry skills to help you survive college…
HopkinsCORPS: Civic Engagement, Outreach, and Public Service
Program Dates: Friday, August 17 – Friday, August 24
Cost: $500
HopkinsCORPS is an immersive, week-long community service and leadership development pre-orientation program for incoming first-year students. Through direct service, site visits with community organizations, reflection sessions, and leadership development activities, students learn about a variety of social justice issues relevant to Baltimore, then participate in fun group outings in the evenings to continue to explore their new community together. Participants move into their residence halls early, then spend the week living together at a retreat center located in the historic Mount Vernon neighborhood of central Baltimore. The program is facilitated by student leaders and staff from the Center for Social Concern, the community service and civic engagement center at Johns Hopkins.
HopkinsLEAD: Leadership Education and Advocate Development
Program Dates: Friday, August 17 – Friday, August 24
Cost: $500
HopkinsLEAD is designed to get students thinking and excited about who they are, what they're passionate about, and what type of communities they want to develop at JHU. The first three days of this program are dedicated to helping incoming Blue Jays develop the reflective and interpersonal skills needed to be effective leaders. During the second half, students will explore ways to get involved on campus and meet leaders from across Baltimore City in small groups led by returning Hopkins undergraduates. After HopkinsLEAD, students will feel more connected to the Homewood Campus and more capable of enacting positive social change, whether that is in a student organization, research team, or the local community.
Habitat for Humanity
Program Dates: Friday, August 17 – Friday, August 24
Cost: $500
Each August, the JHU Habitat for Humanity chapter welcomes around 20 first-year students to the Johns Hopkins campus and Baltimore community. During this week-long program, we work closely with Habitat for Humanity of the Chesapeake on a Johns Hopkins-sponsored house, helping with everything from laying down flooring to building the walls of the future home. During our break days, we'll explore the rich Baltimore culture, from the scenic Inner Harbor, to the artsy Mount Vernon, and the world-famous Lexington Market. Come be a part of an impactful organization and make long lasting friendships along the way!
Film Culture in Baltimore
Program Dates: Wednesday, August 22 – Friday, August 24
Cost: $150
There's never been a better time to dive into Baltimore's thriving film scene, from the recent opening of the beautifully restored Parkway Theater to JHU's state-of-the-art filmmaking and educational facility, both in Station North. Tour these and other historic, working movie theaters around town and meet some of the filmmakers and innovators who are turning Baltimore into a great place to make and see movies.
Baltimore and Entrepreneurship
Program Dates: Wednesday, August 22 – Friday, August 24
Cost: $150
This program will allow you do discover ten neighborhoods within walking distance from the Homewood Campus, focusing on JHU's connections to community/economic development, entrepreneurship, and opportunities for JHU student engagement in these areas. The program will also offer examples of how Baltimore is thriving with maker and innovation spaces, music, dance, and other arts and culture, community building, and, of course, food.
Baltimore Theater: Behind the Scenes
Program Dates: Wednesday, August 22 – Friday, August 24
Cost: $150
Want to get to know the Baltimore theater scene better than most locals? Join us for behind the scenes tours of at least five theaters! We will visit a variety of spaces, from small and innovative to larger regional or Broadway style, and students will meet the staff who provide the energy, passion, and creativity at their organizations. There will be time for questions and discussion at each theater.
JHU Sustainability: EcO Pre-O
Program Dates: Wednesday, August 22 – Friday, August 24
Cost: $150
Through innovative projects – many that are often not visible to the naked eye – green is what we do, how we build, and who we are at Johns Hopkins University. Join your peers in discovering how JHU is transforming campus and raising the bar on environmental responsibility. During this two day program, students will tour and explore on-campus solar installations and sustainable infrastructure projects, and connect the dots between campus and community. Paired with off campus adventures, participants will explore and engage with quirky and creative programs across the city, gain an understanding of how personal actions have shared impacts, and uncover opportunities to get involved while they call Baltimore home!