Important Announcement for Spring Fair 2020
Dear JHU Community Members,
As a follow up to the university's March 18th announcement of the shift to online instruction for the remainder of the spring semester amid COVID-19 concerns, the University has decided to suspend all in-person University events such as tours, admission events, and alumni events as well as all in-person student events and programs until further notice. As a result, this year's Spring Fair festival previously scheduled for April 17-19 will be cancelled in the interest of public health and safety. Due to the high levels of public participation associated with Spring Fair, it is in the best interest of our community's safety to forego the event in order to mitigate the spread of the virus.
We recognize Spring Fair is an event the community looks forward to each year, and this year's Spring Fair Committee had been working diligently to put on a fun weekend of activities. We have remained in contact with Spring Fair leadership about ways to begin planning for next year and greatly appreciate the efforts of this year's Spring Fair Committee and apologize for the unexpected inconvenience. Thank you for your support of Fair and we hope to see you at our 50th anniversary next year!
If you have any questions regarding Spring Fair, please contact Hal Turner, Director of JHUnions & Programming at ehturner@jhu.edu.
A tradition since 1971, Spring Fair is all about having fun. As the University's largest student-run three day festival, we on Spring Fair strive to bring the JHU student population and greater Baltimore area together each and every year. We organize and execute an extensive number of events on Homewood Campus which include but are not limited to carnival rides, games and contests, food courts, and beer gardens.
For more updates please continue to check this website and follow us on Instagram and Twitter. Have questions? Visit our frequently asked questions page.
Fun Activities
Smack in the middle of the Baltimore community, Spring Fair invites not just undergraduates to enjoy the fun-filled weekend, but families from surrounding neighborhoods as well. Families with kids can look forward to enjoying the standard food and music as well as activities just for kids. Enjoy a petting zoo, magic, face painting, free giveaways and more!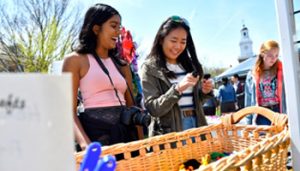 Arts & Crafts
For over 40 years, Spring Fair has been a longstanding tradition in Baltimore. The Arts and Crafts committee of Spring Fair assembles a large selection unique arts and crafts vendors on JHU's main quad for the community. Most of our vendors sell commercial or handmade products and this year we will be taking a limited number of vendors.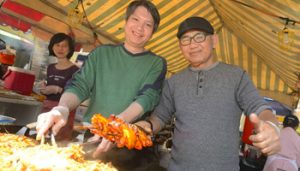 Food
Each year, the food selection is one of the most popular and diverse aspects of Spring Fair. Always an enormous success, Spring Fair attracts thousands people to the Homewood campus every year from the Baltimore area and beyond. Spring Fair could not be a success without the enticing scents and exquisite tastes from the food court.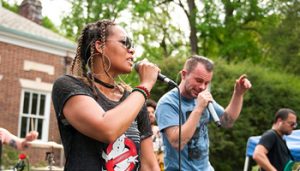 Music
Good tunes, good vibes. Music is a huge part of Spring Fair! Our stage is packed with local artists all weekend as well as one headlining concert on Saturday night. Past headliners have included J. Cole, Nelly, The Chainsmokers, A$AP Ferg and Steve Aoki.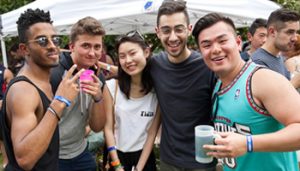 Beer Garden
Catch up with friends over some fine beverages and music! All patrons must be 21 or over. Two forms of ID must be presented: One government-issued ID and One alternate form of ID (J-Card, Credit Card, etc.). Taps off 30 minutes before close.
---
Sponsors

Johns Hopkins Parents Fund
Office of the Dean of Student Life