Spring Fair 2022 – The Year of the Return
In collaboration with The HOP, the SGA, the GRO, and other campus partners the Office of Leadership Engagement & Experiential Development (LEED) is excited to host the 51st Annual Spring Fair!

What to Expect in 2022
We are following public health guidance to ensure a safe and enjoyable weekend of events. The things mentioned below and the schedule are all subject to change at any given time based on needs, directives, or challenges presented. Our primary audience for this year's Spring Fair is once again JHU students AND the greater JHU and Baltimore community. We look forward to Spring Fair 2022 making THE GREAT RETURN! For more updates please continue to check this website and visit our frequently asked questions page.
Games & Activities
Spring Fair has always been a celebration of the season, spending the majority of it outdoors, and this year will be no exception. Campus green spaces will be filled with designated areas for inflatables, lawn games, and activities! Starting at 2 pm on Friday on Wyman Quad, and then opening at 10 am both Saturday and Sunday, come on out and have some fun!
Arts Market Place
Our traditional vendor fair is back and better and with a new name. The Arts Market Place will host local artists, artisans, and commercial vendors from Baltimore and the greater DMV area. The 2022 Arts Market Place will include a variety of vendors ranging from apparel and original artwork to pre-packaged food products. Attendees will be able to shop with our vendors Friday. April 29 through Sunday, May 1, during Spring Fair hours.
Food/Drink
Each year, the food selection is one of the most popular and diverse aspects of Spring Fair. Food options for the Fair include:
Sara Festivals, Inc
Jamin Flava
Sherri's Crabcakes
B'more Greek Grill
Tiki Grill
Elevation Comforts
A n B Soft Serve Ice Cream
NC Ribs on Wheels
Kona Ice
Thai Thai
The Beer Garden will also return this year as public health concerns are lifting and allowing for people to gather safely.
Spring Fair Concert
Good tunes, good vibes. Music is a huge part of Spring Fair! This year, we host an in-person headlining concert on Saturday April 30 starting at 8 p.m. The concert will be held in the Ralph S. O'Connor Center for Recreation and Well-Being. The opening acts for the concert this year are Tamara Jade a local musician from Bowie Maryland who was featured on season 19 of The Voice and was on John Legend's team. The Electronic Dance Music Group Cash Cash will be returning to perform at Spring Fair. Grammy nominated Rapper Meek Mill will be headlining the concert. Tickets for the concert have sold out.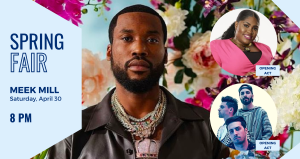 ---
Schedule At-A-Glance
The 2022 Spring Fair will be completely in-person this year! All times and listings below are subject to change. The majority of offerings will require an RSVP/timed entry for students to participate.
**The city of Baltimore has lifted its indoor mask mandate as of March 1, 2022, and the CDC launched new guidance regarding COVID-19 Community Levels. As a result, masks will not be mandated for the outdoor Spring Fair activities. Masking in public spaces, athletic facilities, and non-classroom communal spaces such as dining halls and libraries is now optional for those who are vaccinated and boosted. Campus guests age 5 and older who will be inside campus-operated buildings in the U.S. must comply with university COVID vaccination requirements in place for affiliates. Given the number of individuals attending the Spring Fair, we encourage participants to wear KN95, N95, or surgical (procedure) masks when inside of the university-operated building. All attendees should be mindful and respectful of other attendees' health choices. If you feel sick, stay home. Masking requirements are subject to change.**
Thursday, April 28
4:00pm – 7:00pm: Food Vendors
6:00pm – 9:15pm: Culture Show – Hosted by the Office of Multicultural Affairs
9:30pm – 10:00pm: Fireworks
Friday, April 29
2:00pm – 7:30pm: Beer Garden (Must be 21+)
2:00pm – 8:00pm: Arts Market Place (Keyser Quad: Vendor list coming soon)
2:00pm – 8:00pm: Food Vendors
2:00pm – 7:00pm: Day Time Activities (Wyman Quad)
2:00pm – 7:00pm: Day Time Activity: Bubble Soccer (Keyser Quad)
Saturday, April 30
12:00pm – 6:30pm: Beer Garden (Must be 21+)
10:00am – 7:00pm: Arts Market Place (Keyser Quad: Vendor list coming soon)
10:00am – 7:00pm: Food Vendors
10:00am – 7:00pm: Day Time Activities (Wyman Quad)
12:00pm – 5:00pm: Student Music Showcase, hosted by WJHU (The Beach)
8:00pm- 11:00pm: Concert (Meek Mill, Tamara Jade, & Cash Cash)
Sunday, May 1
12:00pm – 4:30pm: Beer Garden (Must be 21+)
10:00am – 5:00pm: Arts Market Place (Keyser Quad: Vendor list coming soon)
10:00am – 6:00pm: Food Vendors
10:00am – 6:00pm: Day Time Activities (Wyman Quad)
12:00pm – 5:00pm: Charm City Songwriters Showcase (The Beach)
---
Sponsors
Johns Hopkins Parents Fund
Office of the President & Office of the Provost


Office of Multicultural Affairs