Alternative Spring Break
About the Program
Campus Ministries for Religious and Spiritual Life leads an Alternative Spring Break Program each year. Alternative Spring Break provides an opportunity for students to use this time in between classes to learn about another part of the country and engage in social justice on the ground. Recent trips have included travel to Detroit, Michigan to learn about water justice – and last year to Tucson, Arizona to explore the issue of Immigration along the US/Mexico border.
Spring Break 2019 – Alabama – The Path of the Civil Rights Movement
This year, we are excited to be traveling to Alabama to learn about the history and spirit of the Civil Rights Movement and its application to today. On this trip, we will travel to some of the most important places of the Civil Right Movement and discuss the impact of social justice and spirituality on this journey. We will meet and engage with several non-profits, and communities activists who are working to support African-Americans and advance the cause of social justice in the South. We will also explore the history of segregation in Baltimore and learn about its place in the Black Lives Matter Movement. This trip was inspired by this year's Common Read Book: "The Montgomery Bus Boycott and the Women who Started it" by Jo Ann Gibson Robinson.
This trip is intentionally Interfaith, but you do not have to be religious or even spiritual to join us and engage in a meaningful experience!
The trip runs March 17-22, 2019.
COST: The total cost of the trip is $100, not including a $50 deposit. This includes all Travel, Meals, Hotel Lodging, and educational materials. (Scholarships available!)
About the Staff:
We are lucky to be joined by four outstanding staff members for this exciting program!
Rev. Maeba Jonas, Assistant Chaplain, Interfaith Center (organizer)
Kathy Schnurr, Chaplain, Interfaith Center
and Dr. Moses Davis, Associate Dean for Diversity and Inclusion
Click on the link below for more information and to access the application: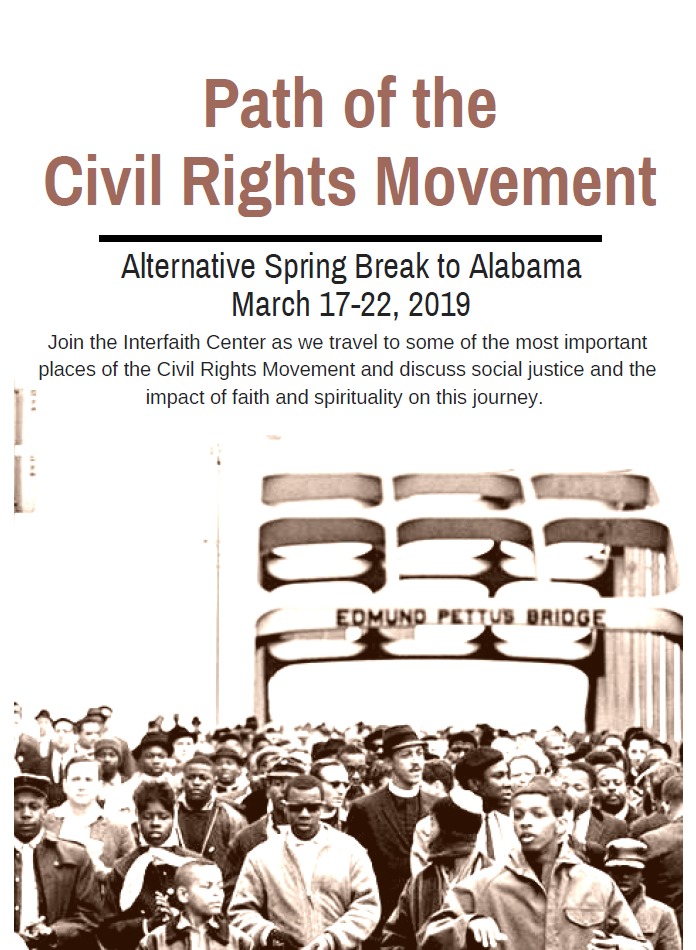 ---