About the Interfaith Center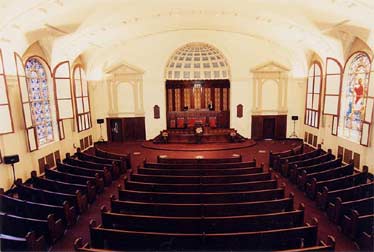 The Bunting Meyerhoff Interfaith and Community Service Center was dedicated in May of 1999. Along with serving as the main base for Religious and Spiritual Life, it is the home for a wide variety of prayer and worship services as well as formal and informal educational and social gatherings for over 20 religious organizations. At the heart of the center is an atmosphere that both ideally and practically links the theological ideas of varying faith traditions with concrete deeds of social and community service.
Implicit in the vision for the center is the willingness and enthusiasm of the University's many religious communities to educate one another about their traditions in the hope of promoting an environment that goes beyond tolerance to a genuine appreciation of and respect for religious diversity. Through the generosity and commitment of George and Anne Bunting, Harvey M. Meyerhoff, The France-Merrick Foundation and the late Edward M. Passano Sr. together with his late wife Mary, this center is a glowing reality of that vision and constant blessing to the Johns Hopkins community.
The Bunting Meyerhoff Interfaith and Community Service Center is a safe harbor, a place of hospitality and a sacred space that is welcoming to everyone regardless of background.
The Labyrinth
The labyrinth has long stood as a metaphor for life's journey, combining the sense of unity and purposeful wandering into a complicated and beautiful symbol. The earliest labyrinths were constructed in Ancient Greece, c. 2000-2500 B.C.E. and have passed from culture to culture since. Consisting of a single, unicursal path, walking the labyrinth is meant to inspire reflection and contemplation.
In the Spring of 2002, Religious and Spiritual Life commissioned the creation of a labyrinth for the Homewood community. It is transportable and will be displayed at varying venues on campus from time to time throughout the course of the academic year. Groups may also make arrangement to have the labyrinth available on a reservations-only basis. The labyrinth is an octagonal canvas, which, at its largest point, is 35 feet in diameter.
In the Fall of 2007 the Labyrinth of Hope – a permanent labyrinth installed in the carpet of the multi-purpose room of the lower level of the Bunting Meyerhoff Interfaith and Community Service Center – was dedicated. The Labyrinth of Hope is available for use Wednesday evenings and at other times as requested. To find out more, contact Kathy Schnurr at 410-516-1880 or chaplain@jhu.edu.
Meditation Spaces
In addition to the multi-purpose room, sanctuary, and other community spaces, the Bunting Meyerhoff Interfaith and Community Service Center houses dedicated meditation and prayer spaces for Muslim, Hindu, and Buddhist members of the university community. These spaces are available for use whenever the building is open, as well as in certain specific circumstances.