Open Hands Open Hearts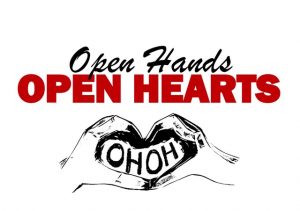 Come learn about the diversity of religious and spiritual groups at JHU during this week of
Faith, Worship, and Meaningful Conversations.
ALL ARE WELCOME!
SCHEDULE OF EVENTS: 2018
Sunday, March 4th
10-11:30am: Meditation and Chanting with the Buddhist Students Association (at the IFC Zendo)

Meditation and Chanting, followed by book discussion of the chapter "It's Never Too Late" from When Things Fall Apart by Pema Chodron. This chapter deals with the timelessness of looking within as opposed to the constant drive to seek future rewards.

11-12pm: Aarthi with the Hindu Students Council (at the IFC Lower Level)

Join the Hindu Students Council for Aarthi (a regular worship service consisting of devotional singing), meditation, a few words on Faith and the Future, and a community meal.

12-2pm: Hinduism in a Series of Skits (at the IFC Lower Level)

The JHU Hindu Students Council invites you to a fun evening of skits derived from Hindu stories that convey core tenets of Hinduism. Audience members are welcome to watch and also participate! Skits will be followed by small group discussion about the concepts conveyed in the skits and their practical applications. The event will conclude with a Q&A session, where students can write down questions they have about any aspect of Hinduism. Students from the Hindu Students Council will answer the questions to the best of their abilities. Lunch will precede the event.
Monday, March 5th
6:30-7:30pm: Women & Religion – Experiences of Faith and Feminism (IFC Lower Level)

A lively discussion on the intersection of women, faith, and feminism. Dinner provided. Co-sponsored by
the Office of Women & Gender Resources.
Tuesday, March 6th
6-8pm: Interfaith Open Mic Night and Karaoke (IFC Lower Level)

Join fellow students for a night of multicultural poetry, singing, and dance. Drop-ins are welcome!
Wednesday, March 7th
12-3pm: Tzedek Wednesday – JSA Service Event (more info to come)
7-9pm: Kirtan and Langar with the Sikh Student Association (at the IFC Lower Level)

The JHU, UMBC, and UMD Sikh Student Associations invite you to attend a kirtan, which is a key part of Sikh religious practice that consists of the singing of scripture. Kirtan will be performed by professional Sikh musicians. Afterwards, we will all take part in langar, a free community meal.

CANCELED 8-9pm: Newman Night with the Catholic Community (Newman Center, 2801 N Charles Street)

Join the Catholic Community for dessert and discussion with their Dominican chaplains after Eucharistic Adoration about growing in our prayer life throughout the season of Lent and beyond.
Holy Hour begins at 7pm. At Holy Hour, Catholics participate in prayer through Eucharistic Adoration, which is a meditation on the Sacrament of the Eucharist.
Thursday, March 8th
12:15-12:45pm Meditation Session at the School of Public Health (Room W2017)

This event will be open to all regardless of their experience in meditation and will include Dharmic teachings that support a meditative practice.

7-7:30pm Student Mass with the Catholic Community (Ss. Philip and James Catholic Church, 2801 N Charles Street)

Student Mass is a weekday Mass for students, followed by coffee and good company.
Friday, March 9th
1:15pm-2:30pm: JHU Muslim Student Association

All are invited to attend the Jummah Prayer on Friday, March 9th at 1:15pm upstairs at the Interfaith Center (IFC). Following the Khutbah and prayer, Muslim students will be available downstairs to answer any questions people may have about the prayer, the Khutbah, or Islam in general.

5:30-7pm: Gospel Choir Practice (Mattin SDS Room)

Join the Gospel Choir for their weekly practice where we learn together songs from the Gospel tradition and discuss the history of Gospel Music in preparation of our concert at the end of the semester titled "The Evolution of Gospel Music". Snacks are provided and all are welcome!

7-8pm: Stations of the Cross with the Catholic Community

Stations of the Cross is a 14-step devotion commemorating and reflecting on Jesus's last day. Join the Catholic Community before the event, for a simple Lenten soup supper at 6pm. Location: Ss. Philip and James Catholic Church, 2801 N Charles St.

7:00pm Interfaith Shabbat (IFC Lower Level)

Join Hillel and the Jewish Students Association as they gather together to celebrate Shabbat, the Jewish celebration of the weekly welcoming of the Sabbath, the day of rest. There will be an interesting discussion, speakers focusing on interfaith-related topics, and free delicious Kosher Chinese food for all attendees.
Saturday, March 10th
5:00pm-7:00pm: Bible Study
Sunday, March 11th
12-1:30pm: Incense Ceremony with the Buddhist Students Association (IFC Nave)

The JHU Buddhist Student Association invites you to join them for a rarely held, and very special Japanese Incense Ceremony. About twelve spaces are available for participants, so they need your RSVP. Observers are also welcome, but please RSVP by Monday, March 5th. (link: https://goo.gl/forms/5CyLUxZ4RRFQJgS62 ) The "Way of Incense," or Kou-dou (香道) is one of the traditional "ways" of Japanese artistic culture; others include tea ceremony (cha-dou) and flower arrangement (ka-dou). In the "game" of the ceremony, participants take turns appreciating and trying to identify a few different kinds of precious incense; the "winner" receives a poem written in calligraphy on the spot to commemorate the occasion.
Other Events:
"Private Questions, Universal Truths?" with The Dialectic (IFC Lower Level) (Time TBD)

Calling all citizens! The Dialectic will present and discuss the results of a survey asking JHU students what questions they have for the Christian faith. Come join us for a taste of Athenian discourse from a Christian perspective.