The People of Campus Ministries
Kathy Schnurr
Kathy Schnurr has served in the chaplaincy of Johns Hopkins University Campus Ministries since 2002. She is a Protestant Christian lay woman with over 15 years of experience in ministry in higher education. Kathy's ultimate goal is to participate in creating a campus environment that engenders the flourishing of the fullness of human dignity for all. She works to achieve this through offering opportunities for healthy religious practice rooted in our own particular religious traditions and spiritual paths while cultivating skills to engage with mutual respect and regard across our differences. Kathy received her undergraduate degree in Social Work with an emphasis on Education from the University of Iowa and her graduate degree in Theology from St. Mary's Ecumenical Institute of Theology. Prior to her time at Johns Hopkins, Kathy worked in various capacities in community based organizations in Baltimore City serving our most vulnerable citizens. Kathy is a past president of the National Association of College and University Chaplains (NACUC) and currently serves on the board of the Association of College and University Religious Affairs (ACURA).
Maeba Jonas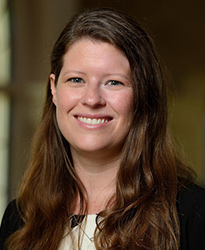 Rev. Maeba Jonas is an Ordained Minister in the United Church of Christ (UCC) and serves as the Assistant Chaplain at Johns Hopkins University. Rev. Jonas graduated Phi Beta Kappa from Kenyon College in Gambier, Ohio, with a Bachelor of Arts in Religious Studies and a concentration in Buddhism and Women's and Gender Studies. As a Fulbright Scholar in Nepal, she conducted research on faith-based responses to social change amongst Buddhist nuns engaged in sex-trafficking prevention. In 2014, she earned a Master of Divinity from Yale Divinity School with a certificate in Education, Leadership and Ministry and in 2015 completed her Clinical Pastoral Education Residency at Yale-New Haven Hospital where she served as Hospital Chaplain to the Pediatric Intensive Care (PICU) and the Pediatric Hematology/ Oncology Units. Rev. Jonas has been a practitioner and leader of meditation for over 15 years and is a certified instructor of Trauma-Informed Yoga. She is passionate about supporting people of all faith, and non-faith, backgrounds and is dedicated to interfaith dialogue and the mind-body-spirit connection. Rev. Jonas currently serves on the Executive Committee of the National Association of College and University Chaplains (NACUC) and the Board of Directors at Shalom Mountain Retreat Center, where she is also on the leadership team.
Barb Helmuth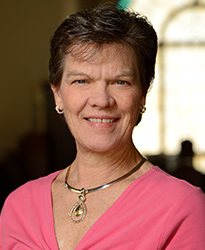 As the administrative coordinator in Campus Ministries, Barb is responsible for monitoring the campus ministries budget, processing and tracking all expenditures, hiring and supervising student workers, scheduling building space for meetings and events held at the Interfaith Center, tracking various elements of space usage, and performing other general administrative duties as needed. Barb holds a B.S. degree from Virginia Tech in Management, Housing and Family Development, and taught preschool for two years immediately after graduation. Prior to coming to JHU, Barb was employed for over 20 years at Western Electric/AT&T/Lucent Technologies, Inc. where she held various positions including engineering associate, business systems associate, personnel services associate, information development specialist, and switch services planner. She began working at JHU in 2001, in the position of administrative coordinator to the Vice Provost for Student Affairs, before moving to Campus Ministries In August of 2014.