HSO—Jumping In!
When:
October 7, 2023 @ 7:30 pm – 9:00 pm
2023-10-07T19:30:00-04:00
2023-10-07T21:00:00-04:00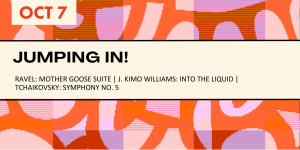 OCTOBER 7, 2023 | 7:30PM | SHRIVER HALL
Tickets go on sale August 1, 2023
Jumping In!
Jed Gaylin, Music Director
MAURICE RAVEL: Mother Goose Suite
J. KIMO WILLIAMS: Into the Liquid 
PYOTR ILYICH TCHAIKOVSKY: Symphony No. 5
Mystery, wonder, and lyricism fill our concert hall for our sensual and varied season opener. Ravel's suite paints a perfumed journey from mysteries of childhood to the complicated excitement of adulthood. A second work of personal evolution follows in American composer and veteran J. Kimo Williams' searching and mysterious encounter of his early life on many shorelines. Transformation is at its most dramatic in one of Tchaikovsky's most beloved and confessionally powerful works, his Symphony No. 5.
About Into the Liquid:
Veteran and composer J. Kimo Williams' music often centers his experience serving in Vietnam as an African American. Into the Liquid is autobiographical in that many of his formative experiences happened on shorelines, specifically Coney Island, Puget Sound, Biloxi, Hawaii, Cam Ran Bay, Vietnam, and lastly Chicago/Lake Michigan.
About the final section, Mr. Williams writes:
In 2003, we began a new aggressive conflict that sent our young men and women into battle. As with Vietnam, those young souls fortunate to return home had wounds and trauma that we can never truly comprehend.
As a veteran, I have an unbreakable bond with all those who served. We have all contributed to the life that we live today.
I am deeply sad for my fellow veterans who did not return from the battlefield. I wrote this last chapter in memoriam as I looked out at Lake Michigan and realized how lucky I was to have returned from war while so many of my brothers and sisters-in-arms made the ultimate sacrifice. 
I truly mourn those lives lost in service to our way of life.
The final section of the piece, A Veteran's Lament, is stirringly filled with both sadness and solace.