Orchestra Policies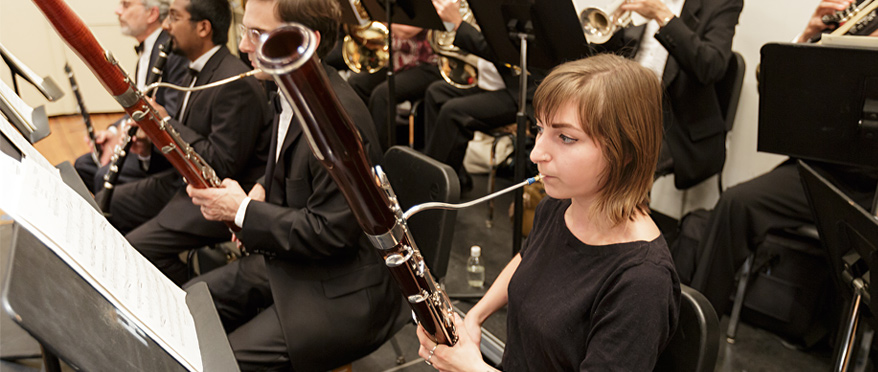 The instructions on this page are for Hopkins Symphony Orchestra musicians. We keep this information as up to date as possible. If you have questions, please check with General Manager Nicoleen Willson at 410-516-6542 or hso@jhu.edu. For additional news and updates, join our Facebook group.
Attendance Policy
Musicians are expected onstage five minutes before rehearsal begins, ready to tune at the official start of the rehearsal.
When you know ahead of time that you'll have to miss a rehearsal, please email the HSO offices at hso@jhu.edu. Make sure that your stand partner or another member of your section has the sheet music and can cover your part.
If you have to miss a rehearsal on short notice or if you expect to be more than a few minutes late for a rehearsal, inform the general manager (410-516-6542 or hso@jhu.edu) and, if possible, your stand partner or section leader.
To be allowed to play a concert, you may miss no more than two rehearsals in the Symphony Orchestra, or 1 rehearsal in the Concert Orchestra (with prior approval). Musicians must attend all rehearsals during concert week (religious conflicts excepted). If you can't meet these requirements, you may play the concert only with the conductor's permission.
For a complete listing of auditions, rehearsals and performances, view the full season schedule.
All members of the orchestra are required to abide by JHU's volunteer policies.
Inclement Weather Policy
On weekdays: If JHU is closed, HSO doesn't rehearse. Visit the Emergency Alerts page or call the JHU weather emergency line at 410-516-7781 or 800-548-9004 to find out if the university is closed. HSO will notify musicians of any exceptions.
On weekends: HSO sets its own cancellation policy. Relevant notices will appear on this page and will also be available on the HSO office phone line at 410-516-6542.
Member Parking Information
You can find details about getting to Shriver Hall and other HSO venues (GPS, maps, directions, and more) as well as specifics about where to park (costs, locations, etc) on our Venues and Directions page. Musicians will receive parking information from the HSO office, or can email hso@jhu.edu with any questions.
Downloads
Concert Dress
*Clothes shall be neat, clean, pressed and professional looking.

Symphony Orchestra: Formal Black
Option 1: Black tuxedo or suit jacket, black trousers, white shirt, black bow tie, black dress shoes, long black socks
Option 2: Full-length black dress with ¾ sleeve (minimum)
Option 3: Dressy black top with ¾ sleeve (minimum) paired with ankle length skirt or black pants
Concert Orchestra: All Black
Option 1: Solid black button-front long-sleeved dress shirt or long-sleeved turtleneck, black dress trousers, black dress shoes, long black socks
Option 2: Full-length black dress with ¾ sleeve (minimum)
Option 3: Dressy black top with ¾ sleeve (minimum) paired with ankle length black skirt or black pants
Complimentary Tickets
Active orchestra members may receive a complimentary ticket to attend a concert they are not playing in. These should be requested prior to the concert. This includes members of the Concert Orchestra, attending a Symphony Orchestra concert.
Orchestra members are not allocated additional complimentary tickets, but if there are significant financial barriers, arrangements can be made with HSO staff.
Cell Phone Use
While on stage during concerts and rehearsals, musicians shall refrain from using personal electronic devices, including but not limited to cell phones. If you have specific circumstances requiring an exception, please be in contact with the General Manager or Music Director beforehand.
Photography and Videography Policy
Members of the HSO agree to the statement below. If any HSO member would like to opt-out of this policy, please email hso@jhu.edu.
"As a member of the Hopkins Symphony Orchestra, I understand that the HSO, other Johns Hopkins University affiliates, and designated outside persons may take still photographs and video footage of me during rehearsals and performances, and that my likeness may be used for educational, public information, and promotional materials about the HSO.

I give my permission for these approved persons to take and make reasonable use of photographs and videotapes of me. I understand and agree that I will not be paid for the use of these materials. I will not make any financial or legal claim against the Hopkins Symphony Orchestra or Johns Hopkins University for the use of these materials."

Updated September 2010.