Academic Support: What Your Blue Jay Needs to Know
Posted: October 4, 2021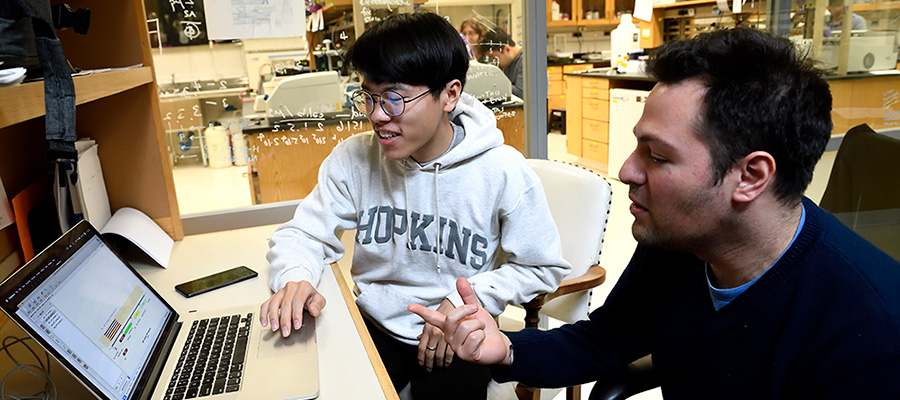 Written by Ashley Joyce
As we approach the halfway point in the fall semester, many Johns Hopkins students have likely taken their first tests and/or submitted their first papers of the academic year. While the Blue Jay Family Flyer has highlighted academic support services in the past, October is a great time for families to remind their Blue Jays that these resources are available to help students maximize their potential.
In preparing for midterms, many students may realize that they need additional guidance and support to succeed academically.
Elisa Rodriguez, a junior studying neuroscience and mathematics in the Krieger School of Arts and Sciences, remembers arriving to campus as a first-year student in 2019 and realizing that college would be "a whole different ballgame."
Rather than the short papers and in-class activities she had grown accustomed to in high school, her undergraduate syllabi were full of assignments that would take weeks or months to complete. Some of her professors used technical terms and jargon that she hadn't yet learned, making it difficult to follow their lectures.
In those moments of feeling overwhelmed, it was easy for imposter syndrome to creep in.
"You get caught up in [thinking] you're not meant to be here, you're not cut out for this work, and there are so many other [students] doing better than you," she said.
Reaching out for help
Elisa was determined to succeed academically, so she sought help from the Office of Academic Support. She began attending tutoring sessions through the Learning Den, which offers free drop-in tutoring to students in the Krieger School of Arts and Sciences and the Whiting School of Engineering. She also joined PILOT, a peer-led team learning program. PILOT participants form study groups that meet weekly and work together to solve problems, with each group facilitated by a student leader who has mastered the material for the course they're supporting.
Elisa found that hearing another student explain a concept in a different way, or present a different approach to completing an assignment, was often the key to unlocking difficult concepts. She enjoyed collaborative learning so much that she applied to become a PILOT team leader as a sophomore, and she's now entering her second year as a team leader. She says she's grateful for the opportunity to use her positive experiences to support her fellow students.
"I had the privilege of having those 'aha moments' facilitated for me, and I wanted to pass on that experience to others," Elisa said.
But what about students who may be more hesitant to utilize academic supports?
Dr. Kelly Singleton, a senior academic advisor in the Krieger School of Arts and Sciences, says it can be a challenge to overcome students' reservations about asking for help.
"There's a negative perception around tutoring and academic support services that frames them as remedial, or suggests that you only use them when something has gone wrong," Dr. Singleton says. Particularly among students who excelled academically in high school without support from tutors or peer study groups, asking for help can feel like failure.
How parents and families can support their students
Parents and families can play a key role in changing students' perceptions of academic support, says Denise Shipley, assistant director for advising and administration in the Whiting School of Engineering.
"Parents and guardians know when their kids aren't telling them everything," Shipley says, and if they sense that a student is struggling, they have an opportunity to remind them of available resources and encourage the student to advocate for themselves.
"Share with your student that it's okay to ask for help. It may be useful to give them an example of a time when you've had to ask for help, academic or otherwise. Parents and families can normalize utilizing resources and seeking assistance while also reminding students that they're still the ones doing the hard work," even if they use tutoring or other services to supplement their learning, Shipley says.
Singleton echoed that advice. "One of the most important things families can do is remind their students that independence doesn't mean isolation. You can do things for yourself and exercise your independence without having to go it alone. Knowing when to ask for help and seeking out that help is a sign of maturity."
Plus, with the increased availability of videoconferencing during the pandemic, students have more options for how they access academic support and advising services. In addition to meeting with their advisors in person on campus, undergraduate students can attend virtual drop-in and one-on-one advising appointments over Zoom. Many academic support services are also available virtually this semester, including Study Consulting, a program that pairs an undergraduate student with a junior, senior, or graduate student who can help them develop and refine their study skills.
Getting ready for midterms
So what should students keep in mind as they prepare for exams this month?
Singleton recommends advance planning, particularly if their plans include using academic support services.
"Create a calendar for your major assignments so dates don't sneak up on you. If you have a paper that's due, set yourself a pre-deadline so that you can take a draft to The Writing Center, or if you want to take a practice exam, set a deadline that allows time for you to go to your PILOT leader or your TA to review the results," Singleton recommends.
And if midterms don't go as well as your student had expected?
"First, take a deep breath!" Shipley says. A disappointing result can be an opportunity for both reflection and course-correction. "It can be hard to be objective, but try to sit down and reflect on what worked for you and what didn't, and what you might want to do differently." Then, when your student is ready to develop a plan of action for their next round of exams, the Office of Academic Support will be there to help.
Elisa hopes that increased awareness of academic support services will help more students to realize that they don't need to endure high-stress periods in their academic career alone, or wait until they're in crisis before reaching out. "I definitely think there's no such thing as too much help," she says. "Try [academic support]. It may not be for you, but you'll never know if you don't give it a chance."