An Overview of Well-Being Resources on Campus
Posted: February 25, 2022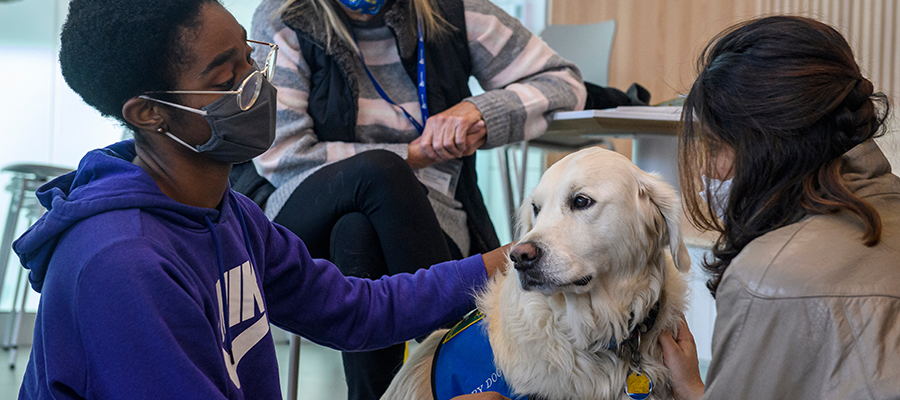 Student Health and Well-Being offers resources across eight facets of well-being: emotional and mental health, physical, social, sexual, spiritual, environmental, financial, and professional. Students can select from a single offering of a program or service, a series where they can refine their skills over time or identify self-directed opportunities that they can engage with when their schedule permits.
Here are just some of the resources that are currently available:
Program Series
Chat with a Counselor

is an online drop-in service mental health service that offers informal, confidential, and one-on-one visits for students to meet with a Johns Hopkins University Counseling Center staff member. If your student has questions about mental health, wants to get strategies for managing stress/academics/life, or wants to find resources that fit their needs and identities, encourage them to come chat with us!

The O'Connor Center for Recreation and Well-Being hosts over

PDF Document:

50 Group Fitness classes

every week. Our Group Fitness classes are accessible to students at any fitness or ability level. From a fully-equipped F45 studio to stress-relieving yoga classes, there is something for everyone.

Emotional Adulting

is a brief, drop-in skills group designed to help students work with their emotions from a space of compassion, awareness, non-judgment, and curiosity. The skills taught in this group, which are generally drawn from mindfulness and trauma symptom management practices, are beneficial for students' general well-being as well for helping to manage distress related to depression, anxiety, trauma, and other experiences. Each week will focus on a different practice and the curriculum will repeat. Students can come to all eight sessions, come to one, or pick and choose depending on their interest and schedule. Topics include Grounding, the Window of Tolerance, Containment, and Calm Place Imagery.

Did you know that a meta-analysis on the effectiveness of pet therapy suggests that pet therapy is an effective tool for reducing stress reactivity?

Tillie Tuesday

is an easy, low commitment and high reward for anyone having a "ruff" week. From 11:30 a.m. – 1 p.m. on Tuesdays in the Ralph S. O'Connor Center for Recreation and Well-Being, students are invited to come and give Tillie some pets and pick up some well-being resources.

Experience the possibilities that unfold through the practice of mindfulness and meditation.

The KORU Mindfulness Workshops

are a 4-week series of 75-minute sessions that teach mindfulness practices that help to decrease stress and increase satisfaction in daily life. Each session is designed to help students learn mindfulness through the practice of specific skills that calm and focus their

minds. If your student is feeling pressured and stressed or is interested in learning a new skill that can enrich their life, encourage them to check out these classes! Students can sign up for Koru through Hopkins Groups.

Bystander Intervention Training

(BIT) is an integral part of the JHU student experience. All first-year students participate in a 2-session course of bystander education, where they learn how to identify and address behaviors that pose a threat to the safety of the community. Upper-class students present the training to new student and offer feedback on the content-all while earning an hourly wage. Ask your student what they remember about their training or if they have considered applying to be a BIT trainer.

Transcendental Meditation

, also known as TM, is a simple and effortless way that students can learn to meditate. Practiced twice daily for about 20 minutes, this method of meditation has strong cognitive, emotional, and physiological outcomes. Currently in its 3

rd

cohort of students, this 8-week series allows students to TM with a certified teacher in community with other Hopkins students at no cost to them.
Events
On April 2, students from all JHU campuses are invited to get involved with and attend the annual Out of the Darkness Walk, sponsored by the American Foundation for Suicide Prevention. Students are invited to spend a morning cultivating hope with other students, faculty and staff while moving their bodies and destigmatizing mental health concerns. In the week leading up to our event, there will be several related events designed to bring awareness to campus mental health resources and skill development.
Self-Directed