Tax Information
The following information is provided for general assistance related to the IRS Form 1098-T but should not be construed as tax advice. Please consult IRS Publication 970 or contact a tax advisor if further assistance is needed.
IRS form 1098-T is issued to assist in determining whether education credit can be claimed. The 1098-T is an informational report that shows payments received for qualified tuition and fees during the calendar year as well as scholarships or grant aid applied to student accounts during the calendar year. Receipt of a 1098-T does not automatically establish eligibility for educational tax deductions or credits, nor does it provide all information that might be needed to calculate any taxable portion of scholarships/grants received.
Obtaining Your 1098T
Please login to SIS Self-Service to access your 1098T. Go directly to Billing>Summary or Billing Statement Tab.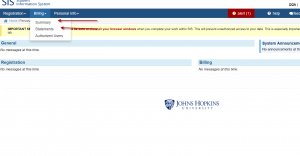 Click the "View 1098T' link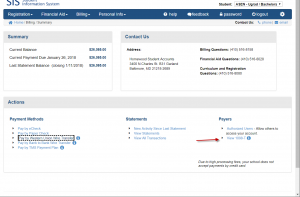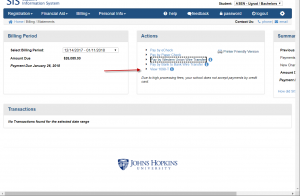 Frequently Asked Questions
Please note: JHU Krieger School of Arts and Sciences and Whiting School of Engineering or the JHU Tax Office cannot answer tax questions or advise you concerning tax-related issues.