Hopkins Food Pantry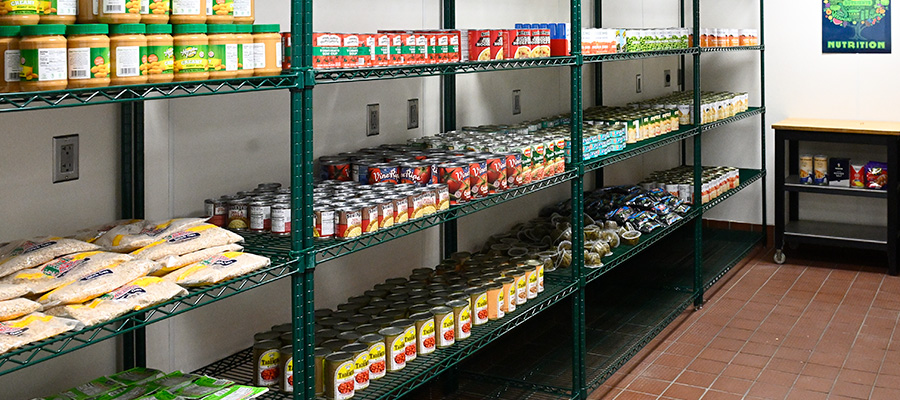 The Hopkins Food Pantry was founded to help address food insecurity for all Hopkins affiliates. The Food Pantry works in partnership with the Maryland Food Bank to ensure JHU affiliates have the opportunity to succeed.
Pantry Location and Hours
The Hopkins Food Pantry is located on Homewood campus inside The LaB at 3003 N. Charles St., Baltimore, MD 21218. The pantry is open on Mondays from 9 a.m. to 3 p.m. and Tuesdays from 3 p.m. to 8 p.m. Shelves are stocked with new items the first Friday of every month.
Shopper Access
Any Hopkins affiliate interested in accessing the food pantry must complete an application. Access to the pantry will be complete 2–3 days after the application is submitted and the shopper will receive an email notification. Shopper anonymity is respected; all shoppers have access during open hours to shop at their leisure.
Shopper FAQs
Any Hopkins affiliate with an active JHED.
The Hopkins Food Pantry is currently open Mondays from 9 a.m. to 3 p.m. and Tuesdays from 3 p.m. to 8 p.m.
After filling out shopper registration, it typically takes about 2–3 business days for a shopper to gain J-Card access to the pantry. You will receive an email once your account is activated.
The pantry does NOT conduct any background checks of your financial or conduct history. Any individual in the JHU community can access the pantry upon submission of the application. Shopper anonymity is respected.
We do not place limits on the number of visits or the amount of food for pantry shoppers. However, we ask that you please remain considerate of the needs of other shoppers.
The pantry doesn't accept outside food donations, but there may be options to support other needs of our shoppers. Please contact studentoutreach@jhu.edu to inquire about getting involved.
Contact Us
General email: studentoutreach@jhu.edu
Staff Advisor: Elizabeth Winberry